Documentary Now!: "Gentle & Soft: The Story of The Blue Jean Committee, Part 1 and 2" (1.06 / 1.07)
Comedy
Reviews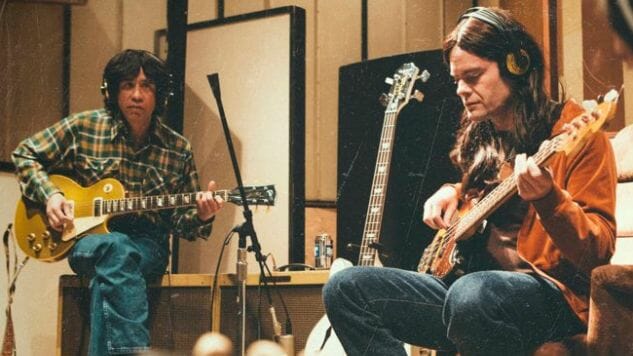 We love the fact that IFC's Documentary Now! operates on many levels. Some people tune in to watch the show creators—Saturday Night Live players Fred Armisen, Bill Hader and Seth Meyers, along with SNL producer Rhys Thomas—poke fun at history. Others geek-the-eff-out when they pick up on subtle, visual cues or carefully worded lines that pay homage to specific films or incidents. For much of the show's stellar first season, it's been fun hunting Easter Eggs and being in on the joke, feeling only slightly superior to those who didn't catch the Grey Gardens or The Thin Blue Line references.
But after last week's Bill Hader-less episode ("A Town, A Gangster, A Festival"), which arguably was the weakest this season (it felt like a Portlandia-meets-Christopher Guest mishmash), Documentary Now! returns to form in this week's two-part season finale. "Gentle & Soft: The Story of The Blue Jean Committee, Part 1 and 2" hits the right notes as a faux rock doc about the rise and fall of an iconic 1970s soft rock duo. Anyone who's watched an episode of VH1's Behind the Music or knows anything about the infighting, implosion or burnout of soft rock superstars like Fleetwood Mac, The Eagles, Simon & Garfunkel, Steely Dan, America, et al., can relate to the travails of The Blue Jean Committee. "Gentle & Soft" offers a seamless parody: It's so good that it's easy to forget that it's fiction. Not only do the costumes, camera work and original music capture the essence of the era, but Hader and Armisen are able to mix pathos with humor for an even more realistic portrayal of a band that had it all.
It's only fitting that former rock journalist-turned-filmmaker Cameron Crowe (Almost Famous) turns up to do commentary on The Blue Jean Committee—Clark Honus (Hader) and Gene Allen (Armisen). The duo had one great album before breaking up, but what an album it was. By all accounts, Catalina Breeze was the quintessential California album of the decade, even if Honus and Allen were just two guys from Chicago. The episodes feature straight-faced appearances by a number of other guest stars who pontificate on the band's short-lived career, including author Chuck Klosterman, Haim and super manager and music executive Irving Azoff. The best guest spots of the episodes, however, must go to Daryl Hall and Kenny Loggins, both of whom were part of iconic duos that Documentary Now! could very well be mocking (in a gentle and soft way, of course).
The first part of the finale is a then-and-now episode, using vintage photos and video clips to illustrate the duo's early days. The doctored material is interspersed with recent interviews with the band and pundits. Honus and Allen talk about picking the band's name and how their early efforts to tap into the Chicago blues scene were failures. (Is it any wonder when the album 221 Pulaski Parkway featured "Lip Service," a song about mustaches?) Viewers learn that the Blue Jean Committee decided to turn away from their sausage-loving city and roots—both are from a long line of sausage packers—and to California for inspiration. The Catalina record, which produced six number one hits, was developed and recorded in a whirlwind 72-hour session. Gene did most of the songwriting while Clark perfected his signature falsetto, which he describes as a "very phallic form of singing…it's very manly." Klosterman closes the episode by foreshadowing the next, describing that the band's breakup wasn't surprising when you have "one guy in the band doing everything, and one guy just singing high."
The crux and conflict of the second episode comes from the decision to induct The Blue Jean Committee into the Rock and Roll Hall of Fame. Crowe explains that some feel that the one-album wonder doesn't deserve the honor; others speculate how Honus and Allen will interact at the ceremony. The band fell apart after they were booked to close a Hollywood Bowl concert. (Unfortunately, the concert footage inserted into the scene wasn't from the iconic venue, one of our few gripes against this episode.) As they're about to go onstage, they find out that the concert is an "Animal Rights Now" benefit, and they're pissed. While Clark goes on with the show, Gene throws a hissyfit. "I'm a sausage man….I didn't want to turn my back on the sausage committee."
At the Hall of Fame ceremony, there's a tinge of sadness backstage after Clark and Gene accept their award. Clark has lived the Hollywood life, earning millions from licensing band products, while Gene returned to Chicago to work at his sausage factory. Clark says he tried to continue with music after Gene left the group, with Hader owning the best line of the night, "I did Reborn with my cousins which no one liked. I think Rolling Stone just said, 'No.'"
In an awkward, yet poignant scene, Hader and Armisen say very little to each other. They use the pauses and silence to infuse meaning. The air between them is heavy with regret and melancholy, but just when it gets a little too heavy, Clark offers his friend a pack of Catalina [Wine] Coolers for the road.
The cinematography, costumes and production design in both episodes add to a rich and believable examination of the nonexistent band's past. While some of the old concert footage and clips from past Rock and Roll Hall of Fame ceremonies look a little fake, by and large, the viewer is transported back to the time when soft rock ruled. We'd be remiss without mentioning the original songs in the episode that are ringers for real hits. Just close your eyes and listen to Armisen, and Hader to a lesser extent, perform "Catalina Breeze." They're giving Steely Dan's Walter Becker and Donald Fagen a run for the money.
IFC has already renewed Documentary Now! for two more seasons, and so we can't wait to see what subjects the show takes on next. We'll be sure to watch even when the obscure references fly over our heads. While we wait for the next episodes, we'll throw the Catalina Breeze 12" EP—out on 11/20 from Drag City—on the turntable to pass the time.
Christine N. Ziemba is a Los Angeles-based freelance pop culture writer and regular contributor to Paste. You can follow her on Twitter.