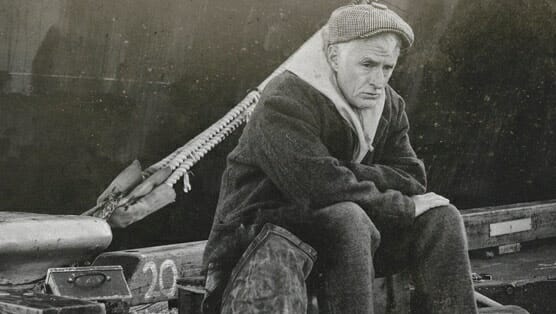 IFC made the decision to pull this week's originally scheduled Documentary Now episode, "DRONEZ: The Hunt for El Chingon," after two Virginia journalists were killed on air. After inadvertently watching that episode, we know that IFC absolutely made the correct choice to air "Kunuk Uncovered" in its place (and we'll talk more about it in next week's review).
The series set the bar high last week with its debut, "Sandy Passage," a riff on the Maysles' brothers documentary Grey Gardens. While "Kunuk Uncovered" didn't quite reach the same heights in terms of laughs, the episode featured a depth in storytelling that's remarkable for a half-hour comedy.
The episode riffed not only on director Robert J. Flaherty and his 1922 silent film Nanook of the North—considered by many as the first feature-length documentary—but also Nanook Revisited, a 1990 follow-up film that returned to Flaherty's old filming locations in the Canadian arctic. The latter film showed that Flaherty's documentary might not have told an entirely truthful story. He staged some of the film's most famous scenes and shots and misrepresented the Inuit people and culture of the region and his relationship to them.
"Kunuk Uncovered" opens with grainy black-and-white footage of a solitary Canadian Inuit (Armisen) walking alone through the tundra, and a voiceover that introduces audiences to William H. Sebastian's 1922 classic film. Take a moment to look closely at the Kunuk the Hunter movie poster to read its ridiculous sounding subtitle, "A Story of Truth & Beauty in the Actual Tundra"—a play on Nanook's own, "A Story of Life and Love in the Actual Arctic." It's that level of detail that we admire in Documentary Now. Creators Fred Armisen, Bill Hader and Seth Meyers (who wrote this week's episode) aren't afraid to show us history and truth, and then skewer them for their—and our—amusement.
The episode examines the relationship between filmmakers and subjects in documentary cinema and debates whether films with staged scenes can be truly called documentaries. It's pretty heady stuff for a comedy, but in this episode, some of the biggest laughs come from the cleverly appointed details, from the old-time photographs, letters and newspaper clippings to "lost footage" from the original film.
In a mostly silent role (except for a few voiceovers), John Slattery (Mad Men) plays the director Sebastian, who turns out to be a bit of a man-whore and inept at shooting films. (Flaherty himself had a background in exploring and prospecting more than formal filmmaking; he also abandoned at least one illegitimate child, so these scenes might not have been too far from reality.) The episode's told through a series of interviews with Sebastian's wife Meredith, aged cameraman Barnabas Scott (an almost unrecognizable Hader) and others who had roles in the 1922 film. Hader has the best politically incorrect lines during these interviews. In one segment, he talks about Sebastian's drinking problem during the shoot. While he didn't want to do it, he says he gave the director alcohol anyway. "I'll admit. That's the kind of guy I am. I'm a big enabler."
From the historical footage, we discover that Kunuk's (a play on Canuck, perhaps?) real name was Pipilok and he wasn't the brightest bulb in the igloo. When the men went hunting, he stayed home with the women to keep out of harm's way. But since he was the only man left in the village, Sebastian made him the centerpiece of his film, which proved a bit problematic. "If you need an Eskimo doing Eskimo things, he was not your guy," says Scott. "There was a reason why Pipilok wasn't on the hunt with the rest of the men in the village. He wasn't just bad at being an Eskimo, there was just something fundamentally wrong with this guy."
Throughout a series of scenes that includes shots from the "real" film and found footage, Armisen's knack for physical comedy and talent for employing expressive facial features is put to good use. Since Sebastian wanted to include comical moments in the film, Pipilok is filmed while the director shows him modern conveniences. In one shot, the slow-minded Pipilok bites a vinyl record—which was also seen in Nanook. Film historians agree that the Inuit weren't as unsophisticated as Sebastian thought. They'd seen and heard phonographs before, so who was playing whom on the Nanook shoot?
Sebastian becomes unglued and disappears during filming, and Pipilok—who insists on being called "Kunuk"—takes over the shoot. In short time, he becoming an onset tyrant, diva and auteur. Scott says that under Kunuk's leadership, there were more film innovations (P.O.V., camera techniques and tricks) created in three days than the months of filming with Sebastian. When Scott recounts a time when Kunuk insisted on filming during one of the region's worst blizzards, he says that Kunuk knew that the storm would "fix the [film's] third-act problems." There are plenty of modern insider-industry jokes toward the end of the episode that are wonderfully juxtaposed against this antiquated era.
The cinematography in the episode is painstakingly detailed and terrific to watch, including the aged feel of the black-and-white shots to the slightly-faded look of interviews that are supposedly from the 1980s. The humor in "Kunuk Uncovered" might come off as underwhelming to audiences who aren't documentary fans, but those with an affinity for film history will revel in the episode's layers that blend truth and untruths to create an entertaining and stimulating comedy.
Christine N. Ziemba is a Los Angeles-based freelance pop culture writer and regular contributor to Paste. You can follow her on Twitter.