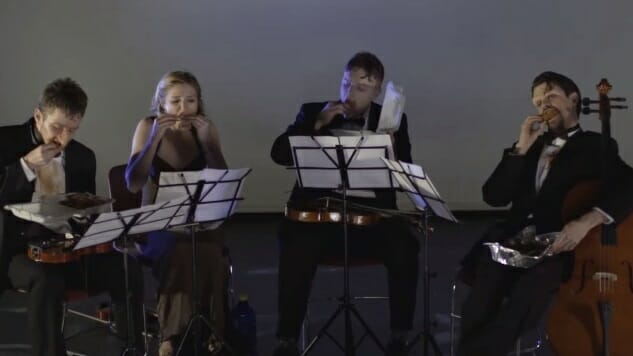 Can you believe that comedy existed before the internet? Okay, yeah, you probably can—it's pretty obvious that the idea of laughter is more than 25 years old, and you might even have some first-hand memories of finding something funny before you'd ever seen an AOL sign-up disc. (Perhaps the 1990 winner of the Golden Globe for Best Comedy or Musical, Green Card?)
The internet might not have created comedy, but it has certainly let it grow and flourish in ways that probably wouldn't have ever happened otherwise, and the proof is in the wide array of hilarious new videos showing up on social media every month. The internet might be a miserable mistake that has systematically undermined almost every aspect of society, but it also lets people upload 2 minutes of themselves talking into a camera on Twitter, so maybe it's a fair trade. Either way, here are the funniest new videos we saw in January.
Conner O'Malley – "Hudson Yards"
You might've seen a clip from Conner O'Malley's new Hudson Yards videogame on Twitter, but you really need to watch the full video to realize the scope of its groundbreaking gameplay and innovative graphics. It looks like O'Malley, a co-star and writer on Joe Pera Talks with You, has created what would be only the second game to ever get a perfect 10 here at Paste—a riveting open-world hello-a-thon set in the mixed-use development that has been gentrifying the western side of Hell's Kitchen for years.
---
Simple Town – "Quartet: Places Everyone"
Simple Town released a series of shorts on Adult Swim's YouTube page and website in January, all about an incompetent and grotesque string quartet who really love chicken wings. "Places Everyone" is the best introduction to these frenetic shorts, which are as hilarious as they are disgusting.
---
Meg Stalter – "The Girl Who Won't Stop Flirting with the Barista"
The girl who won't stop flirting with the barista: pic.twitter.com/dTWWkHpCGd

— Meg Stalter (@megstalter) January 7, 2020
Stalter, one of the comics featured in our piece on face-fronting comedy, continued apace in January, with a steady stream of great videos on Twitter. This is the best of the bunch—a well-observed, lived-in depiction of some very awkward service industry flirting.
---
Jeremy Levick – "Conservative Lecturer DESTROYS SJW College Student"
conservative lecturer DESTROYS sjw college student pic.twitter.com/QmrIaqsonq

— JEREMY (@jeremylevick) January 17, 2020
Nope, this isn't a Daily Caller link. Levick and his regular partner Rajat Suresh EVISCERATED those clickbait-y videos that right-wing sites love sharing, where some condescending "intellectual dark web" herb mildly disagrees with a stranger on a pointless bit of minutiae. It's a dry, pitch-perfect parody of some of the most insufferable shit on the internet.
---
Alise Morales – "Woman Who Was Slapped by the Pope"
Please enjoy my new character:

woman who was slapped by the Pope pic.twitter.com/jKEZdRzmeH

— Alise Morales (@AliseNavidad) January 3, 2020
Look, when you get the Pope's hands, you're gonna have a killer story for the rest of your life. Alise Morales makes it her own in this naturalistic retelling of what might be the weirdest true story of New Year's Eve.
---
Michael Benjamin – "I Just Met Lea Michele and It Was Nuts!"
I just met Lea Michele and it was nuts! pic.twitter.com/sywLBbIWfr

— Michael Benjamin (@mfbenji) January 18, 2020
Wherein Michael Benjamin spits out some absurd dream logic in the tone usually reserved for stories about a butt dial or weird work conversation. It's a shame MTV ruined the word "ridiculousness," because it totally applies to this video.
---
Brian Rodriguez-McGovern – "Man in a Perpetual State of Being About to Say Something Problematic"
Man in a perpetual state of being about to say something problematic: pic.twitter.com/JJTt14pa2z

— RodGovern McRiguez (@brianmcgo) January 14, 2020
You're just gonna have to keep on waiting for it. Brian Rodriguez-McGovern leaves us dangling on the precipice of saying something absolutely terrible, and by the end the tension is overwhelming. He's so good at capturing the blase way regressives and contrarians try to soften their terrible ideas that he keeps you expecting that payoff even well past the point where you realize it'll never actually come.
---
Rachel Wenitsky – "Reality Show Contestant Sees The Reality Show House for the First Time and Gets Excited Because She Thinks a Toilet Is a 'Special Kind of Chair'"
This is a film called "Reality Show Contestant Sees The Reality Show House For The First Time And Gets Excited Because She Thinks A Toilet Is a 'Special Kind of Chair'" pic.twitter.com/c25OHoOr2R

— Rachel Wenitsky (@RachelWenitsky) January 15, 2020
Another focal point of our our face-fronting comedy feature weighs in with a twofer—not only is Wenitsky parodying a broad pop culture archetype (the reality show contestant who overreacts to where they'll be living during the show), but she then twists it into something very specific about a person who apparently isn't remotely experienced with the last century-plus of plumbing innovations.
---
Adam Sandler and the Safdie Brothers – "Goldman vs. Silverman"
The Uncut Gems team collaborated on this slice of urban life tale about two feuding Times Square performers. Looser and less chaotic than that prime Oscar snub, it's still of a piece with the Safdies' work—a stark exploration of desperate lives amid the churn of New York City. But, y'know, kind of funny.
---
Graham Techler – "JRR Tolkien Fucks Up His Editor for Cutting 'Hobbit Milk' Out of The Lord of the Rings"
jrr tolkien fucks up his editor for cutting 'hobbit milk' out of the lord of the rings https://t.co/Ib5qLj0JD8pic.twitter.com/H9IixHKWoy

— graham ross techler (@gr8h8m_t3chl3r) January 31, 2020
Former Paste contributor Graham Techler is now eligible for this thing, and it couldn't have come at a better time: this is probably the funniest thing I've ever seen from the guy. I wouldn't want to be the editor who cut all of the hobbit milk out of Lord of the Rings, if this is how JRR Tolkien would've treated him. Any writer worth their salt knows the whole "kill your darlings" cliche, but how could something as integral as hobbit milk get cut? No wonder people hate us editors.
---
Senior editor Garrett Martin writes about videogames, comedy, travel, theme parks, wrestling, and anything else that gets in his way. He's also on Twitter @grmartin.