"Game of Jones": Watch Leslie Jones and Seth Meyers Watch the Latest Game of Thrones
Image via NBC/YouTube
Comedy
Video
Game of Thrones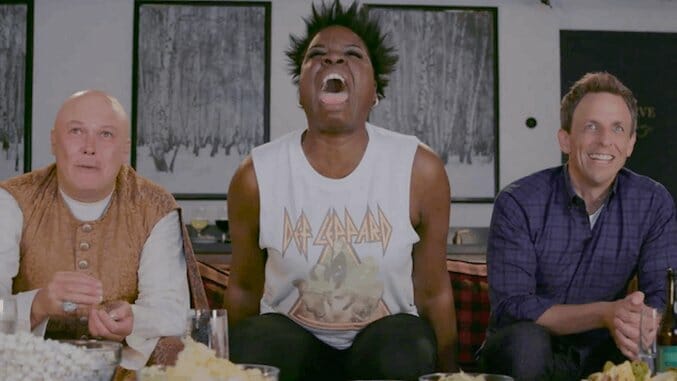 Seth Meyers may have found one thing everyone likes more than Game of Thrones. In "Game of Jones," the Late Night host watches the latest episode of the HBO series with comedian and SNL cast member Leslie Jones. The last time the segment aired was in June of 2016, so it was about time for Jones to make another appearance.
In the segment that aired last night, Jones takes digs at the lack of emotion in the Stark family reunion: "First of all, Bran's home. Arya's home. Nobody wants to make no macaroni and cheese?" She also notes that Bran is always high and "spaced out." "What is you smoking, Bran?" she asks. What are you smoking, Bran? We want to know.
When asked for her stance on Varys, Jones says, "Varys is like the girlfriend that you don't know if she really a homegirl or not, because one minute she's supporting you and got your back, but then the next minute you hear about some bullshit she said to somebody else about you. But, just like [Daenerys] did [Tyrion], she need to let [Varys] know that, 'Yo if you ain't liking what I'm doing then you need to come and tell me like a real boss. Don't be going behind my back conspiring and shit, because Imma burn your ass.'"
Conleth Hill, who plays Varys, walked through the door just as Jones was finishing her thought. The actor was met with screams and a warm hug from an ecstatic Jones, who did not hesitate to ask him where his allegiance lies.
Watch as Hill joins Meyers and Jones to watch Daenerys absolutely demolish Lannister soldiers above, and check out last year's "Game of Jones" below.