The Costumer Is Always Right: 5 Things Halloween Can Learn from Cosplay
Photo courtesy of IFC
Comedy
Features
halloween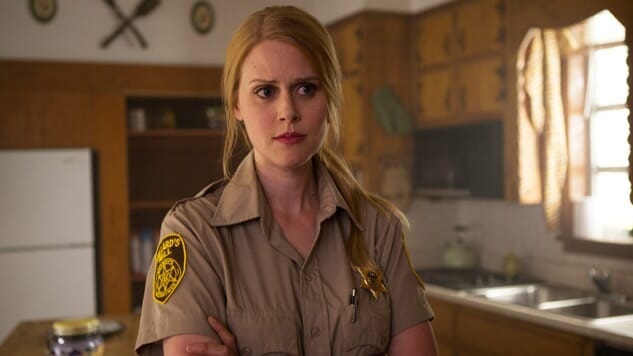 It's nearly Halloween, or as I call it, the Night of the American Id. Because every year, as the hundreds of trick-or-treaters in my neighborhood swarm unstoppably toward my house moaning horribly about "fun sizes," I'm reminded of both our current and most lasting fetishes: princesses, Abe Lincolns, Rick and/or Morty. Some of the costumes are truly inspired and I wonder if they'll someday grow up to become the true heroes, who bring such variety and nuance to this great nation's comic cons: the cosplayers.
Cosplaying was never something I was exposed to until I began regularly attending conventions to promote shows I was on (this year, for example, I was AND AM SHAMELESSLY PROMOTING IFC's Stan Against Evil, a rad horror comedy from Dana Gould starring John C. McGinley and me as demon-fighters), aside from maybe a vague understanding when I was a kid that Star Trek fans would meet dressed as multiple Kirks, Vulcans and presumably Tribbles in hotel ballrooms far, far away*.
When people at conventions ask me if I ever cosplay, I always murmur an apologetic and embarrassed "no." (One of the things I love about Comic Con is the Upside-Down-ness of a place where you feel stupid for NOT doing the exact thing that would get you ridiculed in some of the less evolved towns of "real life.") But I do think I've learned a few things from observing cosplayers over the years, and am delighted to pass their wisdom on to you.
1. It's Okay if No One Knows What You're Dressed As.
As someone who has regularly been squinted at and puzzled over in Halloweens gone by (it turns out nobody remembers what Jodie Foster looked like in Candleshoe; likewise Jeff Bridges before he gets sucked into Tron's game grid), I can assure you that just because you make obscure choices doesn't mean you're not cool. No! You're cooler! There will always be plenty of Wonder Women and Ghostbusters. So go forth, ye brave Cade Fosters of First Wave!** Make Traci Lords proud! And remember—
2. No Reference is Too Outdated.
For every ten David Tennant Doctors, there's at least one William Hartnell and two bright-eyed Tom Bakerses. If you think horror films jumped the shark after Nosferatu, commandeer your buddies' Spock ears and let the world know! Someone will always agree with you. I myself am always a little sad that I never see any of the Dream Warriors from the third Nightmare on Elm Street.
3. Believing is Seeing.
My favorite cosplayers are the ones who seem to believe that they are the characters they're portraying. It's the Daniel Day-Lewis approach. These guys won't break for anything. Boba Fett will die of heat-stroke before letting some goddamn Han take that helmet off him. It's especially fun to watch a "method" Brianne of Tarth pledge her sword to a frappaccino.
4. Be Prepared to be Booed and/or Fake-Battle.
Bear in mind that when you put on a costume, you are directly confronting people's die-hard opinions about their truest passions. Remember: "you either die a hero, or you cosplay long enough to see yourself become a villain." So if you've got the mettle to cut up your Galadriel wig and withstand the vitriol headed your way as Lucius Malfoy, then by all means, go with god Voldemort.
5. Someone Else's Version Might Be Way Better.
In fact, I guarantee you someone's will be better. And that's okay! Just because you spent the last six months holed up in your room, hand-stitching those Harley Quinn leggings with The Walking Dead on repeat doesn't mean you don't deserve to walk with your smeary-but-weirdly-sexy face held high. It's about the love of the game, not just how elaborately you play it.
*Couldn't resist.
**The finest Canadian sci-fi series since "Strange Days at Blake Holsey High"!
---
Stan Against Evil
's second season premieres on IFC on Nov. 1.
Comedian and actor Janet Varney stars in Stan Against Evil, and has also been in You're the Worst, Burning Love and dozens of other TV shows. She was also the voice of Korra on The Legend of Korra, a host of TBS's Dinner and a Movie, and hosts The JV Club podcast at Nerdist.