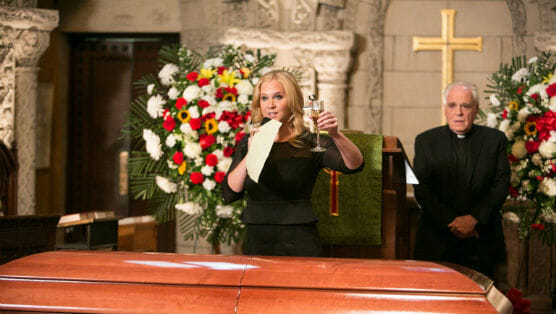 Considering the many powerhouse sketches already behind us, it says something that "Raise a Glass" gave me the hardest LOL of any episode so far this year. After last week's focus on low-key laughs based on everyday moments like picking a movie to watch, here we get higher-stakes sketches that take a darker, more surreal turn and result in some of the sharpest writing of the season.
If hell is other people, it makes sense you'd have to deal with one of those people on your way into eternal damnation. Sharing an elevator with Colin Quinn, Amy grows increasingly frustrated with his small-talk banter and hackneyed jokes about needing his coffee before realizing she's not just going down—she's going ALL the way down. It's a somewhat standard observation that annoying people are annoying, but the payoff provides just the right beat needed for a cold open.
After that, we only get three sketches, but each is tightly written enough to justify the prominence they're given. First is a takeoff of Food Network's Chopped, but framed as a cooking competition between two drunk roommates called Sauced. Stumbling home after a night out, the two need to come up with dishes based on the contents of their kitchen: a half-eaten yogurt, four baby carrots, a shriveled lime and a bottle of Lexipro. The fact is, that's probably a better basket than most contestants get on Chopped, and the script does a perfect job capturing the pretentious comments from the judges as they make serious observations about absolutely ludicrous food. Layering in some gags around the drunk-girlfriends dynamic and Amy's bitterness over her ex elevates the premise beyond a simple pop-culture parody, allowing the sketch to work whether you've seen Chopped or not (though I'm pretty sure that show is legally mandated at this point). ??There are also deeper levels at play in "Bachelorette Party Disaster," which at first seems to be about officials at a press conference having to keep a straight face as they describe the sex toy-littered scene of a crash between a bachelorette party bus and a bachelorette booze cruise. But as the sketch progresses, it subtly becomes about the obnoxious behavior of party girls, whose personalities are so intolerable that all witnesses and workers involved actually welcomed the fatal tragedy. To say the families of the survivors are "devastated" is dark stuff, but the realization that the sketch was going there—particularly Schumer's description of these girls being "the worst"—caught me in a genuine, let's-watch-that-again guffaw. And who better to deliver this deadpan news than Todd Barry, who nails his cameo as coroner Barnabas Mollins, the best-named coroner ever.
Finally, we start another sketch at a wedding, with a drunk Amy stepping up to make a toast. Vowing to do something "more special than what we've been seeing so far tonight," she proudly delivers her speech in rhyme, mentioning how many guys the bride has slept with and how Amy herself used to date the groom. Feels like another Drunk Amy Embarrasses Herself gag, but then the stakes start going up. We go from the wedding to a funeral, where Amy's rhyming eulogy (complete with champagne glass) makes it clear she murdered the bride. Next she makes another attempt to wax poetic on the witness stand in a futile defense effort that sends her the electric chair, where she tries one last time to "raise a glass." This feels like an improv scene gone right, as each step heightens the action while still maintaining a strong and funny narrative. The story gets an added boost from Amy's unexplained sycophant in the crowd, cheering on each disastrous moment in a way that somehow simultaneously heightens the absurdity and grounds the character dynamic. This Amy feels entitled to admiration, even if it's only from her one weirdo best friend in the crowd.
The real Amy Schumer should feel entitled to admiration, because she continues to kill it on a weekly basis. Her "Amy Goes Deep" with fellow comic Robert Kelly (seen lately as Louis C.K.'s brother on Louie) borders on being more about Schumer trying to make jokes than letting Kelly talk, but her stand-up segments also prove Schumer is very good at making jokes. She's going into next week's finale backed by a season of remarkably consistent sketch comedy, pulling off the rare feat of producing an Episode 9 that's every bit as sharp and funny as Episode 1. And that's definitely worth raising a glass.