Jerrod Carmichael to Produce Sitcom Pilots Starring Lil Rel Howery and Nate Bargatze
Photos courtesy of Getty Images
Comedy
News
Jerrod Carmichael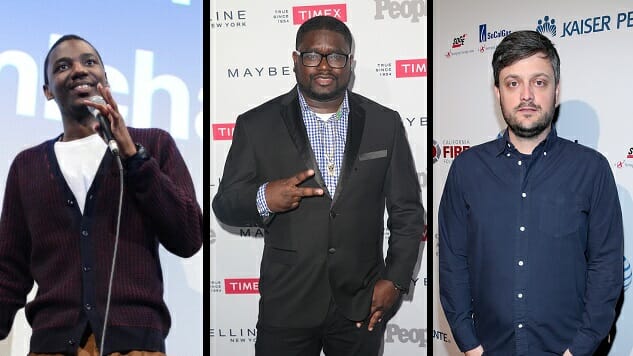 The Carmichael Show might be dead, but Jerrod Carmichael isn't done with network sitcoms. The stand-up comedian will be producing two pilots for Fox through his deal with 20th Century Fox Television, according to Variety. One pilot will star stand-up comedian Nate Bargatze, and will be based on his real-life return to his home state of Tennessee after living in New York City. The other pilot will star Carmichael Show co-star (and Get Out breakout) Lil Rel Howery, Variety reports, and will be based loosely on Howery's real life as a comedian from Chicago. Both multi-camera sitcoms will also share creators with Carmichael's critically acclaimed NBC sitcom; Carmichael Show co-creator and writer Ari Katcher is an executive producer on the Bargatze pilot, and the Howery pilot counts former Carmichael writer and executive producer (and longtime Simpsons producer/writer) Mike Scully as both an executive producer and the showrunner. Josh Rabinowitz and Kevin Barnett, who both wrote for Carmichael Show, will also serve as writers and executive producers for Howery's show.
The Carmichael Show only ran for three abbreviated seasons, but it quickly established itself as one of the best sitcoms on television, and the contemporary heir to the politically charged sitcoms of Norman Lear. If you didn't catch it on NBC during its short life, you can find the whole series on Netflix.
We could maybe grouse about two more stand-up dudes getting sitcoms (instead of any of the hilarious women out there), but Lil Rel Howery and Nate Bargatze are both potential sitcom stars in the making. Howery has already proven he has what it takes to thrive in a traditional sitcom—if Carmichael Show had been a hit, he would've been the breakout star, the Kramer or Fonzie of the thing. Anybody who's seen his stand-up or Get Out knows how charismatic he is. Bargatze isn't nearly as demonstrative as Howery, but his low-key delivery and insightful stories make him one of the more relatable comedians on the circuit today. If you aren't familiar with his work, watch his recent half-hour special on Netflix (it's part of The Stand-ups series from earlier this year) or his older special, Full Time Magic. You can also find clips of him on YouTube from Conan, The Tonight Show starring Jimmy Fallon and other shows.
Both shows were bought by Fox as put pilots, which means the network will have to pay a significant penalty if they don't air the pilot or pick it up to series. That means there's a very good chance both of these shows will actually make it on the air at some point. Given the talent involved, that's a reason to be optimistic.