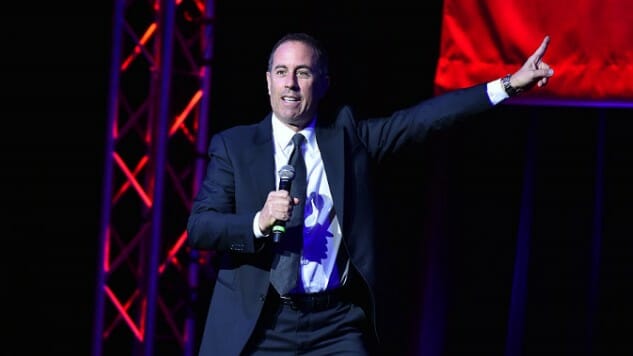 In a surprising turn of events, Jerry Seinfeld is pulling his show Comedians in Cars Getting Coffee from Crackle and moving it over to Netflix later in 2017. The show will get 24 new episodes on Netflix this year, with more new installments in 2018 and beyond, and Seinfeld will also be filming two stand-up specials specifically for Netflix subscribers. "Jerry is known the world over as both a great TV innovator and beloved comic voice," said Ted Sarandos, Chief Content Officer at Netflix, in a statement. "We are incredibly proud to welcome him to the Netflix comedy family."
A streaming coup like this is almost unheard of these days, so it's pretty exciting that it's happening on this kind of level. It's a smart move, based on the recent popular surge of Netflix comedy specials from Jim Gaffigan, John Mulaney, Bo Burnham and Bill Burr, to name a few. The Emmy-nominated Comedians in Cars Getting Coffee has been streaming exclusively on Crackle since 2012, so this will be a big hit to the Sony-owned streaming service.
In a press release, Seinfeld said:
When I first started thinking about Comedians in Cars Getting Coffee, the entire Netflix business model consisted of mailing out DVDs in envelopes. I love that we are now joining together, both at very different points. I am also very excited to be working with Ted Sarandos at Netflix, a guy and a place that not only have the same enthusiasm for the art of stand-up comedy as I do, but the most amazing technology platform to deliver it in a way that has never existed before. I am really quite charged up to be moving there.
It's exciting to see streaming services battle each other like this. A lot of the competition between Netflix, Hulu, Amazon Prime and now Crackle is mostly done behind closed doors, so it's kind of fun to see the dirty laundry out front.