A handful of years ago, I saw Jessi Klein on a comedy showcase at South by Southwest. I'd waited in line for an hour to get into this stand-up show despite griping that there were only two women on the lineup — Klein and Amy Schumer, neither of which I'd heard of at that point. It was crowded and hot and I was grumpy and hungry. But when Klein began her set, I immediately had a new favorite comic. It was like a comedian had been Weird Scienced precisely to appeal to me, a fellow awkward lady nerd, which is to say that her set felt like a much funnier version of my own feelings.
Years later, I started watching Inside Amy Schumer, largely because I discovered that Klein was the show's head writer and executive producer. So when I saw that Klein had put out a book of humorous personal essays (a book genre of which I am also a big fan), I jumped to read it. Here are five reasons her book is worth the trek to your local bookstore, even though (let's just be honest) you're really gonna trek across your grimy apartment to order it online, because that's what we all do now.
1. It's heartfelt and funny in the same breath
Usually the accepted viewpoint is that feelings are anathema to comedy, but Klein quickly and easily disproves this. Cracking jokes has gotten her through the worst moments in her life, and her descriptions of them along with the wisdom she gained never fail to be both insightful and funny at once.
2. It's self-help-y without ever being maudlin, saccharine or smug
Likewise, You'll Grow Out Of It functions like a sneaky self help book. Klein starts with all her sardonic wit and comedy writer grumpiness, but comes to genuine revelations even from things that might otherwise repulse anyone who considers themselves a proper feminist smartypants. Like when she heads to Taos, New Mexico with her friend Becky in large part because they saw it on Oprah. But she also enumerates her comedy origin story, a path she didn't start on until she was almost thirty, where we learn that even Jessi Klein, winner of Emmys, whip smart writer behind Inside Amy Schumer, and now a writer on Transparent, doubts herself, and in this gives assurance that such doubt is normal and okay.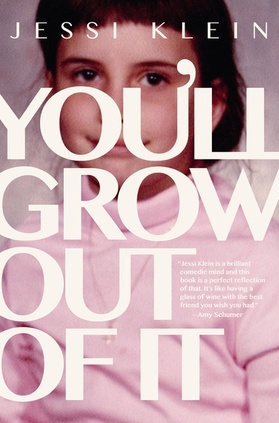 3. Klein gives voice to nerdy ladies everywhere
The last couple of years have seen an explosion of the crass-lady variety of comedy, but less prominent is the quieter version for anxious nerds who are deathly afraid of everything (hi, that's me). Here's where Klein, frank and bewildered by traditional femininity, comes in. She offers an explanation on the differences between what she calls Poodles and Wolves—i.e. women who are effortlessly beautiful and those who prefer cotton underwear and require effort. She describes what's it like to be a tomman (a grown up tomboy) and cops to being clueless about lingerie. Furthermore, she points out the weird hypocrisies in the expectations placed on women, like having a "natural birth" when women are never otherwise encouraged to be natural in anything, writing, "It's interesting that no one cares very much about women doing anything 'naturally' until it involves them being in excruciating pain."
4. Those terrible dating mistakes you've made, she's made them, too
And Klein, like many of us, has dated her fair share of dudes not worth her time who she still somehow ended up broken hearted over. There's the foreign guy she had a brief tryst with, for whom she bought lingerie when he visited only to realize he wasn't nearly as excited about her. Then there's the narcissist who didn't want to use a condom, leading her to fear she contracted an STD, and later led to her taking online quizzes entitled "Are You Dating a Narcissist?" (something I have also done). Hint: if he's impossibly charming, chances are the answer is "yes." Later, and with a different boyfriend, she describes the disappointment of being someone who cares about not getting proposed to, saying, "I was a woman sobbing in a hotel corridor, which is incredible, because when I was little I thought I was going to be a senator."
5. Her description of women's clothing store Anthropologie
The entire book is worth it even if you enjoy nothing else but Klein's explanation of her uneasy love of Anthropologie's clothing. For anyone who has ever wondered why they feel such a pull toward the store (and if you haven't, uh, sorry you can't relate, not everything is for you!), Klein breaks it down: it's selling us a fantasy of being that ethereal, magical kind of woman so common in movies written by men. You know: Natalie Portman in Garden State. Natalie Portman in… anything. She explains Anthro's promise to make shoppers into "a certain kind of girlfriend. The girlfriend you meet in the most magical places. You meet her at an outdoor market in Marrakesh where she is buying a little bell to hang in her window." Extending this further, she calls Anthropologie's homewares—which I both love and loathe that I love—"the domestic version of the manic pixie dream girl," because Klein, simply, gets me. Here's betting she gets you, too.
---
Erica Lies< /a> is a writer and comedian in Austin, Texas. Her work has appeared in Splitsider, Bitch, Rookie Mag and The Hairpin.