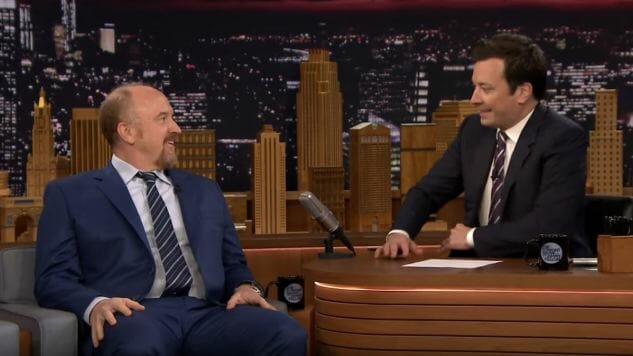 Jimmy Fallon has recently become a big part of my life.
It was short-lived, thankfully. Last week I was in Orlando, Fla., for work. That work involved going to a Tonight Show taping, attending a media event for a new Tonight Show/Jimmy Fallon ride at Universal Studios, and photographing the side of Carson Daly's head during the grand opening of that ride. I'm not trying to parody Fallon's unflagging enthusiasm when I say it was actually a really fun week—theme parks are pretty great, and MC Serch was in the audience at the taping, which for some reason really stuck with me—but the more grating aspects of Fallon's personality and show were still in full effect throughout: the broad humor that relies more on charm than actual jokes, his pandering need to be liked by everybody, and that enthusiasm, which feels so desperate and artificial. By the end of the week I almost felt sad for this popular multimillionaire with his own theme park ride.
It's hard to watch Fallon do his job and not feel like Louis C.K. in this clip from a March episode of The Tonight Show, which was brought to our attention recently by Dana Schwartz of the Observer. C.K., whose demeanor is a lower-key, less aggressive, less self-congratulatory, more pretentious version of the "not afraid to tell it like it is" tough guy comic, straight up tells Fallon he's kind of dumb, which is a little rude and a little blunt but not nearly rude or blunt enough to fully describe Fallon's persona. We won't attempt to recap the full exchange, or dig too deeply into it—go read Schwartz for that—but after four days of almost total Fallon immersion it's just a tiny bit of catharsis to see somebody explain Fallon's crucial flaw to his face, on his own show, in front of his millions of viewers.
You can watch the full video above, and find a convenient GIF of C.K.'s incredulous reaction to Fallon's buffoonery over at the Observer.