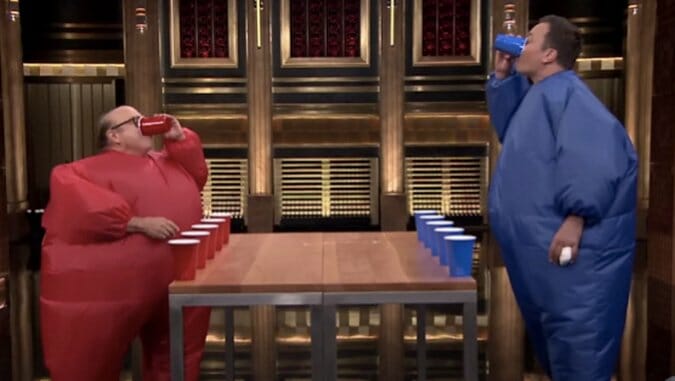 The Tonight Show Starring Jimmy Fallon has become, for all intents and purposes, a viral video factory. From lip sync battles to Brian Williams rap videos, Fallon and his team have shown they know how to put together a killer clip, whether or not it takes much effort from them to devise or pull off.
Last night's episode was no different, with the late-night host taking on pint-sized It's Always Sunny in Philadelphia star Danny DeVito in a high-stakes game of inflatable flip cup. Both competitors were made to wear colorful, blow-up fat suits during the drinking game—Fallon spends the first 30 seconds of the clip giggling at the tomato-esque figure DeVito cuts in his inflatable get-up. "When this is over, I'm going to kick your ass," DeVito deadpans before chasing Fallon around the table.
The game gets going at the 1:27 mark, with both DeVito and Fallon starting out slowly before then building a bit of momentum. Surprisingly, the inflatable suits don't seem to have much of an effect on either competitor's range of motion. The two opponents prove more evenly matched than they would appear, and the competition comes down to the wire before a dramatic finish in which the inflatable flip cup king is crowned.
Watch the clip in its entirety above and check out other, equally ridiculous Tonight Show clips right here.