Jimmy Kimmel Hits Trump, GOP in His Latest Angry Healthcare Monologue
Image via ABC/YouTube
Comedy
Video
JImmy Kimmel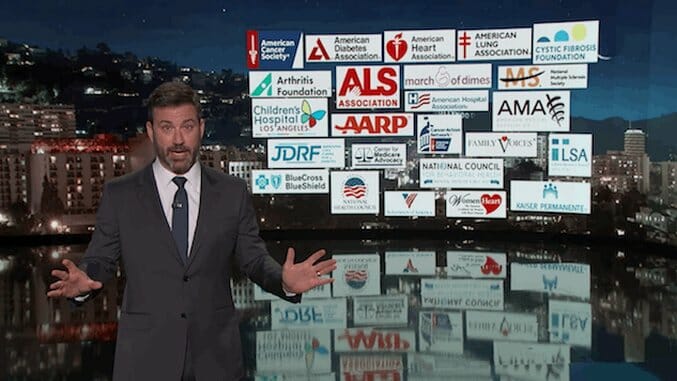 Out of all of the media personalities to lead the battle for American healthcare, talk show host Jimmy Kimmel has emerged as an unlikely frontman. Not John Oliver, not Samantha Bee, definitely not Trevor Noah—rather, the guy who brought you Crank Yankers. But as we all know, Kimmel has quite a personal reason for jumping into the political fray, with an emotional monologue about how his newborn son survived a rare heart condition. Kimmel has spent the week trying to get citizens into action about the dubious Graham-Cassidy bill, and continued his fight in his latest monologue.
Kimmel addresses criticism that he isn't qualified to talk about healthcare, but the host fires back with some decent points. First of all, Kimmel questions what makes the man who fired Meat Loaf from The Apprentice more qualified to take on healthcare than he is, disputing the President's defense of Senator Bill Cassidy's bill of "includ[ing] coverage of pre-existing conditions." Kimmel, quip-happy as always, also mentions how Trump can't tell the difference between Medicare and Medicaid, much less the difference between Melania and Ivanka.
Second, Kimmel states that while he may not be qualified to preach about healthcare, the GOP should at least listen to the extremely qualified medical organizations such as the American Medical Association, American Cancer Society and so many more that have come out against the healthcare bill. Naturally, Kimmel felt it appropriate to add some healthcare bill/Bill Cosby wordplay in there, as well.
Finally, Kimmel hits back at his critics by saying that people like Cassidy brought him in the conversation by promising that his bill would pass the "Jimmy Kimmel rule" (it does not). "Am I just supposed to be quiet about that?" Kimmel goes on. The host then wraps up by summing up his previous points—if the GOP won't listen to him, then at least listen to the more qualified people and groups who indicate that this bill is a dumpster fire, and not the dude who stares directly into an eclipse.
Call your congressperson, by the way.