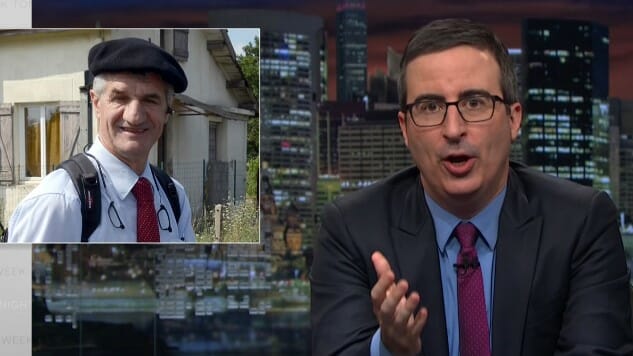 Next week, France will hold a presidential election that is probably much more important than you might realize. As noted early on in the latest main segment from John Oliver's Last Week Tonight, French participation in the EU kind of hinges on the results of this election. After Brexit, a French exit from the EU could completely dismantle the long-held pact between European nations.
Basically, after you move past the circus acts of most of the candidates that make up France's 2017 presidential race, you're left with two candidates, in a shocking bout of déjà vu for those of us on this side of the Atlantic. First you have Emmanuel Macron, a former banker and economic advisor who has never had any political experience and is "neither left nor right, and is generally inoffensive to the entire population, is not super attractive to anyone." Basically, he's pro-business, pro-Europe and he married his schoolteacher. Weird, but fine? Yeah, sure. Well, on the other side, we're left with Marine Le Pen, whose father often questioned and criticized the veracity of the Holocaust, and who is seemingly terrified of illegal immigrants stealing her wallpaper.
So between a shade of vanilla and the French, female version of Donald Trump, France has a really big decision to make. And while Oliver provides some levity with his strong sense of humor, he does raise some excellent points and basically pleads with the people of France to hold to their values of superiority to America, and not make the same mistakes we did. So please, don't.
Check out the segment embedded above.