John Oliver on the Republican National Convention: Feelings Prevail!
Image via HBO/YouTube
Comedy
Video
john oliver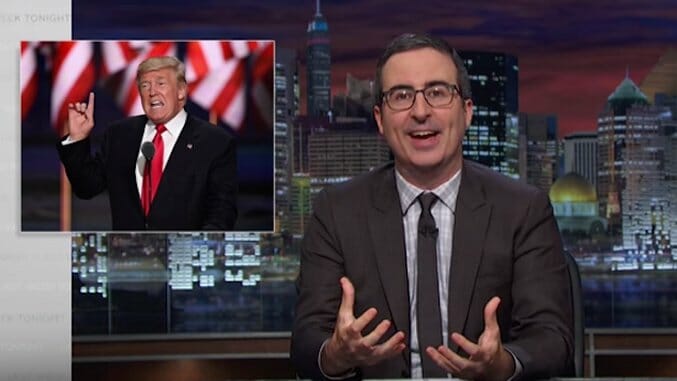 John Oliver returned from his three-week hiatus to bring us some thoughts on the Republican National Convention which occurred over the last week.
In the clip, Oliver points out how often the terms "feel" and "feelings" are used onstage by the party's leaders. It's a little scary, but the culmination of all of the speakers' uses of the terms is nothing compared to the cringe-fest Newt Gingrich summoned when he repeatedly insisted that the statistics about lower crime rates in the U.S. are a reporter's opinion, and not a fact. Gingrich held that the crime rate is not lower, and that the American people do not "feel" safe.
Pointing to the graph demonstrating the decline of crime in the U.S., Oliver said, "It's not a fucking Rorschach test. You can't infer anything you like from it."
Of course, Oliver doesn't overlook Trump's frighteningly intense speech ("he sounds like he's about to announce the first annual Hunger Games"), looking to the Republican nominee's own Twitter account for a summary. Trump tweeted a short video, which as Oliver states, highlights the main thing: that people clapped for a collective 24 minutes of the 75-minute speech. The video further helps us understand this perplexing fraction by reporting (incorrectly) that the applause constituted 33 percent of the total speech time.
Oliver riffs on Trump's narcissism and hunger for power by playing a music video from the bonus material on a DVD on The Apprentice season one in which Trump's statement "This is a dictatorship" is repeated over a beat. A fun piece of early-2000s reality show extras that just got more eerie than the American people ever could have imagined.
Watch the full clip from Last Week Tonight with John Oliver above.