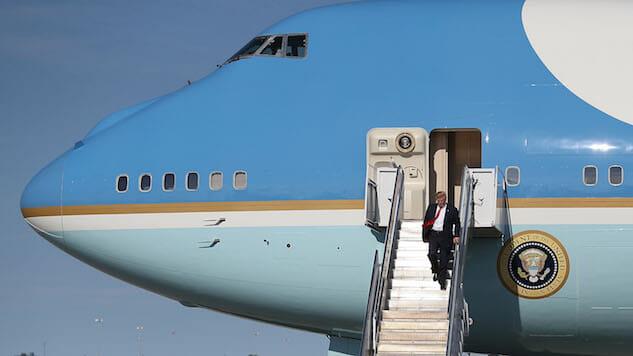 My new favorite journalistic sub-genre is stories about how everyone in the Trump administration is a miserable clown. As I go to bed each night I say a little prayer: "Please, please let there be an article tomorrow about how these fools are total dopes." Today my prayers were answered twofold. The first was this Daily Beast report about how Steve Bannon, a cuck, called Jared Kushner, another cuck, a "cuck." Also in that story is a satisfying tidbit about how SNL's "President Bannon" sketch irritated Trump. The second was this report from the White House press pool about a gaggle Sean Spicer held aboard Air Force One earlier:
Amid the gaggle, Spicer lost his balance for about eight seconds as the plane hit severe turbulence, with his coffee flying against the wall. It interrupted the gaggle for about 15 seconds. He eventually caught his balance by grabbing onto the wall and was helped to a seat by your pooler.
Can you believe it?! This shit is catnip to me. Sean Spicer lost his balance and this guy counted out eight seconds before helping him out. His coffee flew against the wall! You just know he tried to play it off with a quip about SNL or some bullshit. Eight seconds! More than anything I want the piss tape to come out but right now I would settle for iPhone footage of this charade. Oh man. These idiots are going to destroy everything.