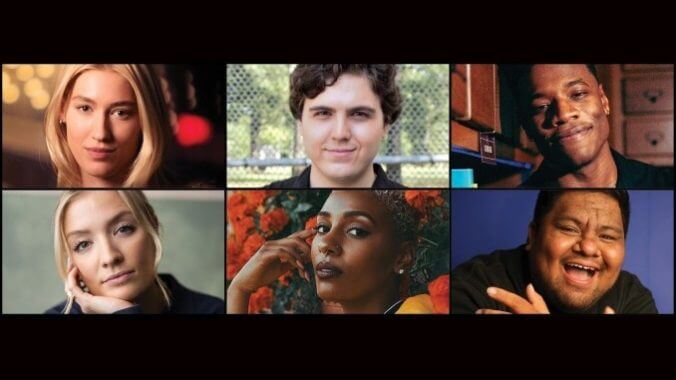 All comedians are creators, but not everybody called a "creator" is an actual comedian. The New Faces of Comedy: Creators panel at Just For Laughs uses the word in the current sense, to mean the people who make the videos you watch on your phone when you can't drag yourself out of bed. Just For Laughs has taste, though, so we're not talking about just anybody with a ring light and a subscription button to smash. The six comedians tabbed for this year's lineup might all post their work on social media, but they're working in forms that predate TikTok and Instagram, and even the web itself. Their work doesn't necessarily exist because of technology, but technology has definitely made it easier to create, and has also given them a way to distribute that work and build an audience.
Take Cliff Benfield, who creates absurd cartoon shorts under the Space Skits banner. He's a direct descendent of the underground cartoonists whose work would've been featured in Spike and Mike's Festival of Animation or shared by tape traders in the VHS days. He worked with Adult Swim last year, but with over 800,000 TikTok followers and 400,000 Instagram followers, he's already reaching a basic cable-sized audience. 
Devin Gant, meanwhile, specializes in clever homages to public access television and the kind of weird ads and shows that would run on TV late at night. He edits digital content for Vice and Saturday Night Live (and at some point worked for WWE), but has established his own unique comic voice through his original videos. His characters and sketches would be at home on any sketch show, and SNL's producers especially should consider bumping him up to writer or cast member.
Caroline Baniewicz regularly releases buzzy videos to sizable audiences on Instagram and TikTok, but also creates content and writes for Barstool Sports. That's like existing across two generations of internet media models, and although Barstool is justifiably hated and derided by many, people have worked for worse companies to make a living. Baniewicz specializes in spot-on parodies of social media, content creators and podcasts, and what might be her best video so far, "Finance Bro Podcast Makes You Richer Just By Watching," shows she realizes what kind of audience Barstool attracts.  
And Heather Chelan has established herself as one of social media's best musical comedians. Her series of short, catchy songs about everyday life and personal annoyances—did you know women need pockets, too?—are clever and insightful, and work just as well as songs as they do videos. Although there's definitely comedy in how Chelan performs and shoots her songs, the bulk of the humor comes from the lyrics, with the videos as the icing. Chelan has used the relative freedom of the internet to build her audience, but her work is part of a tradition of musical parody that long predates the computer.
All four, along with their fellow New Faces Hayley Morris and Leo González, use modern technology to create and distribute traditional and accessible forms of comedy. It seems insulting to refer to it all with the generic, limiting term "content," but that's the world we live in. What matters is that they are creators, with their own unique voices and viewpoints, producing their own original comedy—and they're just as legitimate as anybody who creates sketches for TV or tells jokes on a stage. 
The hosts of the creators showcase, Darcy and Jer, repeatedly used the term "feed the beast" in reference to creators' need to regularly post content. Chelan mentioned how early on she was given the professional advice to post as much as possible, regardless of quality, and how that schedule burned her out while also forcing her to post substandard work. One reason "content creator" as a class of media professional has developed a fairly negative connotation is because of this constant need to publish. The stereotype of a YouTuber or social media star as somebody who posts low-effort, low-intelligence videos of negligible quality several times a day is rooted in reality, and is a major reason it's traditionally been seen as a medium directed at younger and less discerning audiences.  It's why it's been too easy for some to dismiss all digital creators, at least until their work starts appearing in more traditional formats. There's been great, smart, original comedy online for as long as there's been an internet, though, and this year's New Faces of Comedy: Creators panel showed that's not slowing down.
---
Senior editor Garrett Martin writes about videogames, comedy, travel, theme parks, wrestling, and anything else that gets in his way. He's also on Twitter @grmartin.