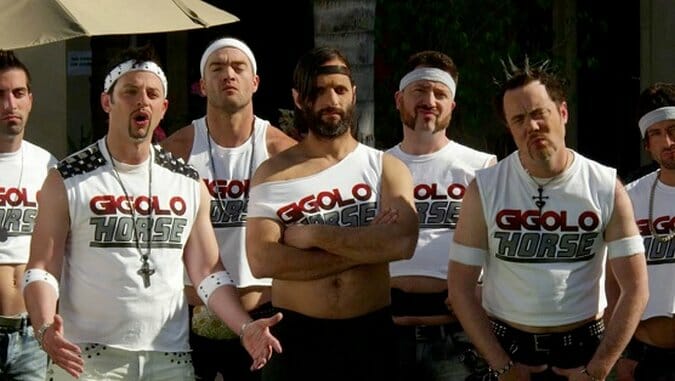 Season Three of Kroll Show opens at The Gigolo House with a fight between two members, Eagle Wing (Jason Mantzoukas) and Bobby Bottleservice (Nick Kroll) spinning off into the creation of a new Survivor-style reality show called, "GIGOLO H-O-R-S-E." I anticipated this episode namesake turning into a season-long sketch and am happy to see that it didn't. It had all the right ingredients—including Chelsea Peretti returning as Bobby's ex-girlfriend "Farley" to judge the contest ("Gentleman, I will be fair and imbalanced")—but this sketch came out undercooked.
My disappointment may be due to raised expectations for a season-opening gambit. However, there were bright spots, like when, during their first challenge of "sexy fruit-eating," Peter Paparazzo (Jon Daly) enthusiastically fisted a cantaloupe. I also appreciated the Real World/Road Rules reference of MTV's C.T. being present and confirmation that he was, in fact, a monster.
However, my hopes for great aunt jokes were dashed during the gigolo's second challenge of "lying about your job to your aunt." There was some redemption when the aunts later returned for a challenge called "three-legged fuck." It made a little more sense that the good aunt jokes were left on the table—and then molded together to make the mother's sister of all aunt jokes.
The best part of the sketch was that it hinted at the possibility of a Farley-Bobby wedding. The romance between these two idiots is endlessly watchable. Both Peretti and Kroll play these characters to perfection, delivering their hilarious lines with the intonation of a human being whose pilot light is permanently out. The words spill out of their bottom lips as if their brain's power is so limited it cannot spare the intellectual energy to hold their jaws closed, and phrases stumble out like drunk bar patrons.
The way Farley distinctly says "a" rather than "an" in the sarcastic jab, "Oh wow Bobby you ate a apple," is a work of art.
The other sketches were the ever-solid DeGrassi Junior High satire, "Wheels: Ontario" and a new sketch called "Dead Girl Town." While this week's Wheels narrative was not a particularly riveting one, I will always love this sketch. I look forward to the day when I can purchase a Kroll Show Canadian-American dictionary with entries like: "zip-up-pocket-sack = backpack," "standing stick = cane" or "drugs addict = drug addict."
The new sketch, which seems like Twin Peaks meets Law & Order: SVU meets True Detective, is not hilarious, but promising. That captures the essence of the first episode. I'm looking forward to the rest of the season.
Highlights:
"I played a little but, just in the driveway. It wasn't an organized league or anything. You know what? I overstated it. I have not played basketball."
"Everybody knows I'm a monster. That's just what it is." – MTV's C.T.
Eagle Wing getting whaled in the shoulder with a basketball.
"And why don't you just mind one's own business." – Mikey at his intervention
The Chick-fil-A like Chikk Klub restaurant with a banner reading: "We like blacks and gays now!"
"Getting gunshot can really change a person, both inside and out." – Mikey re: getting gunshot
"Well, well, well isn't that romantic." – Eagle Wing, throwing a basketball at nothing
The Canadian flag is meant to say, "Look at these maple trees." – Coach Teacher