6 Improv and Sketch Theaters that Pay Performers
Photos of HUGE Theater via Adam Iverson Photography
Comedy
Lists
labor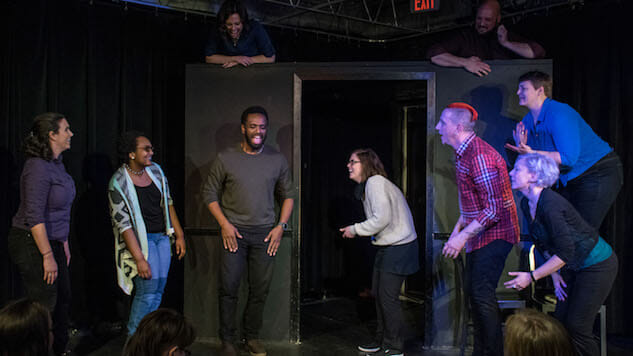 Every day comedy producers across America do the impossible: pay improvisers and sketch comedians. They do this in a number of ways, and probably no two paying companies are exactly alike. Some are for-profit theaters that sell tickets, drinks and comedy classes. Others are nonprofit theaters that complement those revenue streams by fundraising from institutional grant-givers and individual donors. Some rent or own their own buildings, while others lease out space from larger organizations; some sell booze, while others are in Pennsylvania. All share the same, simple belief that those who write and perform comedy should be paid for their labor, even if it's a token amount. And all share a mission to foster safe, inclusive communities that create great, original, artistically adventurous work. Here's how they do it.
Good Good Comedy Theater
Philadelphia, PA
When Aaron Nevins and Kate Banford launched Good Good Comedy Theater in 2016, paying talent was already in their ethos. The theater grew out of a comedy festival they had produced since 2014: Five Dollar Comedy Week, a week of 30 new shows whose proceeds they split with individual show-runners. Good Good currently gives show-runners a percentage of ticket sales, plus 100% of audience donations solicited post-show, to divvy among their casts or stand-up lineups. Nevins and Banford would not disclose exactly what that first percentage is, but they emphasize that it increases each year. "A big part of our philosophy has always been to pay people, and that it's fair to pay people, and it should be expected," says Nevins.
Good Good's black box theater hosts up to four shows a night every Thursday through Sunday, usually priced from $5 to $16. Productions are drawn from an open submission process—anyone can email the theater to pitch a show—and occasionally solicited.
---
Arcade Comedy Theater
Pittsburgh, PA
Michael Rubino founded Arcade Comedy Theater with four other artists in 2013. It spent four years in what he calls a "humble storefront" before moving into its current building in the city's cultural district, where it produces up to five shows a night, four nights a week. The lineup is largely a mix of house teams cultivated from classes, stand-up showcases and outside shows curated through an open submission process. For each show, the first $50 in ticket sales goes to the house manager and technician; the theater pays 40% of what remains to the show-runner or host. "On average, I think it's a little over 20 to 24% of our annual revenue is performer/producer payouts," Rubino says. "I think it's important, and I think it incentivizes artists to promote their shows."
A 501c3 nonprofit, Arcade has three primary revenue streams: It raises money from foundations like the Allegheny Regional Asset District, sells tickets ($12 a pop, $7 for students) and offers classes ($110-$225, depending on length). So far those latter two categories account for most of the theater's revenue, as Arcade's developmental efforts are relatively young. "Thankfully the Pittsburgh community loves comedy," Rubino says. "We always break even."
---
Brooklyn Comedy Collective
Brooklyn, NY
The Brooklyn Comedy Collective was founded earlier this year by Philip Markle and Annie Donley, who previously ran the Williamsburg branch of the Annoyance Theater (R.I.P.). Still in its nascency, the BCC runs in residency at the Brick Theater in Brooklyn, where it produces up to four shows a night every Wednesday through Saturday; tickets are priced at $5 or $10. The first $55 of each show's sales go to the house manager and technician, and producers receive 40% of the remaining proceeds. The collective then takes 10% and pays the rest to the Brick. "The conventional wisdom is that most comedy theaters should make money off classes, and that's where we wanted to put our focus," says Markle. "We make money off classes, and that's how we try and support ourselves." (Classes are currently priced at $275 for a six-week session.)
The BCC's lineup—a mix of sketch, improv, stand-up, solo and variety shows—is cultivated from an open submission process. One need not take BCC classes to pitch a show, which Markle stresses is crucial to ensuring an inclusive, diverse stage. "It can be the point of entry—having to pay to even audition for certain opportunities," he says. "The biggest thing is, we like shows that know what they are, have a strong sense of self—whatever that point of view is—and attack the stage from a place of joy and fierceness."
---
Killing My Lobster
San Francisco, CA
Unlike other organizations on this list, Killing My Lobster primarily produces sketch comedy. It also does not (yet) own or rent its own theater, instead producing shows at other spaces in the Bay Area. Still, it's been around for 21 years and has paid performers a substantial stipend for about the last four.
"All of our people get paid," says Artistic Director Allison Page. "All" means the pool of 100-ish actors and 50-ish writers KML draws upon for each production (there are eight in the current season). Actors make $300 to $450 for a two-to-three-week run, plus two weeks of rehearsals and two weeks of writers' meetings. Writers make about $150 for two weeks of work, even if their material doesn't end up in the show. Actors are drawn through open and closed audition processes, while writers come through Killing My Lobster's writing program: two seven-week classes priced at $395 for level one and $450 for level two. Tickets for each show hover around $20.
As a 501c3 nonprofit organization, KML raises money from outside institutions and from its audiences. Page says it was difficult at first to ask paying customers for more money, but they ultimately proved happy to give more. "We just do a really quick ask after and say if you'd like to give, here's some of the programs you'd be funding," she says. "And we usually make over $10,000 a year just asking people to give us their cash or credit card on top of ticket sales." Giving Tuesday, the annual post-Thanksgiving fundraising event, is also lucrative for KML: Last year it raised $30,000 in 24 hours, a figure Page lists with evident wonder. "Who would think that people would want to give it up for comedy, when there are so many other nonprofits?" she says. "But if you can carve your space out and be able to talk about why it's good—which, for me, I've figured out just in the last year or so that my own mission is to make comedy less of a toilet."
Page hopes to move KML into its own space in the near future. While she expects this will affect the company's cash flow in yet-unpredictable ways, she doesn't anticipate KML will stop paying performers anytime soon. KML's ambitions are much broader, in fact, than simply offering a stipend. "Our long-term goal is to be able to have a space that we perform in and that we can pay actors a living wage," she says. "I know that sounds insane—especially in the most expensive city in the United States—but if you don't at least have some kind of goal like that, you're not even going to get close."
---
Pointless Brewery & Theatre
Ann Arbor, MI
Pointless Brewery & Theater may well be the only improv theater that's also a brewery, and if it's not, then it's probably the only improv theater that's also a brewery that pays performers. Some performers, at least: Pointless produces two shows ($15/ticket) every Friday and Saturday night, each featuring an outside group and the theater's house cast, The League. Members of the League receive $20-$25 for each night of performances, depending on the show, and guest groups receive $20 total. Performers in the house cast are drawn from an open audition process; auditioners are required to have improv and performance experience, but they are not required to be Pointless students or graduates. An unpaid "training group," the Shadow League, performs on Thursday nights ($8/ticket), and Wednesday is reserved for outside groups ($8/ticket). Pointless offers outsiders a revenue split in lieu of a rental fee: After the theater collects $80 for the first night of performances, the group receives 70% of all ticket sales.
"We have three main sources of revenue: ticket sales, beer sales, and class tuition," Managing Director Tori Tomalia told Paste in an email. She founded Pointless three years ago with her husband Jason Tamila, who serves as Artistic Director and Head Brewer. "If things are slow in one of the areas, we can make up for it in the others," she said. "We see huge swings in ticket sales, from weeks of non-stop sold out shows in the winter, to much lighter crowds in the summer months. If we were existing solely on ticket sales, it would be challenging to even pay the small stipends that we do."
Despite the unpredictable nature of the business—or, businesses—compensating talent has always a priority for the Tomalias. "From the time we first imagined opening Pointless we knew that paying our performers would be an important goal," Tori said. "We are only in our third year of operation, and our real dream would be to pay artists a living wage so they could quit their day jobs."
---
HUGE Theater
Minneapolis, MN
As Paste reported earlier this year, the Twin Cities comedy theater HUGE has been paying performers since 2013. It's a nonprofit with funding organizations like the Minnesota State Arts Board and the McKnight Foundation, as well as revenue from ticket sales ($8 or $10 a pop, pay what you like on Sundays) and classes ($220, or a bit more for summer intensives, and scholarships are available). HUGE doesn't have house teams, draws most of its productions through an open submission process, and produces up to three shows a night, six nights a week.
HUGE pays all performers in its weekend shows according to a tiered model: For performances that sell more than 70 seats, a team receives $75 or $150; shows that don't meet the threshold still receive $150 or $300 for a two-month run. (In both cases, shows in earlier time slots get the larger fees.) The theater's co-founder and Executive Director Butch Roy told Paste that HUGE pays about $100,000 annually to performers, and that early on the very notion of payment was so alien to some performers that they tried to give the money back. "We have to insist on it," he said. "Because when people call looking for free entertainment, if we say 'no' and the next group says 'yes,' you're undermining that case for everyone. So we had to stress that we appreciate the goodwill, but it's actually really important that they learn not only to get paid as artists, but that they should be paid as artists. And don't expect any less."
---
Seth Simons is Paste's assistant comedy editor. Follow him on Twitter.