YouTube Original Comedy Liza on Demand Grows Up and Balls Out in an Extremely Funny (and Cameo-Filled) Season Two
Photo courtesy of YouTube
Comedy
Reviews
Liza on Demand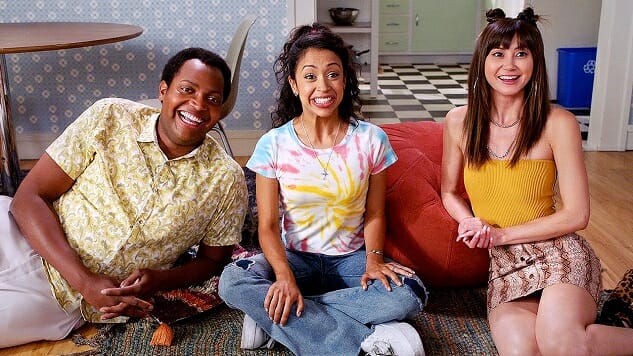 Last summer, I used this space to suggest that, at least so far as the legacy of American physical comedy goes, Raven-Symoné, currently starring as the grown, single mom version of her vision-having That's So Raven character on Disney Channel's Raven's Home, is the second coming of Lucille Ball.
Having kept up with Raven's Home in the interim, I stand by that assessment. However, having also recently housed both seasons of YouTube's original comedy series, Liza on Demand, I need to issue the following amendment: If Raven-Symoné is the second coming of Lucille Ball, then Liza Koshy, the series' physical comedy wunderkind of a lead, is the third.
For those of you not up on all things Youths (how do you do, fellow kids), Koshy is officially A Big Deal. A 23-year old YouTube star/actress/Nickelodeon game show host who first made a name for herself on Vine (RIP), Koshy currently has more than 17 million subscribers on YouTube, nearly 18 million followers on Instagram (plus another 4.5 million in an official upside-down spillover account) and a #3 ranking on youth buzz website Famous Birthdays' Sketch Comedy Web Star list (two places ahead of A Little Late With's Lilly Singh). She is, in other words, the epitome of what a person who watches the television industry for a living (hi) might call fucking bankable. And yet, even if you love television and follow comedy and are savvy enough to navigate the wilds of YouTube's ever-morphing subscription service, unless you are either a person who watches the television industry for a living (hi again) or under the age of 20, odds are good that Liza on Demand, the comedic vehicle Koshy co-created for YouTube with Josie and the Pussycats' Harry Elfont and Deborah Kaplan, isn't even on your radar.
Watch an exclusive clip from today's episode of LIza on Demand:
Well, consider this review an official PING, because not only is Liza on Demand a truly excellent comedy, but it is one that you—yes, you!—can turn on right this minute, as YouTube Premium is trying out an aggressive new tactic to woo subscribers by dropping the paywall in front of its Originals' older seasons while making individual episodes of the shows' new seasons available for free on a weekly basis. Meaning, even if you aren't a YouTube Premium subscriber, you can go watch both Season One and the first two episodes of Season Two of Liza on Demand right now, and can catch the second season's remaining episodes weekly once you're done, as if it were some kind of old-school TV show or something.
Oh, right—that part about WHY Liza on Demand is so much fun, and so worth watching television on YouTube for.
As I wrote for my list of the best original series currently on YouTube, Liza on Demand is a sitcom in the I Love Lucy vein whose first season followed around twentysomething professional gigger Liza as she raced around L.A. with her roommates Harlow (Kimiko Glenn, Orange is the New Black) and Oliver (Travis Coles, David Makes Man) in an increasingly harried attempt to attain Elite Task-It Status. That season (the one available for free, right now) had a strong sketch vibe to it, the Task-It rat-race framework giving Liza (both character and actress) the opportunity to put on one extremely goofy character after another. By the season finale—basically The Hangover meets Step Up, how is this show so under the radar?—Liza has begun a kind of process of self-actualization, but the comedic shininess of her being "a tiny magnetic goofball" is still the main thing.
Well, in Season Two, Liza—and, by extension, Liza on Demand—starts to grow up. As an Elite Tasker, Liza now has a small measure of stability in her life, which in turn allows her to be more choosy about how she spends her time, both for work and for herself. To that end, more of Liza's world is fleshed out, meaning more time this season is also spent getting to know Harlow and Oliver (geniuses), and that the show itself becomes slightly more serialized. It does not mean that the first season's I Love Lucy vibe is diminished, nor does it mean that there is less opportunity for surprising cameos. On the contrary, a TaskIt job Liza takes at a DNA testing company lets her stretch her physical comedy muscles echoing Lucy and Ethel's famous chocolate factory bit, while on the cameo side, in addition to one-offs from the likes of Chrissie Fit, Nora Dunn, Andrew Daly, Kevin Nealon, Anna Akana and Rachel Leigh Cook, the serialization of Season Two allows Jim O'Heir to recur as Liza's iffy landlord.
All of this growth (and physical comedy) comes full circle in a two-part season finale that takes place on New Year's Eve, Liza and Harlow and Oliver all coming to terms with the worst sides of themselves, all of which they've drawn laughs from for two seasons. This rings a nice note of finality, should Koshy et al be ready to move on to something new, but should they all return for a third season, it also opens the way for the show to go somewhere totally new. Either way, I'll be laughing along.
The first season of Liza on Demand is available to stream for free on YouTube. New episodes of Season Two will drop for free weekly on Wednesdays. If you're a YouTube Premium subscriber, both seasons are available to you now in their entirety.
---
Alexis Gunderson is a TV critic and audiobibliophile. She can be found @AlexisKG.