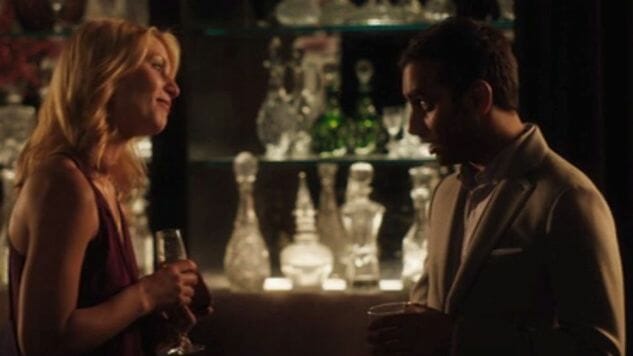 In its first four episodes, Master of None has waffled back and forth between two modes. On one hand, there are the Louie-inspired episodes about single thirtysomething life ("Plan B" and "Hot Ticket") that have clear roots in Ansari's stand-up. And, on the other, there are thematically rich episodes that explore race and immigration ("Parents" and "Indians on TV").
So far, the latter mode has been a better look for the show. "Plan B" and "Hot Ticket" have felt a little too much like stand-up comedy come to life, great material stitched into half-hour narratives with too many of the original seams still showing.
That's what makes "The Other Man" such a refreshing break from the pattern. This isn't an episode with a heavy social theme, although there is some light commentary on the ethics of cheating. Nor does it feel like a formulaic translation of Ansari's prior work into a televised format. Instead, "The Other Man" meanders and breathes in a much looser and more organic way. It's what this show can be when it unbuckles its belt.
"The Other Man" follows Dev as he debates sleeping with married food critic Nina Stanton (Claire Danes) who comes onto him at Denise's work party. While he's trying to decide, Dev encounters Nina's wealthy husband Mark (Noah Emmerich), who cuts in front of him at Morgenstern's Ice Cream, thereby mitigating some of his guilt when he eventually succumbs to Nina's charms. And, of course, he gets caught in the end.
There are plenty of detours along the way: Conversations about orgasms and other "lesbian shit" with Denise, the welcome reappearance of Benjamin who teaches Dev that masturbation is the only surefire way to avoid cheating ("It's 100 percent success rate in terms of you not wanting to have sex anymore after you jerk off"), and a side story with Sickening castmate Colin Salmon who wants Dev to help him write CarMan, a movie about a man who, you guessed it, becomes a car.
If that seems like a lot of side players, it is, and that's part of why "The Other Man" is so good. After playing broad in Parks and Recreation and other projects, Ansari is easing his way into this more nuanced work. He's doing an admirable job of it so far, but surrounding him with veterans like Danes, Emmerich, Benjamin and Salmon hides some of his effort and gives his character more points of contrast.
As the accomplished and sexually self-possessed Nina, Danes is downright delicious. There's no other way to describe the joy of watching her swagger around a penthouse. Emmerich was born to play menacing corporate assholes, and he's perfectly cast here, too. No one can throw a banana split into a garbage can quite like Noah Emmerich. As for Colin Salmon, it's relatively common for actors playing themselves to be written as eccentric oddballs—Ricky Gervais' Extras made a cottage industry out of it—but it still works. Between his zeal for CarMan, his Cinnabon obsession, and his secret life as an "amateur toppler," Salmon is the wild card the show needs.
The episode's best moment comes when Mark catches Nina with Dev and the three have a shouting match in which the Morgenstern's moment comes back into play.
"You cut in line in front of me at the ice cream store," Dev reminds him.
"What? So you fucked my wife?" Mark asks, shocked and a little wounded by what he can only interpret as a psychotic act of revenge.
"What is this ice cream thing?" Nina demands, but the fight moves on without ever resolving the question.
It may be the biggest laugh of the series so far, and it comes when the show stops trying to build to a conclusion and, instead, throws three of its characters into close quarters and lets them be uncomfortable.
The resolution of the episode (in which we see Mark and Nina reunited) falls flat, mostly because it feels like unnecessary obedience to narrative structure after such a beautifully pointless episode. And there are still a few too many moments—largely interstitial or scene-setting conversations—when the show feels the need to pass off stand-up-style jokes as natural conversation. But these complaints aside, "The Other Man" is terrific, zany, and delightfully unrushed.
With just ten episodes in the season, it's understandable that Ansari and Yang wanted to cram so much into its first four entries. But it also takes a certain kind of confidence to let your show to take a day off and have a little fun, and this fifth outing is the first time Master of None pulls that off.
May Saunders is a professional dog walker living in Minneapolis and an occasional freelance writer. In her spare time, she enjoys hanging out with her cat, who does not need to be walked. Follow her on Twitter.