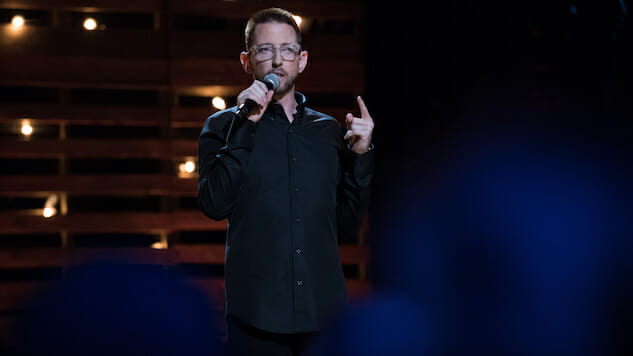 Neal Brennan is through hiding behind the famous personalities that have, more often than not, taken the spotlight while he stands in the background. Better known as Dave Chappelle's writing partner and one half of the mind responsible for Half Baked and Chappelle's Show, Brennan steps out from behind those famous shadows in his new Netflix stand-up special, 3 Mics. "I can't hide," he says." I wanna hide. I'm dying to hide. But, win or lose, can't."
As the title suggests, in 3 Mics Brennan boils stand-up comedy down to its three major components: one-liners, "emotional stuff" and traditional stand-up, each corresponding to one of the three mics on his stage. Brennan begins by sharing one-liner after one-liner, each written on an index card, before the screen fades to black and he reappears on the opposite end of the stage in front of the "stand-up" mic. There, he dives headfirst into terrorism, religion, guns, sports scandals, student loans, slavery and more.
Brennan's deconstruction has a clever ring to it, but one that could easily grow tired without some greater point. After all, stripping down any cultural medium to its constituent parts hopefully reveals some greater truth about it. That truth comes about when Brennan steps before the "emotional stuff" mic located at center stage and veers away from more expected fare, both in terms of subject matter and delivery. He holds his viewers captive with starkly told stories about his emotionally deficient childhood and the clinical depression he's managed ever since. In these moments, he doesn't quip, he doesn't weave his way towards a joke; instead, he allows each confession to hold its very heavy weight. Brennan admits how, outwardly, his depression simply makes him seem chill, according to his many black friends. "Neal, man, you don't give a fuck," he says, imitating their response. "Well that's because I'm sad," he says.
The minutes held at the central mic find Brennan at his most honest, revealing stand-up's inner theatricality. Mike Birbiglia, among others, has already blended comedy and theatre with his one-man shows, and Brennan puts his own twist on that pairing. Is stand-up still stand-up when it's not necessarily funny, but aims toward some greater understanding of the human condition? Where does stand-up end and confessional monologue begin? 3 Mics doesn't exactly answer those questions, but in posing them Brennan takes the form in an inventive direction.
That doesn't mean the structure avoids growing staid. Brennan keeps to a specific order—first one-liners, followed by stand-up, and finally emotional stuff before it all begins again—that never varies. The form seems ripe for play, and it would be curious to see him shake things up. Besides the charged monologues—easily the most compelling part of his special—Brennan's astute observations grow cumbersome near the end when he moves into territory that treads far too close to the conventional line, "Women do this, men do that." A bit about how testosterone feels like living with a prison inmate inside your brain conveys a self-assured perspective. When Brennan begins discussing women, and especially women's bodies, those beats don't feel nearly as developed. He is sharpest when he trains his attention on contemporary issues like terrorism or slave movies, because it's clear he knows the subject matter well and has a strong point of view.
But those few missteps aside, Brennan succeeds in emerging from the notable past he's built as a writer and director, and finding his place behind not one, not two, but three mics.
---
Amanda Wicks is a freelance journalist specializing in comedy and music. Follow her on Twitter @aawicks.