Norm Macdonald Sticks Up for Louis C.K. and Roseanne Barr in Hollywood Reporter Interview
Photo by Eddy Chen, courtesy of Netflix
Comedy
News
norm macdonald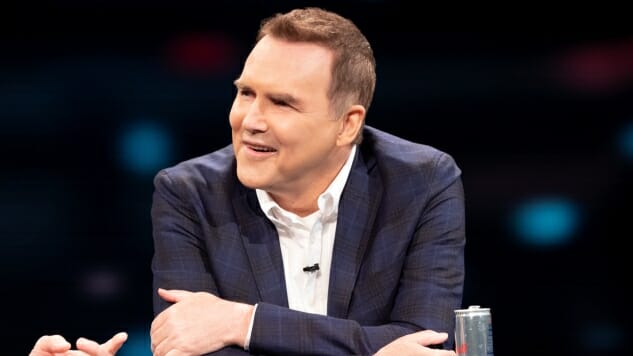 Norm Macdonald has a new talk show coming to Netflix this week, so he's been doing interviews all over the place. (Here's part of ours, for instance.) One interview in particular was published this morning by The Hollywood Reporter and is guaranteed to attract some heavy criticism. It should come as no surprise to people who have followed his career that Macdonald is not especially worried about what others think of him or his opinions. In this interview Macdonald defends his friend Louis C.K., defends his former boss Roseanne Barr (who helped Macdonald launch his Hollywood career back with her original sitcom), criticizes the #MeToo movement, comes out against Hannah Gadsby's Nanette (which he admits to not having seen), and, in what might be his biggest transgression to some in this heavily polarized time, reveals that he's a pretty apolitical guy.
Here's what Norm says about C.K. and Roseanne:
Roseanne was so broken up [after her show's reboot was cancelled] that I got Louis to call her, even though Roseanne was very hard on Louis before that. But she was just so broken and just crying constantly. There are very few people that have gone through what they have, losing everything in a day. Of course, people will go, "What about the victims?" But you know what? The victims didn't have to go through that.
He also admits that he hasn't seen Gadsby's Nanette, but still weighs in on the whole "but is Nanette stand-up?" debate:
I have never seen the Nanette thing because I never wanted to comment on it. But from what I have read about it, [comedian Hannah Gadsby] is saying that comedy is now not about laughter. And of course that's a slap in the face of a traditional stand-up comedian who thinks that comedy by dictionary definition is about laughter. And that that's your job. You actually do have a job on stage. Nanette doesn't sound like stand-up to me.
Elsewhere in the interview Macdonald says that he's "happy the #MeToo movement has slowed down a little bit," praises the work Michael Che and Colin Jost have done as SNL's Weekend Update hosts, and knocks the idea that all comedians or talk show hosts have to be political now. Many will take issue with Macdonald's opinions, some for very good reasons, but nothing he says should be especially surprising to anybody familiar with Macdonald, and the interview is still an interesting read. You can read it in full here.
Macdonald's Netflix show, Norm Macdonald has a Show (which is produced by David Letterman), launches this Friday, Sept. 14.