The Lonely Island's Oscars Parody Video Laments Lack of Blockbuster Nominees
Images via Christopher Polk/Getty, The Lonely Island/YouTube
Comedy
News
Oscars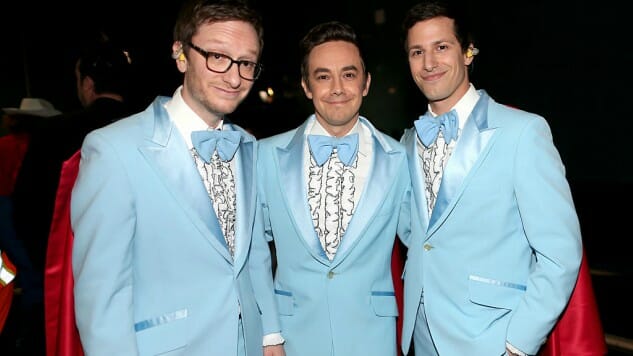 The 90th Oscars ceremony this year yielded few unexpected moments. It's not that the show was boring, but it certainly could've used a few pick-me-ups. Thankfully, The Lonely Island have released a video lamenting the lack of love for popular mainstream blockbuster films like Wonder Woman and Thor: Ragnarok, and it's pretty great. Supposedly, the song was meant to be performed during the ceremony but alas, it was not. However, we can still enjoy the clever lyrics via The Lonely Island's silly placeholder video.
The video begins with The Lonely Island explaining that, "We were asked to write a song for this year's Oscars … Unfortunately it wasn't chosen because it was 'financially and logistically impossible,' so for fun we thought we'd share the rough storyboards of what would have been a fully shot, star studded music video of exorbitant cost."
The video poses some pretty interesting questions that have long been discussed within the Academy: Why do hugely popular blockbuster films that are reviewed well often times go unrecognized by the Academy? Wonder Woman, IT and Thor: Ragnarok were well-reviewed by critics and made huge sums at the box office. The hilarious Girls Trip also received critical praise and even garnered awards season attention for Tiffany Haddish's performance, but yet, to no surprise, went unnoticed by Oscar.
The Lonely Island's video pokes fun at Oscar favorites like Meryl Streep and Daniel Day-Lewis while making nods to Lady Bird and all the unacknowledged Chrises. Pennywise gets a moment in the video, too, complaining how he's "killed hundreds" of kids, yet All the Money in the World only kidnapped one kid and it got a nomination. You'll definitely get a laugh from the video below.