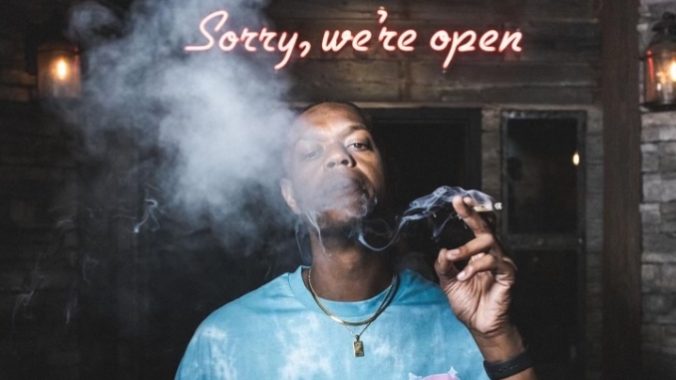 Kill Rock Stars is a familiar name for music fans, especially followers of seminal riot grrrl acts Bikini Kill, Bratmobile, and Heavens to Betsy. However, the Pacific Northwest label has expanded beyond punk bands, releasing comedy records from ​​W. Kamau Bell, Cameron Esposito, Hari Kondabolu, Kurt Braunohler, Emily Heller, and more. Now, Oakland native Papp Johnson has been added to the roster, with the label putting out his understated yet riotously funny debut album Timeless.
The first thing you notice about Johnson is the timbre of his voice. It's sonorous, adding depth to his unhurried, carefree delivery. His set is full of pregnant pauses, some so long that you'll think you've accidentally stopped the track. Johnson's tendency to let moments linger shows off a quiet confidence. More often than not jokes hit harder after lulls, though occasionally they fizzle out. Sometimes Johnson's trailing off is the punchline itself, and again this demonstrates just how comfortable he is on stage to make such a risky choice. Many comedians fear an audience's silence so much that they fill up every last second with the sound of their own voice, quality be damned, but Johnson is one of the rare few who realizes that sometimes less is more.  
After starting off with an obligatory pandemic mention (I'm personally a fan of his theory as to how covid started), he moves onto exploring life as a tall man, his stint working security, the appeal of Hillary Clinton as president, the MeToo movement, and sex. The breadth of the subject matter means we get a decent, if slightly superficial, picture of who Johnson is. And that's okay—not every comedy album has to dive into the deep end. In fact, Timeless' main appeal is just how luxuriously laidback it is; this is a record for savoring on your own schedule.
Johnson's serene cadence means that his impressions during Timeless are funnier and all the more jarring. He's usually pretending to be someone comparatively hyper or intense, and the stark change in his voice is hilarious in and of itself. However, while his impersonations of the old guy on his basketball team and an impertinent white lady work, later on he does a caricature of an Asian restaurateur that feels pretty unnecessary. 
Timeless is very much a starter album, both in its brevity (just under 40 minutes) and the fact that there's so much potential on display. (Even the seeing him do a whole special over an LP will be a treat; at one point an interaction with his mother, who's in the audience yet off-mic, is lost due to the format.) Johnson definitely has so much more to show us, and it'll be exciting to watch him grow as a comedian. As a first chapter, though, Timeless starts him off on the right foot.
Timeless is streaming now wherever you listen to comedy.
---
Clare Martin is a cemetery enthusiast and Paste's assistant comedy editor. Go harass her on Twitter @theclaremartin.