Pete Davidson's Stand-Up Career Is DOA in Alive From New York
Photo by Marcus Price, courtesy of Netflix
Comedy
Reviews
pete davidson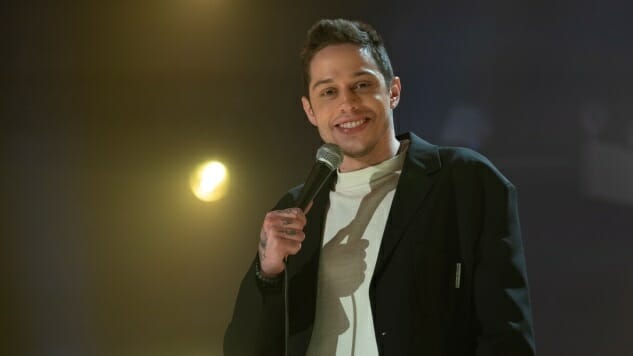 Pete Davidson's latest comedy special made the news before it landed on Netflix thanks to the $1 million NDA he had audience members sign before shows, a move one attendee called "Orwellian" in a Variety interview. The SNL cast member shared his side the day before the set's release, telling Charlamagne Tha God that he feared his bits being leaked before the final cut was out.
"Once you do a joke, it's over," he said in the interview. Maybe a better way to put this is, once Pete Davidson tells a joke, it's over. Pete Davidson: Alive From New York—a lazy play on SNL's opening tagline—sets the stage for an even lazier special, in which bits quickly lose momentum due to the comedian's over-reliance on shock value.
Davidson runs thin on material, especially when you cut out extended, poorly paced anecdotes about fellow celebrities. Alive From New York runs just under 50 minutes, and would have a chance at being decent if the New York comedian decided to cut it down to a solid half hour. Instead, he waffles on in a meandering way, never quite hitting his stride and certainly benefiting from a generous editor.
Due to his scarcity of material, Davidson often resorts to being gross or offensive to elicit a reaction. Among these ill-conceived bits are one about a baby sucking his fingers and an impression of an African child. They're clearly bait, and he acknowledges their controversial nature as if that absolves him. And sure, I'm taking the bait since I'm writing about the jokes, but that's because they also weren't funny (not that it would make them less racist/gross if they were). The entire time I just had the "Where are the jokes?" gif playing in my head on repeat.
To the general population, Davidson is famous less so for his comic genius than he is for his public persona, including his purported "big dick energy" (it's actually not that big, he admits) and his blink-and-you-missed-it engagement to Ariana Grande following her breakup with Mac Miller. Time and time again I find myself returning to the question of whether comedians can be too famous to be funny, as Paste's Olivia Cathcart puts it. Davidson's performance, along with other comedians' recent missteps (…Ilana Glazer), answer that with a firm yes. The special solidifies his irrelevance in the stand-up world, though probably endears him to fellow bros and the audience members who lapped up his every word at this taping. At least he has his people.
---
Clare Martin writes about comedy, music and more for Paste.