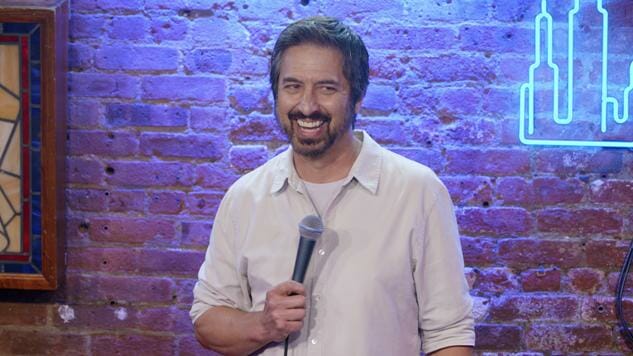 It's been 23 years since Ray Romano last released a comedy special. In that time he's become one of the most successful sitcom stars of all time, starred in movies and written books. Returning to stand-up comedy should be an easy victory lap: fill up a theater, crush in front of an adoring audience of your fans, cash a check. That's why Right Here Around the Corner, which is now streaming on Netflix, is such an unexpected treat.
Forgoing an hour in a massive theater, Right Here finds Romano doing two drop-in sets at New York's Comedy Cellar and Village Underground. Rather than fans, each audience is made up of whoever was at the shows that night. It leaves Romano no wiggle room to work with. The audience doesn't know he's filming a special. They think they're just watching a set.
Technically this isn't an hour special; it's two half-hour specials filmed around the block from each other. Free of the pressure of a theater Romano gets to fall into the everyman persona that made him famous. It's easy to forget he's a millionaire in a tiny club, even if he regularly reminds you how much his wife loves spending his money.
There's no pretension here and, refreshingly, no message. While so many of his peers are grumpy about the world and PC culture, Romano seems to genuinely not give a shit about anything but his family and goofs. Similarly to Adam Sandler's surprisingly brilliant 100% Fresh, Right Here is an onslaught of silly jokes. It's as close as you'll find on Netflix to experiencing a warm, packed comedy club.
Seeing a star like Romano in a place like the Comedy Cellar is electric. You believe you can trust Ray Romano when he's speaking to your face, so when he lays in a punchline it hits extra hard. For a special centered almost entirely around jokes about getting old and family, Right Here is surprisingly blue. It's wonderfully dirty take times, with the blissful charm of hearing a good-natured father talk about things he shouldn't.
Being 61 informs his positions, but his youthful energy keeps it from being a series of complaints. He describes reminiscing with old friends and how being told "this was before AIDS" is the sign of a great story. "Did I ever tell you I went candle shopping in Vermont?' 'I'm out.' 'It was before AIDS.' 'I"m back in, what happened in the candle shop!"
Romano isn't angry, he's tired and thinks it's funny. Comedians have been rightfully criticized for making marriage sound like a hellscape, but Romano never sounds anything but in love. His marriage isn't a series of complaints because he hates his wife. Rather, he uses their petty arguments to explore how somone you've loved for decades can still sometimes be a mystery to you.
The chunk focusing on his wife was refreshing to me as a married person. After years of comics joking about how their wives don't want to sleep with them, it's nice hearing Romano own his own shortcomings. He describes needing to take a knee during sex. "I wasn't protesting anything," he says. "You know what I was doing, I was running the clock out on my wife."
There are a few times where Romano falls back on relationship cliches, often with his own acknowledgment. Premises like "my is always annoyed with me" and "our sex drives are different" are well-worn territory in comedy. It's these moments where you start to appreciate Romano as a comedian. He can take these premises you've heard a hundred times and weave something special from it.
Right Here Around the Corner isn't an important special. You won't walk away changed, and you probably aren't going to learn anything. But you will laugh, hard and deep at stupid things that are worth laughing at. And in a way, that makes it important. There's a place in the world for theater shows and arena gigs, but stand-up is always at its best in a club.
Seeing a voice like Ray Romano walk up to the mic in a room with a low ceiling and crowd fulfilling its drink minimum is special. Much like the raw and personal connection found in Jeff Ross and Dave Attell's recent Bumping Mics, also filmed in part at the Cellar, Right Here Around the Corner captures the joy of a comedy club. If the only lesson you walk away with is how much fun a club show can be, that's perfectly fine.
---
John-Michael Bond is
Paste
's assistant comedy editor. He's on Twitter @BondJohnBond.