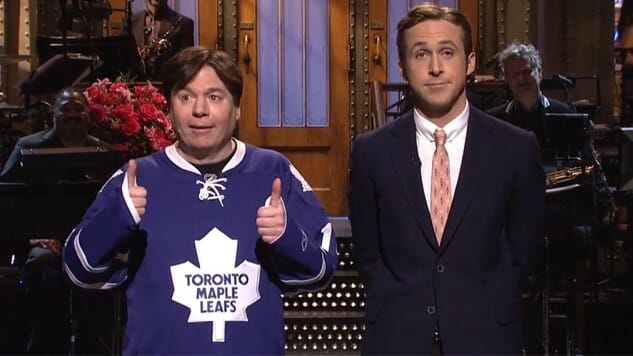 Selecting an actor best known for his brooding dramatic work, a guy who hasn't appeared on a movie screen since 2013's forgettable Gangster Squad and who has never guest hosted Saturday Night Live before…a famous face known mostly for not eating his cereal…this is a very risky choice for struggling SNL. And without the support of a mega-famous musical guest (Leon Bridges is great, but a new discovery for most of us), the risk seems all the more foolhardy.
But playing it safe hasn't suited the current season of NBC's iconic sketch comedy show. And though the ultimate result is unlikely to go down as a season's best, Saturday Night Live was in pretty good form with wobbly guest host Ryan Gosling. The show still has a little fight left in it. And that's a promising sign as we head toward the mid-season mark.
The episode starts out all wrong with "Donald and Melania Trump Christmas Cold Open" and "Ryan Gosling Canada Monologue"—the former, as unfunny as anything we've seen all season. Taran Killam's Trump is fine, as is Cecily Strong's Melania, but there's really nothing for them to do here. Oddly enough, the entire episode only breezes past the week's two hottest issues: gun violence and terrorism. This feels like a calculated decision, but it's a missed opportunity. And so we are left with corny Trump jokes and a "ripped from Wikipedia" monologue and song about Gosling's home country, Canada. (I, for one, happen to be a prime target for a little Mike Myers holiday nostalgia, but his appearance adds only insult to writing staff injury.)
Things get back on track quickly with "Close Encounter," a three-person panel sketch where two characters agree about what happened during a recent alien abduction, with the third offering a very different story. Kate McKinnon is strong here in a piece that seems custom-written for her talents. There she sits, smoking the hell out of a cigarette, matter-of-factly telling government investigators (Aidy Bryant and Bobby Moynihan) each uncomfortable detail of her abduction…while Ryan Gosling and Cecily Strong wax poetic. It's a rare glimpse at the simplicity of McKinnon's comic genius—all natural, all-original.
As to the matter of breaking—which is the "fine art" of actors cracking up during a comedy performance—SNL would be best served to return to it's founders' ethos: nada. No breaking. Though audiences often enjoy seeing funny people laughing at their own jokes, the overall effect of the break, especially when it infects an entire sketch as it did "Close Encounter," is less comedy, not more.
Early Saturday Night Live style was as much a reaction against the cloying breaks that defined television variety shows like The Smothers Brothers Show and The Carol Burnett Show as it was an assertion of alternative comedy. The current SNL tendency to break is traceable to Jimmy Fallon's time as a cast member (1998-2004), and was actually celebrated during the 40th anniversary special with a special tribute montage.
Still, Kate McKinnon's performance in "Close Encounter" deserves better focus and more respect from her fellow performers. The audience knows the piece is funny. We don't need the players to remind us.
Pre-taped "Santa Baby" is one of the season's best, with Ryan Gosling and Vanessa Bayer playing a couple at a holiday party completely obsessed with meeting Santa…who they passionately believe to be real. This is a straight up parody of Gosling's movie persona, but he plays along with hilarious results. And again this season, we see Bayer placed in a prominent role…as she emerges as the cast's go-to leading lady.
Weekend Update is notable for Cecily Strong's new Jill Davenport character—a flirting Glamour magazine reporter who can't stay on topic around Colin Jost—and the return of Bobby Moynihan's street gossip, Anthony Crispino. The gag should be stale by now (and it is), but Moynihan brings an energy to the character that is infectious. And rather than beating a dead horse, Ryan Gosling's appearance as Crispino's buddy Angelo helps us stay with the conceit a few beats longer. Ultimately though, Update loses points for playing it safe after a week worth commenting on.
After Update, the episode quickly runs out of gas. "Hometown Bar" suffers more from a bad concept—guest host playing himself—than it does poor performances, though Kyle Mooney as Gosling's high school nemesis never quite connects. Similarly, though Gosling shows off some never-before-seen comic chops as Ray Bolger's Scarecrow in "The Wiz," the sketch never finds its footing. It winds up feeling more like a NBC promo for the recent live production of The Wiz than a pointed racial satire.
Leon Bridges is good performing his throwback hit "Smooth Sailin'" and the plaintive "River," but he's not ready for this stage. Both performances lacked the live energy—which on SNL involves playing to a weirdly arranged room and to three cameras—that characterize the most excellent musical performances.
So high praise for embracing the risky proposition, SNL. Pay no mind to the low ratings this episode will, no doubt, garner. Pat yourselves on the back for fighting through a challenging first-time guest host and a week in the world marked by moribund tragedy and a flat-lining political campaign. But you're not out of the woods yet. Next week looks to be more of the same with a pretty actor boy and a first-time musical guest booked. Let's see what you can do to build on this week's efforts and put us in the mood for that Fey-Poehler-Springsteen Christmas episode on the 19th.
NEXT WEEK: Chris Hemsworth with Chance The Rapper.
Chris White writes and directs independent feature films. His latest, an award-winning showbiz comedy about looking for Bill Murray, is called Cinema Purgatorio. Follow Chris on Twitter.