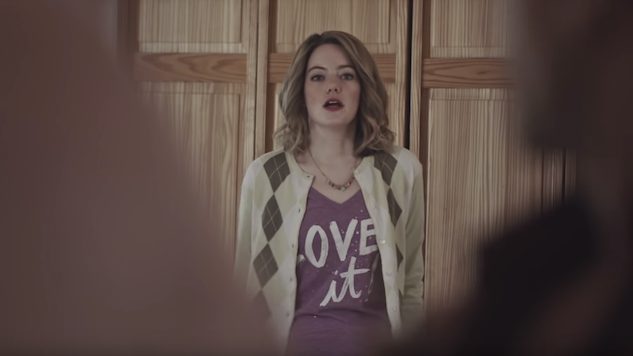 Emma Stone could read the phone book and make it charming. Over the course of her career, she's excelled in dramatic roles but always delivered her best work in comedic ones. This week's episode marks her fourth time hosting Saturday Night Live, and it's easy to see why Stone keeps getting asked back. Her dedication to pouring her all into comedic bits helps elevate an otherwise uneven episode of Saturday Night Live.
It's rare that the biggest guest on Saturday Night Live is the music act, but K-Pop imports BTS quickly made it clear who the crowd was there for. When you watch Saturday Night Live week after week the audience often starts to bleed into the back. They laugh when they're supposed to, groan at the right moments, and clap for the bands.
This week the audience brought an extra layer of energy to the program, exploding for what they loved and meeting duds with near silence. At one point even Jost and Che on Weekend Update were taken aback by how big they'd pop when they got a joke or, even better, mentioned BTS. Meanwhile, they had absolutely no idea who Michael Keaton was.
That kind of energy might be hard to deal with but Emma Stone was up to the challenge. After quickly acknowledge the BTS superfans in the crowd, the rest of her monologue was used to discuss the legendary five-timers club of hosts. Dreaming of the day when she'll be part of the club, Stone asks the cast if they've planned anything special for her fourth time. It's a quick and silly bit of self-mockery with a sense of sweetness that kept things light. Plus you get to see Kyle Mooney's Oprah impression.
Stone makes for a truly great host, never getting lost in the cue-cards or breaking character, even when the show gives her little to work with. Her live segments cast her eclectic roles like "dumb blond," "drunk party girl," "drunk fake Italian wine seller," and "Jenny McCarthy." In each instance, Stone's willingness to not only look ridiculous but double down on silly ideas made her a star component of the sketches.
Of the three digital shorts she starred in this week, two ranks among the sharpest material produced by the show this season. The vicious "Fashion Coward" commercial for a store that sells frumpy clothes for people with scorched self-images was art. Promising pants for "when you don't know who you are" and "clothing that suggests the general idea of a person," Fashion Coward used the familiar ad format to talk about self-esteem in a jarringly real way.
But the masterpiece of the episode is "The Actress," a short slipped into the late half of the show but deserving a spot up front. Stone played a failed actress who finally gets her big break, playing a wife in a porno who walks in on her husband and her Godson. Treating her two lines like a role in Shakespeare in the Park, she hunkers down and finds the truth of her character. Saturday Night Live isn't known for graceful, deliberate comedy, but "The Actress" is exceptional. If it wasn't so dirty it could almost pass as a segment for Joe Pera Talks To You."
The stuff that didn't land this week wasn't offensive, it just sort of fell flat. "Hobby Song" pairs Stone with Melissa Villaseñor for a silly rap song about hobbies that's fun to watch due to the performer's charisma but doesn't feature many laughs outside of a bit about smelling books. The cold open took a break from politics to tackle how celeb criminals will handle jail. There aren't any surprises, but it was nice to see Michael Keaton as Julian Assange in a wonderful cameo.
Unexpectedly, this week's sketch about The View elicited some of the biggest laughs of the show. Aidy Bryant's Meghan McCain is a savage impression, a self-identified Princess of Arizona at war with her coworkers, held at bay by Leslie Jones' water bottle spraying Whoopie Goldberg. Tagging the show for its careless platforming of anti-vax propagandist Jenny McCarthy, this segment shows a sketch idea doesn't have to be original to resonate.
Weekend Update got an extra pop early by referencing BTS, to ear-piercing screams from the crowd, and rode the momentum for the rest of the segment. This was the most fun Weekend Update in months, largely due to the energy of the crowd. They loved Bryant as 7th Grade travel expert Carrie Krum, a truly wonderful splash of playfulness full of fun facts about Idaho. And Nico and Brie, a seemingly perfect Instagram couple on the verge of a breakdown, gave Mikey Day and Heidi Gardner time to attack surface level influencers brutally. Gardner's Brie is indeed a stroke of genius, offering throwaway gems about the Earth being flat between fake pregnancy scares.
What's left felt like leftovers. You've seen a variation of the talking posters bit before. "Ladies Room" lives and dies by its pee jokes, which is odd praise for a sketch about an '80s club. Mikey Day lead us through another royal party in "Royal Baby," an excuse to see a bunch of impressions of people you probably don't know much about. The BTS-fan heavy audience seemed to have no idea what to do with this sketch. As a fan of absurd comedy, I have a soft spot for "Charlmers Reserve Event Wine," selling high proof "wine" from a demented reality show couple, but it was a sort of one-note gag.
And then we have BTS. This seven-member international K-pop sensation made its American live TV debut this week and was met with unwavering adoration from the crowd. Even if you don't enjoy boy band pop, BTS is a remarkable thing to see in motion. The sheer number of moving parts, from choreography to singing to rap, makes for an exuberant sensory bludgeoning. Plus when was the last time an Asian pop star, let alone seven of them, got to perform on Saturday Night Live? To be honest, I'm still holding out for Blackpink to perform, but it's easy to see why these fellas are so popular.
I don't presume to know how Saturday Night Live selects its audience members, but the change in energy this week was immediately noticeable. Maybe they just need to have a K-Pop group on every week. But one thing is abundantly clear after this week; we can't wait to see Emma Stone join the five-timers club.
---
John-Michael Bond is
Paste
's assistant comedy editor. He's on Twitter @BondJohnBond.