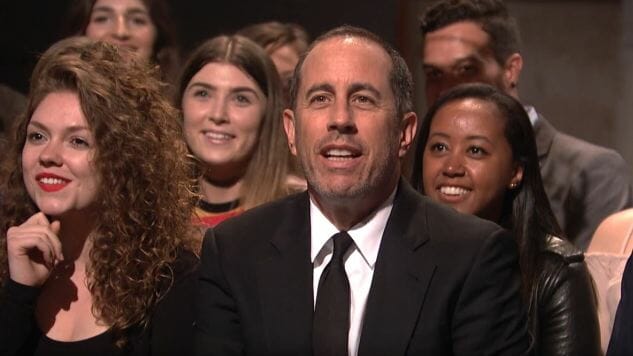 Alec Baldwin and Chris Rock and Ben Stiller and Jerry Seinfeld and Robert De Niro and John Goodman and Tracy Morgan and Anne Hathaway and Donald Glover and Benedict Cumberbatch and Fred Armisen were on Saturday Night Live tonight. That's one short of an Ocean's movie, or seven short if we're talking about the all-woman one.
Somebody at SNL reads the critics. Maybe it's 70-something impresario Lorne Michaels (it's probably not). Maybe it's his assistant (real good chance there). Maybe it's the show's writers and performances (after all, they're only human). Either way the monologue on tonight's season finale (as delivered by Tina Fey) was built entirely around the common complaints over the show's recent reliance on celebrity cameos.
We're not arrogant enough to think the show had Paste in mind, but we will acknowledge that we are but one of a myriad of outlets that have been regularly disappointed by the show's cameo-happy casting strategy. Tonight's cold open (which you can watch below, and which was built around a super timely reference to the Sopranos finale) featured seven actors, three of whom (Baldwin, Stiller and De Niro) aren't regulars on the show. Fey's monologue (which you can also watch below) featured every other celebrity mentioned above, save Goodman, who only appeared in a later sketch (which you can also watch below). Famous faces were everywhere, while the folks who turn in for work week in and out remain unrecognizable obscurities to most viewers.
But hey, we probably look stupid complaining about this. After all, Saturday Night Live itself made fun of people complaining about the lack of screen-time for its cast members tonight, because apparently it's cool to openly disparage your employees now. Those who can get cast on Saturday Night Live, and those who can't kvetch about Alec Baldwin doing Trump again for chrissake. Or maybe, in a different path to success that's more prevalent every single year, they forge their own careers through stand-up or movies or other TV shows, proving that an SNL tenure is about as insignificant in 2018 as at any other point in the show's history.
But hey: celebrities. They're famous! Let's look at 'em.
---
Garrett Martin edits
Paste
's comedy and games sections. He's on Twitter @grmartin.