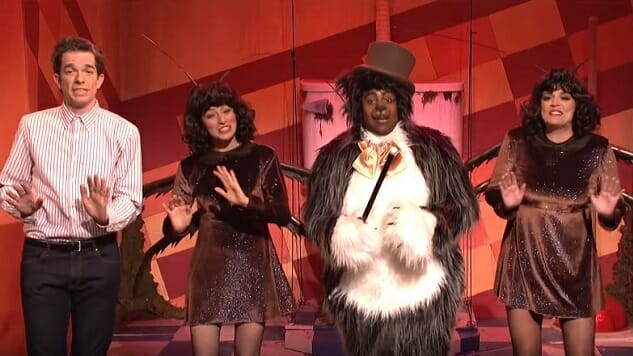 There's rarely consensus in comedy, but it was widely agreed that "Diner Lobster" was Saturday Night Live's best sketch of 2018. No less of an authority than Paste Magazine gave it the top spot on their list of last year's best sketches, along with basically every other website that writes that kind of stuff. It's legitimately great, a surreal bit of comedy writing that spirals out from a very specific observation and grows to encompass far more than its small-scale opening ever hints at. If you haven't seen it, go watch it right now.
John Mulaney, the host of that episode, and the co-writer of the "Diner Lobster" sketch back in 2010, returned to SNL this past Saturday, and brought with him something that's clearly designed to be the next "Diner Lobster." "Bodega Bathroom" is an obvious spiritual successor, with the same mundane New York experience becoming an elaborate musical parody that uses pretty much the entire SNL cast. It even casts actors in the same kind of roles they played in "Diner Lobster." If you know last year's sketch, it's impossible to watch "Bodega Bathroom" and not quickly realize what it's trying to do.
If you haven't seen it yet, click the play button below:
The only hang-up here is that "Bodega Bathroom," while very funny, isn't as great as "Lobster Diner." Corner store and gas station bathrooms are universally filthy, of course, but that's so well-established that this sketch doesn't start with the sharp observation of "Lobster Diner." It just isn't as unexpected as making fun of the weirdly huge and all-encompassing menus of a Greek diner. "Bodega Bathroom" also isn't as tightly focused of a musical parody. Instead of sticking to one musical, as "Lobster Diner" does with Les Misérables, "Bodega Bathroom" references a number of musicals, from both stage and screen. That makes it feel unfocused, and one of the reasons "Lobster Diner" works so well is because it keeps a tight focus despite becoming a larger and more ridiculous sketch with every new idea.
"Bodega Bathroom" might not be as surprising or well-written as the sketch that obviously inspired it, but that doesn't mean it's bad. It's a hilarious premise with great performances and staging, and definitely worth a watch. It just isn't as powerful or memorable as "Lobster Diner."