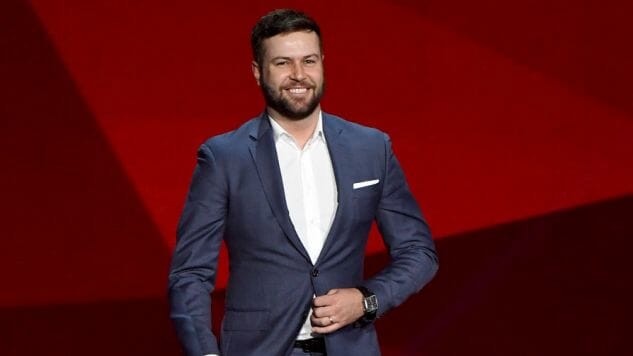 Taran Killam was unceremoniously fired from Saturday Night Live in 2016 with a year left on his contract, but he was still "lucky" enough to be on the show when it made probably the worst decision in its 43 seasons: letting Donald Trump host an episode during the early days of his presidential campaign in 2015. Like most people who apparently didn't vote for Trump, SNL must have assumed his candidacy was a transparent bid for publicity that would never actually amount to anything. And like most TV shows that uncritically gave Trump the spotlight during that campaign, SNL is partially to blame for his improbable success throughout the election.
Although, like everybody associated with the show, Killam didn't say much about Trump hosting at the time, in an interview at NPR.com today he reveals how embarrassed he is by that episode. In the interview the actor tells Sam Sanders how difficult it was to do that episode, with the sound of protesters on the streets below filtering up into their offices during table reads. "It was not enjoyable at the time and something that only grows more embarrassing and shameful as time goes on," Killam says.
Killam discounts any political motivation for the show inviting Trump to host, and although he acknowledges that it might have helped normalize what should have been viewed as an extreme, fringe candidate, he doesn't think SNL helped Trump get elected. He is candid about how bad an experience that episode was, telling Sanders that "there's nothing good I can take from that week. Because [Trump]'s not an enjoyable person to be around — he's from a different class; he's from a different way of life. There was never any common ground."
Killam also claims to have heard firsthand the kind of disregard for the presidency that has long been assumed of Trump by his critics. There's good reason to think Trump never actually expected or even wanted to win the election, at least at first, and if Killam's recollections of that SNL episode are true, that belief might be on the money. As Killam tells Sanders:
The most heartbreaking moment at the time: We're at the host dinner, and he brings [his wife] Melania and he brings [his daughter] Ivanka and [son-in-law] Jared [Kushner]. And he says [to SNL creator Lorne Michaels], "You know, Lorne, if I don't win this thing, I'm gonna be fine. We just bought this beautiful piece of property in Scotland. If I have to be president, I'm never gonna see that thing." And that that was his priority in that moment, that that was even a consideration, made me sad.
There's more from Killam at NPR, on Trump, SNL, his departure from the show, and his upcoming directorial debut, the mockumentary Killing Gunther.