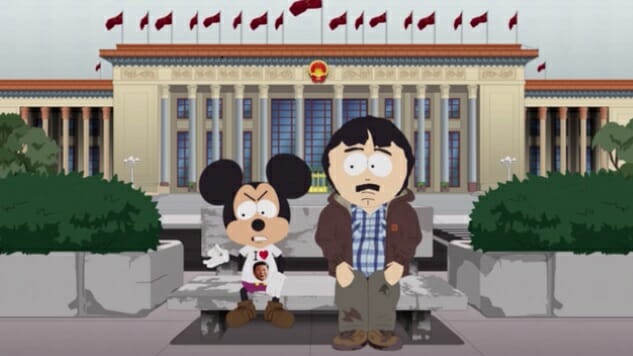 Sometimes South Park picks a worthy target for its withering satire. Last week's episode took on China for its suppression of free speech, and also bashed the NBA, Disney and other American companies for kowtowing to China in the name of money. It's the kind of commentary that they can pull off without repercussion here in America, but that gets people silenced (or worse) in China. And that's exactly what happened with this episode, which resulted in China removing all reference to the episode and show on its internet. If the goal was to prod one of the most easily provoked countries into wiping South Park completely out of its public's eye, then it was a total success.
Yesterday the show's creators, Trey Parker and Matt Stone, responded to China in a similarly predictable—but far more entertaining—fashion. Once again mocking American companies who have groveled before China in hopes of getting their products distributed throughout the country, Parker and Stone released a statement through Twitter that reinforced the episode's point while sarcastically backpedaling on its content. Even if you aren't a big South Park fan you'll probably appreciate this reply.
Watch the full episode – https://t.co/oktKSJdI9i@THR article – https://t.co/nXrtmnwCJBpic.twitter.com/Xj5a1yE2eL

— South Park (@SouthPark) October 7, 2019
And it's probably a big huge coincidence that this all happened the same week as the show's 300th episode, right? Like, there's no way this entirely predictable response from China—which would obviously be a perfect set up for the type of reply that we've seen from Parker and Stone—was timed to essentially promote a huge milestone episode for the long-running show.
Regardless of promotional intent, this is still a funny and timely comment on American businesses' current relationship with China—and, as Jacob Weindling writes here at Paste, proof of capitalism's inherent lack of morality. It's also the rare move that South Park and its creators should feel self-satisfied and smug about. The show has earned a bad rap in some circles for its lazy nihilism and politically naive bothsidesism, but it can also be an excellent bullshit detector when it wants to be, such as when it calls out the hypocrisy of American corporations and capitalism.
If you missed last week's episode, "Band in China," you can watch it in full here.