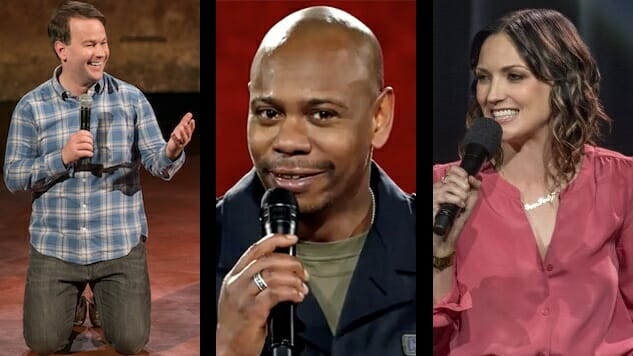 When I started compiling Paste's list of the best stand-up specials of 2017 so far, I didn't think we'd make it to 10. I mean, we're not even halfway through April; have there really been 10 specials worth watching? I couldn't think of many off the top of my head, but when I actually looked at the facts (so cold, so hard) I realized it's been a good year for comedy already. A good quarter-year for comedy. A tight three months. Not only are there ten hits on this list, but there are good ones that I had to leave off, is what I'm saying. A surfeit of snickers. So hey, if you're the laughing sort, a comedy fan, here's what's good so far this year.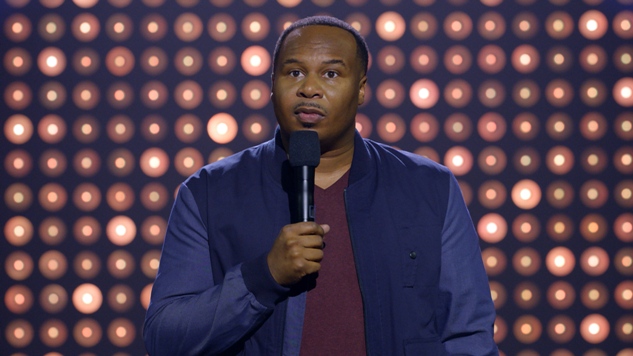 10. Roy Wood Jr: Father Figure
Comedy Central
[Wood] is somewhat tempered by the strictures of the short form pieces that he does for The Daily Show, which is why it is especially great to see him stretch out within the borders of his first hour-long standup special. Father Figure features the same pointed social commentary and interest in racial politics but with the threads wound more tightly around observations from his own experience. It's such a tightly-constructed hour that it feels strange to point out that it is his first stand-up special and to hear that Wood feels like he found his comedic voice in 2006, almost a decade after he started.—Robert Ham
---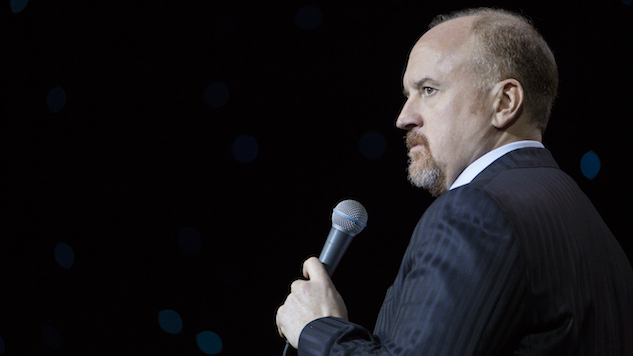 9. Louis C.K.: 2017
Netflix
[On 2017] C.K. skirts closer to the edge without tumbling over and losing everyone's trust in the process. While he's there, he enjoys the weird ironies of loud party girl cheers in response to his defense of legal abortion, the palpable flutters of unease that he sets loose by jokingly calling his mom a whore. He's been doing this long enough to know when to push the audience and when to pull them gently along with him. He's smart enough to not risk the goodwill and cultural currency he's earned over the past decade.—Robert Ham
---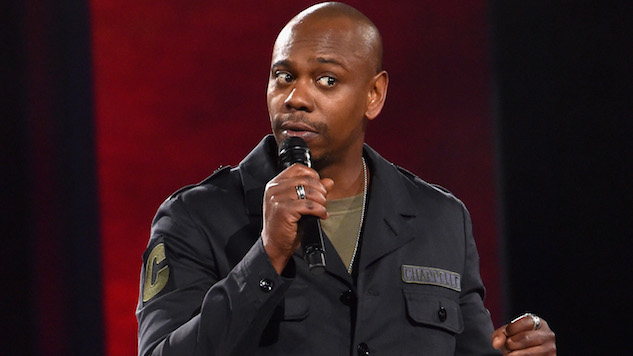 8./7. Dave Chappelle: The Age of Spin; Deep in the Heart of Texas (tie)
Netflix
Chappelle is still at the top of his class, wholly at ease onstage and mischievous as ever. His winding stories have the same unscripted, manic feel as his classic material, perfectly crafted without seeming crafted at all. [Chappelle has] a tireless drive to play out his tiniest impulses to their most absurd conclusions.—Seth Simons
---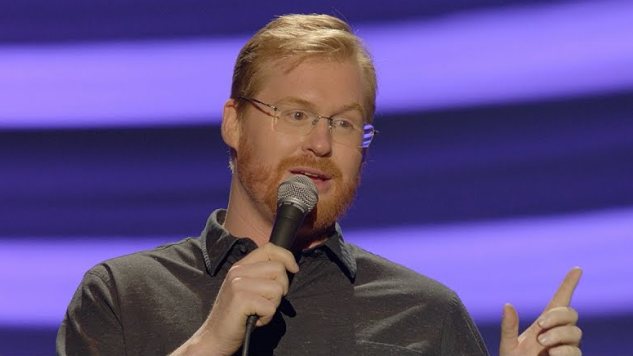 6. Kurt Braunohler: Trust Me
Comedy Cenral
Braunohler's sudden turn to overtly political territory takes us off-guard completely, in a way that's both refreshing and satisfying. His astonished appraisal of his own lucky circumstance as a tall, white man takes the form of very real, very specific and very disturbing statistics about police brutality towards black men. "The street I walk down is a fundamentally different one than a black man walks down, and a woman walks down," says Braunohler, before launching into a series of absurd statements designed—in his words—to "undermine the authority given white speech." Not to pat white men on the back for saying some basic human decency stuff, but this is a Comedy Central special, and I have to applaud Braunohler for using this particular platform so aggressively and responsibly, while never sacrificing the comic tone it's in his best interest to cultivate.—Graham Techler
---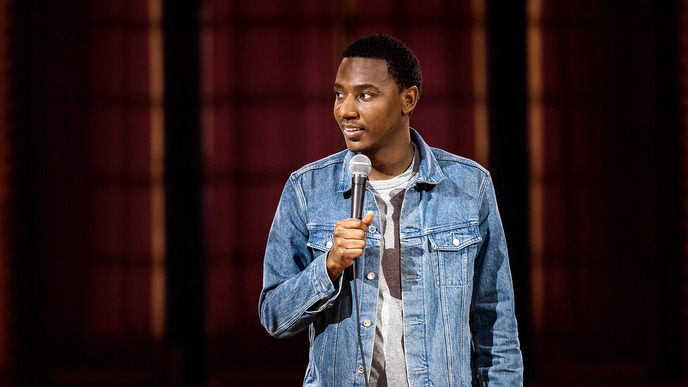 5. Jerrod Carmichael: 8
HBO
Jerrod Carmichael comes off as contrarian on his latest HBO stand-up special. It's a tack he frequently takes on his great NBC sitcom: present a social or political issue, and then almost play devil's advocate against the position you'd expect him to have. On 8 that means basically coming out against animal rights and climate awareness, not out of malice, but out of simple apathy and self-obsession. His strongest material focuses on the moral failings of our grandfather's generation, with hints of Bill Cosby. What links all of this together is Carmichael's patient delivery—he speaks softly, slowly, drawing the audience into a conversation that's consistently funny without having much in the way of jokes.—Garrett Martin
---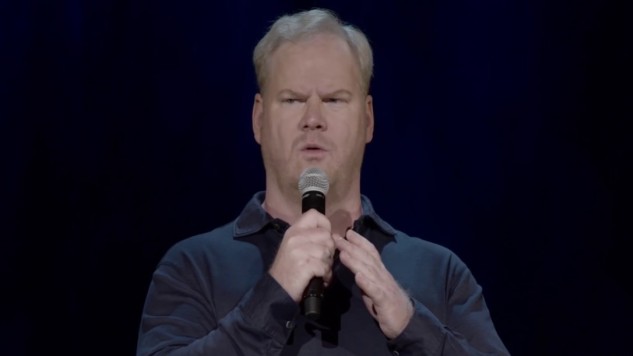 4. Jim Gaffigan: Cinco
Netflix
Gaffigan remains pervasively aware of his jokes. As he says moments after walking onstage, "Lower your expectations." His self-deprecation forms an integral part of his comedy, shielding him from whatever potential criticism might come his way. By whispering in his well known falsetto-like rasp, as if he were a member of his own audience, he calls attention to his failures and turns the joke around on himself. Where his topics might feel like retreads at times, Gaffigan's voice work serves his comedy well and keep things moving. Leave the heckling to the man onstage because he's well aware how he's doing. It's a path he's walked many times before.—Amanda Wicks
---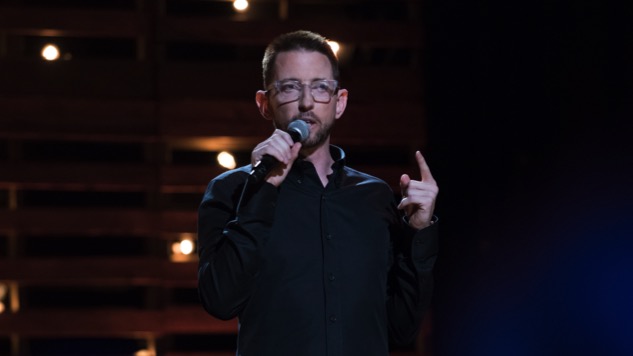 3. Neal Brennan: 3 Mics
Netflix
In 3 Mics Brennan boils stand-up comedy down to its three major components: one-liners, "emotional stuff" and traditional stand-up, each corresponding to one of the three mics on his stage. Brennan begins by sharing one-liner after one-liner, each written on an index card, before the screen fades to black and he reappears on the opposite end of the stage in front of the "stand-up" mic. There, he dives headfirst into terrorism, religion, guns, sports scandals, student loans, slavery and more.
Brennan's deconstruction has a clever ring to it, but one that could easily grow tired without some greater point. After all, stripping down any cultural medium to its constituent parts hopefully reveals some greater truth about it. That truth comes about when Brennan steps before the "emotional stuff" mic located at center stage and veers away from more expected fare, both in terms of subject matter and delivery.—Amanda Wicks
---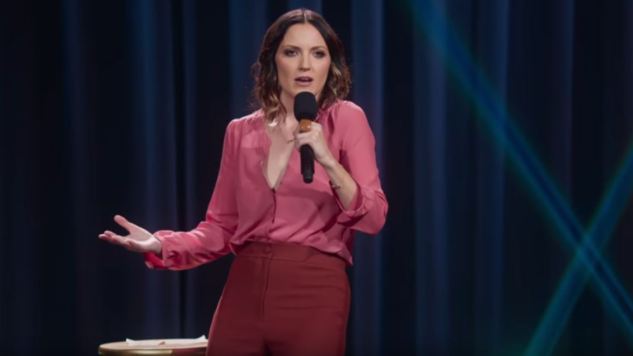 2. Jen Kirkman: Just Keep Livin'
Netflix
Kirkman balances the style and point of view that drew [audiences] to her comedy in the first place: It's a conversational 70 minutes brimming with biting honesty. Take, for instance, her reckoning with the term "ma'am." She's more than happy when someone lobs it her way since it only means she's had a "rich and storied life." As she pointedly says, donning a kind of verbal armor by way of outlook, "I don't want to look like I have four roommates and shitty towels." Preach.—Amanda Wicks
---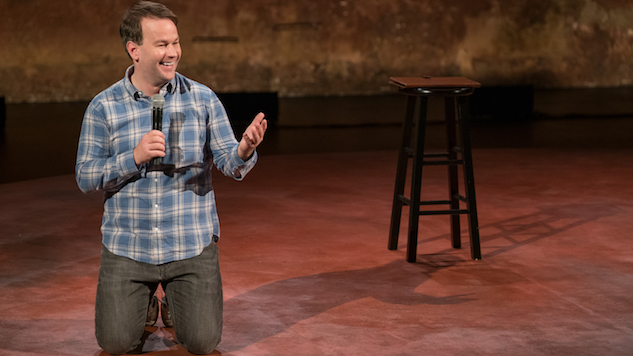 1. Mike Birbiglia: Thank God for Jokes
Netflix
[Birbiglia's] as funny here as he's ever been. We generally think of comic timing as a matter of degrees of speed, but Birbiglia understands that the real measure of timing is in the ratio of speed to agonizing slowness. He is excellent at breaking down a moment to its smallest components and walking us through it, as in anecdotes featuring Jared Leto, the Muppets and the hilariously mundane elements of Birbiglia's marriage.
But what makes this hour truly special is his ultimate point: Jokes are not always good or always bad, but they do bring us closer. This sounds more saccharine than it is. Birbiglia avoids the "we need jokes because people need laughter" cliché. He's more interested in jokes literally as an act of strange intimacy between the person telling it, the person it's about and the people observing—and how messy that gets when all three camps are in the same room.—Graham Techler