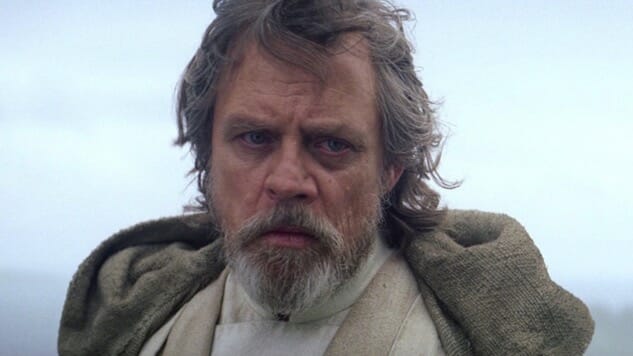 Some yahoos on Twitter claim they have investors ready to fund a remake of The Last Jedi and are looking to crowdsource the screenplay. I'm just coming right out and laying that down in as clear and straight-forward a manner as possible because there's really nothing you can add to that. Yep.
Okay, I don't think they're for real. They're putting up a good front right now, acting like they're totally serious about this stupidest possible idea, despite all the legal issues that surrounds intellectual property rights and what not, and despite the fact that the real Last Jedi got good reviews and made tons of money and didn't seem to be especially hated by people outside the deepest, angriest, most sealed off Star Wars fan sites. Maybe I'm extending too much respect to the strangers of the internet (I really should know better) but something seems intentionally, knowingly off about this whole thing, and the fact that big time Hollywood bud Seth Rogen spent some of what I imagine to be his limited free time interacting with this account also makes me think this isn't entirely on the level.
Anyway. It is a thing that exists, and there's no indication yet that it's not legit, and it's such an absurd idea fully ignorant of how the real world works that of course it's kicked off some fine Twitter discussion. It might feel somewhat negligent to spend any amount of time thinking about Star Wars movies and the creeps who love-hate them right now, what with our world coming apart in a half-dozen or so ways every day, but at the same time we need all the levity we can get at times like these. And if that means making fun of the surely-they're-not-serious "fans" who feel entitled to ownership over these movies like they're Kenner dolls from 1982, well, so be it. So here are the funniest tweets about that ridiculous fan "remake" of The Last Jedi.
I hear the fan remake of The Last Jedi has its first investor pic.twitter.com/fF1RZ07LaF

— Marie Connor (@thistallawkgirl) June 21, 2018
wow these leaked pages from the Star Wars Last Jedi Remake screenplay are amazing pic.twitter.com/1OGH0FU910

— dom nero (@dominicknero) June 21, 2018
extremely Jay Leno voice
"Some people online wanna remake The Last Jedi, that new Star Wars movie from last year. You hear about this?"
Kevin Eubanks laughs, nods
"They tracked down the guy behind the Twitter, and he said, Trump impression 'Yeah I'll make a Space Force!'"

— Todd VanDerWerff (@tvoti) June 21, 2018
Things I Will Fix in The Last Jedi:

1. Leia and Holdo kiss
2. Luke = more crotchety
3. Kylo Ren and Rey sing a funny duet about becoming friends in their mind-link set to a montage of Rey pissing off the nuns
4. Kylo Ren actually never wears a shirt now and is wider every scene

— Kivan, King of Cups (he/him) (@KivaBay) June 21, 2018
OUR TEAM OF PRODUCERS IS OFFERING TO COVER THE BUDGET FOR A REMAKE OF THE LAST JEDI IN ORDER TO SAVE STAR WARS THIS ISN'T A JOKE WE'RE READY TO HAVE THE CONVO NOW! pic.twitter.com/moussYorT4

— david ehrlich (@davidehrlich) June 21, 2018
Proposed The Last Jedi "Fan" Remake pic.twitter.com/D6F1hmV34j

— Retro: Pride Month Enthusiast (@ThatRetro) June 21, 2018
My The Last Jedi Remake Remake will end with Rose Tico as HIGH EMPRESS OF THE GALAXY, advised by her best friend Yoda.

— Alicia Lutes (@alicialutes) June 21, 2018
We're all going to dunk a lot on that Remake The Last Jedi thing today, but let's not lose sight of the fact that the people behind it are incredible doofuses with no idea what they are talking about.

— Joe Fourhman (@fourhman) June 21, 2018
The guys who want to remake THE LAST JEDI are clearly deranged. However my plan to remake GYMKATA is very real and serious. In this 325-part Twitter thread I will lay out exactly how I play to

— Matt Singer (@mattsinger) June 21, 2018
the thing about the last jedi is that it's an entire film of amazing "wouldn't it be cool if THIS happened" fan ideas, but the reason those miserable dorks complain is that almost all of those amazing things are done by women

— shameboy advance (@failnaut) June 21, 2018
Ok, how about this, they pay for a The Last Jedi remake, and it's exactly the same but all the actors have to make their own laser and lightsaber noises.

— Jamie McKelvie (@McKelvie) June 21, 2018
Oh my god, sorry to brag about that #actorslife but I just booked a part in The Last Jedi remake. Which part, you ask?

Let's just say meesa thinks you're gonna be excited

— Reed Brice (@thatdangdingus) June 21, 2018
SEQUELS THAT NEED DO-OVER REMAKES MORE THAN "THE LAST JEDI":
– X-Men: The Last Stand
Men in Black II
Speed 2: Cruise Control
TMNT III
Rocky V
Batman v Superman: Dawn of Justice
Dumb and Dumberer
– The "Look Who's Talking" where they get a bunch of dogs

— Max Scoville (@MaxScoville) June 21, 2018
The remake of The Last Jedi is just going to be a bunch of straight white dudes measuring their light sabers and saying "Actually" for two hours.

— OhNoSheTwitnt (@OhNoSheTwitnt) June 21, 2018
Was watching an upcoming title for @80sAllOver and trying to imagine a world in which Robby Benson's screen test for Luke Skywalker ended up winning him the role, and somehow, it's less awful than the world shaped by the awful STAR WARS fans right now.

— DrewMcWeeny (@DrewMcWeeny) June 21, 2018
How did you get investors without a script or stars or director or legal ability to make this movie? Those have been important elements in the past.

— Seth Rogen (@Sethrogen) June 21, 2018
I only want them to remake The Last Jedi if Adam Driver's pants can be even higher.

— Michael (@Home_Halfway) June 21, 2018
Hi true Star Wars fans,

I'm raising money to remake The Last Jedi, except it's just 2 hours of Luke milking giant sea creatures on an island. Plz donate.

— Nick Jack Pappas (@Pappiness) June 21, 2018
I know everyone's making fun of the Last Jedi remake, but this early trailer is amazing https://t.co/Y0QcBjIX83

— Mike Drucker (@MikeDrucker) June 21, 2018
I gotta be honest: I actually WANT a $200 million remake of THE LAST JEDI written, produced, directed by and starring amateurs. I can think of no quicker way to demolish people's fantasies that they can do this kind of thing just as well as the professionals.

— MZS (@mattzollerseitz) June 21, 2018
I'm going to remake The Last Jedi remake and make every character a LADY and have Luke Skywalker marry six porgs in a trenchcoat.

— Alicia Lutes (@alicialutes) June 21, 2018
Disney halts production of all non-Salcious Crumb-based Star Wars movies, plans to release 400 Salacious Crumb movies in 2019. "I love that ugly motherfucker. I'm horny for him!" says CEO Bob Iger

— popular comedy account "the pixelated boat" (@pixelatedboat) June 20, 2018