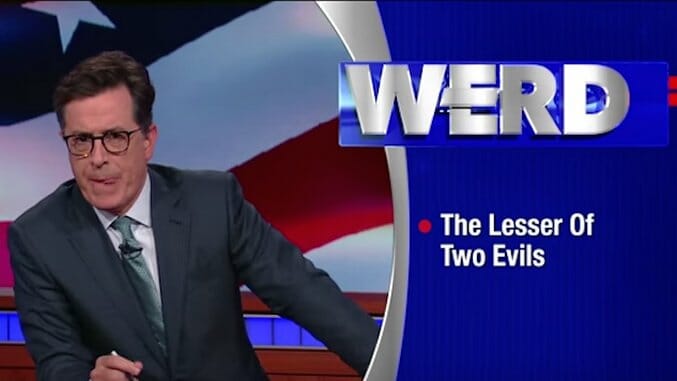 What do you do when you're the host of a successful fake news/comedy show for 10 years and then find out you can't … be … you … on your new late-night talk show because your old network owns … you? You create an identical twin cousin of your old self with the same name as you, obviously.
Last week, The Late Show host revived the much-missed Colbert Report by bringing back "Stephen Colbert," fan-favorite Report segment "The Word," and calling in Jon Stewart for a segment of conservative bashing following the Republican National Convention. While audiences were delighted to hear the report from Colbert and Stewart, the folks at Comedy Central were apparently less amused.
Last night on The Late Show, Colbert shared that his team at CBS were given a call from a certain team of corporate lawyers informing them that "Stephen Colbert" is their intellectual property, and therefore, cannot appear on The Late Show. Colbert said that Stephen Colbert of The Colbert Report can never be seen again, but after the booing and cries of anguish died down, he introduced a new character, live via satellite at the Democratic National Convention in Philadelphia: Stephen Colbert, The Colbert Report host's identical twin cousin.
"I just wanna be clear," said Late Show Colbert. "You are not the guy who had a television show for a decade." "Absolutely not, Stephen," answered Cousin Colbert. "That's my twin cousin. This is my first appearance on television ever."
And with that, Cousin Colbert became apart of The Late Show forever, debuting a totally new segment, "The Werd," a strikingly familiar bit. Is it different enough to keep a lawsuit at bay? We'll likely find out in the next few days if the segment gets another name change to "the solitary element of speech."
Watch the full video above to meet Cousin Colbert and to see him analyze the lesser of two evils in "The Werd."