Stephen Colbert "Not Surprised" by CBS CEO Les Moonves' Exit After Second Round of Sexual Misconduct Allegations
Image via CBS/YouTube
Comedy
News
Stephen Colbert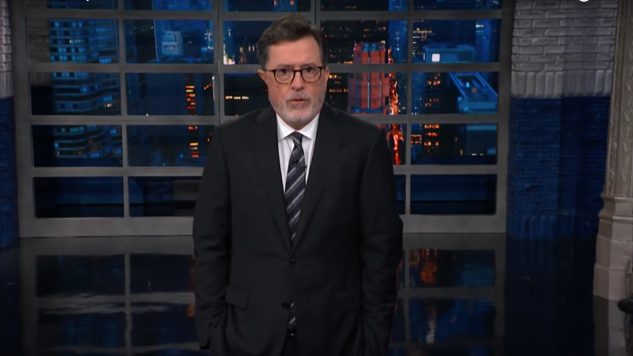 "It's never a good sign when you're the subject of a Ronan Farrow double-dip. You don't want it," said Stephen Colbert in the cold open for his first Late Show back this week on Monday.
The day before, news broke on now-former CBS CEO Les Moonves' resignation from the network, coming just hours after The New Yorker published a second exposé in which six more women came forth to Ronan Farrow with allegations of sexual misconduct against Moonves, Colbert's former boss.
Colbert's remarks describe the workplace culture at CBS under Moonves as one in which casual acts of inappropriate behavior were able to run rampant:
The new article has some disturbing allegations like this one, when a television executive says that she "entered Moonves's office to discuss a work matter, and he said that he was going to get a glass of wine. He left briefly, and when he returned, she said, he was not wearing pants, and was aroused." Wow. That is an impressive way to open a bottle of wine! Got a little corkscrew to it, ring-ing-ing-ing! In total, Moonves is accused of harassing or assaulting 13 women. And that's not even counting the thousands of innocent Americans who have walked past this actual poster for Bull: "He'll get you off."
With this second round of sexual misconduct allegations against Moonves, Colbert said he wasn't surprised that CBS finally had to cut ties with its long-time former head. "Anyway, the article is extremely disturbing, and I'm not surprised that that's it. Les Moonves is gone."
This isn't Colbert's first time addressing the allegations against Moonves on-air. "I believe in accountability. Everybody believes in accountability until it's their guy, and make no mistake: Les Moonves is my guy," he said back in July after Farrow's first exposé on Moonves dropped, after which CBS declined to take public action against Moonves. Colbert, though, did not explicitly call for Moonves' resignation due to the disturbing allegations.
At the time, Colbert also addressed claims of the #MeToo movement favoring witch hunts over due process for the accused. "For so long for women in the workplace, there was no change, no justice for the abused," he said. "So we shouldn't be surprised that when the change comes, it comes radically. This roar is a natural backlash to all that silence."
With this second exposé, though, the reaction to Moonves' alleged behavior has become harder to silence, but Colbert seemed to remain skeptical of whether his ouster could actually change things in Hollywood.
"For at least nine months, until he does a set at the Comedy Cellar," Colbert said to close his remarks on Moonves, in reference to Louis C.K.'s recent unwanted comeback after the comic was accused of and admitted to his own inappropriate backstage behavior.
For someone who's spoken so decisively on the matter before, though, it's disappointing to see Colbert continue to sidestep the challenge of taking on Moonves and the culture that he fostered at CBS, rather than being accountable to the ways in which his continued involvement at CBS allowed Moonves to stay on as head for so long.
Colbert, and other top public figures at CBS, are powerful enough to spearhead genuine change at the network and elsewhere in Hollywood, and it shouldn't have taken 13 women coming forward in order for him to be "not surprised" that a powerful man in Hollywood may have finally gotten his due.
Watch the segment below.