Watch Trevor Noah and Stephen Colbert Try to Trade Presidents on The Late Show
Photo by Scott Kowalchyk/CBS
Comedy
Video
Stephen Colbert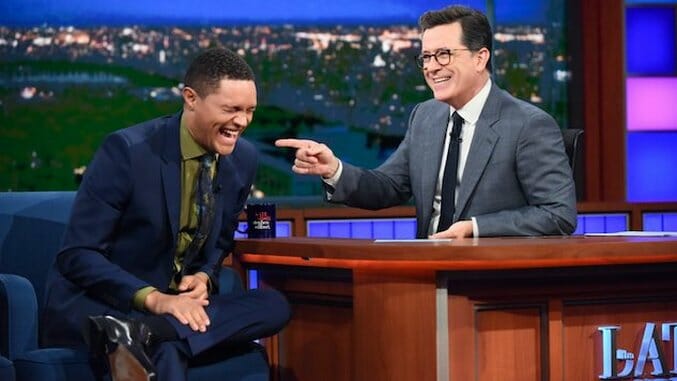 Late-night comedic heavyweights Stephen Colbert and Trevor Noah came together on Colbert's The Late Show last night to promote Noah's new book and riff a little on the most recent Trump happenings (Trumpenings?) and, sadly, to discuss the Alexandria shooting.
Unfortunately, many political comedy hosts have frequently been forced to host an inherently funny show in the face of tragedy after tragedy, and these two are some of the best. Noah, in particular, put it well when he openly wished Congress would more often tell Americans, "We fight, you can fight, but don't forget—at your core—you are Americans." It was a succinct and poignant comment commending a rare moment of bipartisan solidarity from a Congress that too often appears ruthlessly divided.
After that, the two hosts spoke about the more despotic elements of Donald Trump. Specifically, Noah compared Trump to the corrupt president of South Africa, Jacob Gedleyihlekisa Zuma. Zuma's family has been accused of profiting off their connection with the president. Zuma has also been accused of sexual misconduct and being a friend of Vladimir Putin. After Noah mentions all these similarities, Colbert offers a trade: one president for another.
Noah does admit that while Trump is so far a pretty terrible president, he's "The King of Twitter." Because of that, The Daily Show has opened a museum of Donald J. Trump's greatest tweets, located right around the corner from Trump Tower. The pop-up will only be open for three days, from June 16-18, per Comedy Central.
All in all, it's a funny and entertaining segment from two of America's leading political comedy commentators.
Watch the entire clip above.