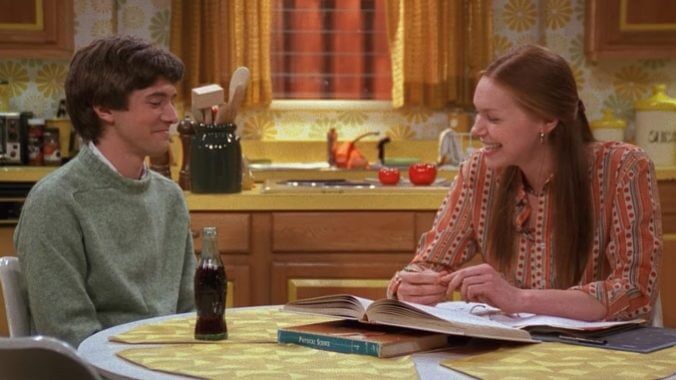 The first episode of That '70s Show begins in Point Place, Wisconsin, May 17th, 1976, at 8:47pm, which I promise I was not aware of when I began my re-watch in New York, New York at 8:47pm. And even if this twist of fate hadn't filled me with delight, it'd be easy to immediately slip back into the old rhythms of the show. This is a series that soothes and comforts, that transports you back into your adolescence by being the type of program we don't make anymore: a smart, bold, goofy, multi-cam sitcom. And as we approach its 25th anniversary, it's time to celebrate a show whose easy charm makes it a perfect for whiling away an hour or two, while also being an under-appreciated influence on the generations of series that followed it. 
That '70s Show debuted in August 1998, which means we are now even further away from the premiere of the show as the show was from its own setting. Here are some things that are mentioned or seen in the first few episodes of That '70s Show: Todd Rundgren, Gerald Ford, Tom Collins mix, the American gas crisis, paisley shirts, perms, Petticoat Junction, 8-tracks vs cassette players. It goes without saying that I am simply too young and pretty to understand what most of these things are. However, a large part of my childhood (in the 2000s) was spent coming home from soccer practice (which was my version of sitting around a table and smoking weed since I'm not cool) and seeing That '70s Show reruns on Comedy Central. And much like many people of my generation (late millennial), my view of the show is the same as that which the show's creators must have had about the 1970s themselves: a sort of quaint anachronism, fun and full of promise and a ton of references you don't quite understand. While the sitcom might be set more than fifty years ago, it feels so of the late 90s/early 2000s in its structure and joke-telling in a way that is immediately relaxing to a modern viewer. To watch That '70s Show now is to give yourself over to not just a throwback setting, but to a throwback way of making television. 
To call it a throwback is in no way an insult: I had more belly laughs in the episodes I watched for this piece than I have in entire seasons of more modern comedies. Partially that is by design, as we've moved away from the sort of classic vaudevillian set-up/punchline you see in shows like That '70s Show i.e. Red (Kurtwood Smith) saying something mean but goodhearted to his son, Donna (Laura Prepon) and Eric (Topher Grace) flirting over the oohs and awws of a live studio audience, Fez (Wilmer Valderrama) saying something in an accent (which was still a potent source of comedy at the time). Like I said, it feels very much of the 90s/2000s. While those more emotion-driven, feelings-oriented comedies have their place, we have lost the type of show that can reliably generate a few laughs, a few instances of flirty banter, and the knowledge that everything will turn out alright in the end. That '70s Show is a throwback in the sense that its artistic leanings are backwards-looking, its comedic style is in conversation with rhythms and joke patterns of the past. 
That's not to say that That '70s Show hasn't had a lasting cultural impact. Its characters have lasted so long in the imagination that it got a Netflix sequel last year. It introduced us to pre-Black Swan Mila Kunis and pre-weird tech angel investor Ashton Kutcher. In its more surreal moments, you can even see traces of the late 2000s joke-machine comedies (30 Rock, Community) that followed in its wake. I haven't laughed harder in a while than at the scene where Kitty (Debra Jo Rupp) imagines what could go wrong at her son's birthday party, filling the screen with full '70s loungewear, ignored coasters, and The Hustle. The joke always comes first in That '70s Show, a belief that has largely fallen by the wayside as more contemporary comedies privilege emotional arcs. There's something that feels both out-of-fashion and incredibly freeing in watching a show with this tone nowadays: anything can happen, characters can say or do or dream anything, so long as it ends on a punchline (which it bears repeating, may often be "a man with an accent misunderstands English" because this was made in the late 1990s.)
Watching That '70s Show in the present day is an exercise in nostalgia. It's wanting to yell along with "Hanging out! Down the Street! The same old thing! We did last wee-ek!" It's being charmed by the fact that the studio audience oohs again when the characters first smoke weed, a reaction I can only assume was caused by the fact that it was 1998 and weed didn't exist, not even a little bit. It's moving backwards of your own accord, enjoying something whose style has all but disappeared from the American comedy scene (or at least become critically-disliked), even as its influence and relevance remain strong. What is clear about That '70s Show is that this is not a period piece like Mad Men or The Deuce, shows where the setting is crucial to the plot; the fact that the show is set in the 1970s is largely incidental to the 90s tone of the show. Instead, it's a show that uses its nostalgic setting to ask the question, "Wasn't life simpler and more fun back then?" And if you're talking about my, your, or most everyone's adolescence, the answer's almost certainly yes. Now, if you'll excuse me, I'm off to go listen to Rundgren's "Hello, It's Me" again. I'm feeling 15, and somehow also 65, again.
---
Dylan Fugel is a sketch comedy writer living in New York, NY. Check out his work with 
Young Douglas
, 
Story Pirates
, or DM him Knicks tickets on Twitter @dylanfugel.