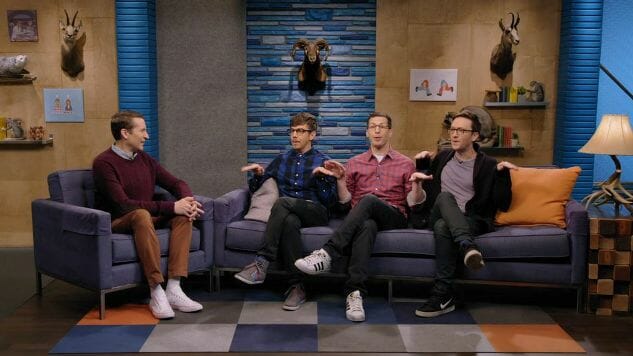 No matter how much time goes into scripting an episode of Comedy Bang! Bang! or perfecting a great idea, it's hard to beat someone breaking on the show. In "The Lonely Island Wear Dark Pants and Eyeglasses," there's a segment that escalates in an incredibly fun way, with Scott teaching a class, which he wins over after ripping up that day's test. Thinking it's the ripping that is getting the class excited, he starts ripping up the student's poems or girlfriend's pictures or Bibles. The skit hilariously builds to discover that not only has Scott's teacher also ripped up his sexual conduct policy right before ripping off a student's shirt, he's also just a sub. Not only that, he's not actually the class's sub, but instead a guy named Ripmaster Rick, who jumps out the window when the real substitute appears. It's a wonderfully written bit with the kind of tone that Comedy Bang! Bang! has perfected over almost 100 episodes and yet it still can't hold a candle to everyone breaking only a minute later.
"The Lonely Island Wear Dark Pants and Eyeglasses" combines three of the funniest current comedic elements into one show: Comedy Bang! Bang!, The Lonely Island and the show's secret weapons, George St. Geegland and Gil Faizon, played by John Mulaney and Nick Kroll, respectively.
Once again, the written segments of "The Lonely Island…" are all winners. "Weird Al" gets a cyborg girlfriend named Beth whose highlight involves one of the most disgusting kisses ever filmed and The Lonely Island has some great moments on the couch, such as discussing how they fought their way back from hell after dying in their last appearance on the show and how R2-D2 was the original "Digital Short."
But the combination of CBB, The Lonely Island and Geegland/Faizon creates a perfect storm of comedy, as Mulaney and Kroll completely dominate everything they come in contact with. In less than a minute, the arrival of the two "Oh, Hello!" stars has Scott laughing, Kroll breaking character and Andy Samberg laughing so hard, he has to keep his head down. When Geegland and Faizon appear, it creates one of the most infectious breaking moments I've ever seen on Comedy Bang! Bang!.
Everything they say is pure brilliance, from their anger towards Lin-Manuel Miranda, their Cats rival musical Pugs, or the way both Mulaney and Kroll seem to improvise the title of their Terri Schiavo musical You Snooze, You Lose at the exact same time. But it's even better seeing everyone around them losing their goddamn minds over what is happening.
Geegland and Faizon make everything better—watch their appearance on The Bachelor's wrap-up show for proof of that—and I strongly think IFC needs to consider creating a CBB spinoff starring the two in their own show. "Oh, Hello!" the television show is something the world absolutely needs.
Ross Bonaime is a D.C.-based freelance writer and regular contributor to Paste. You can find more of his writing at RossBonaime.com or follow him on Twitter.