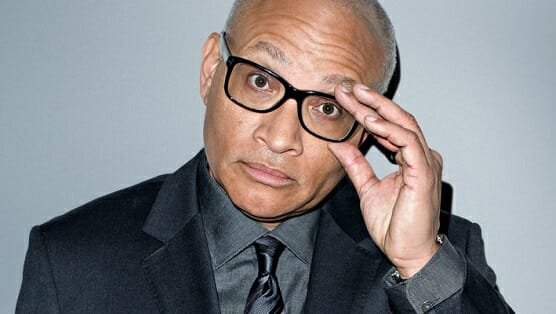 It's been a little over a month since The Colbert Report ended, but that absence still hurts. It's replacement, The Nightly Show with Larry Wilmore, finally debuted last night, and as expected it didn't try to replicate Colbert's particular type of satire or his unbreakable commitment to playing a character. It's more similar in tone to The Daily Show and in structure to Bill Maher's panel shows, but it has a key factor lacked by all of those shows: Wilmore is black, as was half his panel on the first night. With both Arsenio Hall and W. Kamau Bell leaving the airwaves in the last two years, that makes Wilmore the only black host in late night right now. That perspective should be crucial in providing The Nightly Show with its identity.
Last night's debut jumped straight into racial issues, with Wilmore joking about how they basically missed every major race story by not being on the air in 2014. The show began with a monologue from Wilmore sitting at the head of a long glass table, and although he wasn't as exasperated or indignant as Jon Stewart, the approach was similar to Stewart's on The Daily Show. Wilmore took on recent news with heavy sarcasm, tossing out a few pointed lines about Ferguson and Eric Garner. He played on his viewers' expectations in the first segment, building up a piece about Academy Award snubs but initially focusing on The Lego Movie instead of Selma. It was smart and funny and had a viewpoint no other show in late night could offer.
The focus of the show was the panel discussion, which spread across the rest of the show after the first commercial break. The first night's guests included Senator Cory Booker, comedian Bill Burr, hip-hop artist and activist Talib Kweli and The Nightly Show correspondent Shenaz Treasury. (It's not clear if Nightly Show correspondents will have segments like those on The Daily Show, or if it's simply a title given to staffers who appear on the panel.) Overall the panel was more serious than The Daily Show or The Colbert Report usually get, with Wilmore asking Booker and Kweli serious questions that didn't quite set up punchlines. At times it almost felt out of place for the current Comedy Central, but not in a bad way. Jon Stewart regularly defuses all but the most serious of subjects with humor on The Daily Show, whereas Wilmore was comfortable letting Booker or Kweli discuss something without attempting a joke. And there wasn't anything funny about Burr's depressing but rational statement that violence, historically, is far more effective at creating change than non-violent activism.
The second panel segment introduced what promises to be a recurring bit, and probably was the most newsworthy part of the show. In "Keep it 100" Wilmore asks each panelist one question, and the audience gauges if the answer seems truthful. Wilmore didn't flinch here—he asked Burr, who is white and has a black wife, what race he'd want their children to be considered. He asked Kweli if hip-hop was part of the problem or solution for black violence. The only panelist the crowd thought wasn't keeping it 100 was Booker, who immediately answered "no" when asked if he wanted to be president.
It's good to see a show like this have a panel that was so diverse. It had three black men, an Indian woman and a white guy, which insured a good assortment of opinions. Unfortunately Wilmore wasn't a great moderator—there was little actual conversation between the panelists. It felt more like Wilmore simultaneously interviewing four strangers, with only a little bit of back and forth between the guests. Wilmore also talked over Booker at one point. He has room to grow as a moderator, but shows great promise.
Shows like this almost never launch as fully formed entities. The Colbert Report was an extreme rarity on that point. The Nightly Show doesn't need a lot of tweaks, though. The first episode was smart, a little bit edgy, intermittently hilarious and full of observations you wouldn't get from Stewart, Colbert or Maher. As Wilmore and his team continue to crank these out night after night they'll no doubt smooth out the rough spots.