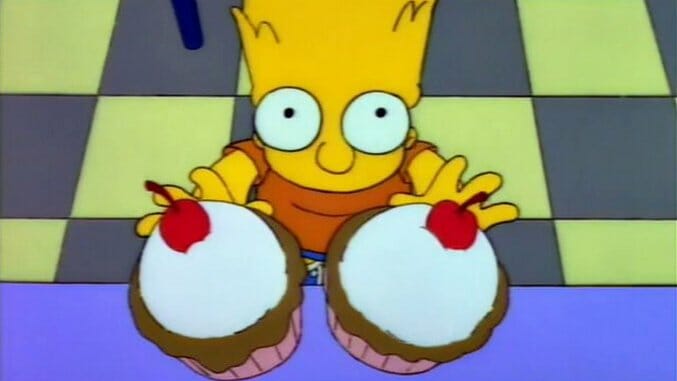 It's the two year anniversary of Cooking The Simpsons! Let's have cupcakes. But not just any cupcakes. Special Chocolate-Cherry Experiment Cupcakes featured in season four! Mmm… experiment cupcakes.
The much-loved episode "Duffless" opens on an unusual school science fair, where Bart has a ray gun that makes all of the teachers dance. He wakes up to the sound of "first prize, first prize, first prize!" to see Lisa standing over his bed, "screwing with his mind." Over breakfast, Lisa shows off her giant steroid-grown tomato that she's prepared for the science fair. [Note: I couldn't find anabolic steroids to raise a giant tomato for this article. I'm sorry, I don't know any Olympic athletes.] After school, Lisa asks Bart to hold her big tomato, but he can't resist throwing it at Principal Skinner's wiggling butt. The tomato smashes in glorious fashion, and Lisa is miffed and out of a science fair project.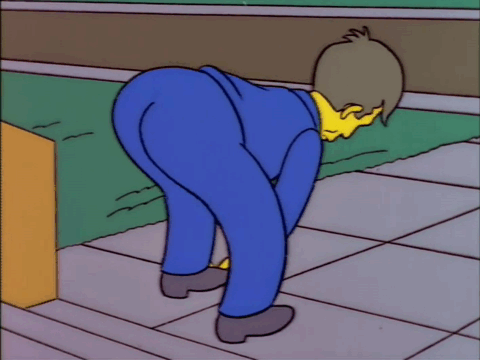 Meanwhile, Homer escapes work with the help of a treasure map and goes on a Duff brewery tour with Barney. Homer insists on driving since Barney is tanked, and the cops pull him over ("coupla stewed prunes headed your way"). He passes all of the tests but the breathalyzer and has his license revoked. He rides Lisa's bike to work, watches a Troy McClure-hosted car crash video at driving school ("they're a-peeling him off the sidewalk"), and attends a few Al-anon meetings. At these meetings, we learn about the one time Ned Flanders got drunk and that Hans Moleman is just 31 years old! Hans' age is totally contradicted later, but I love it even though it makes me older than Hans. Marge manages to convince Homer to give up beer for a month, and it's as much of a struggle as you'd think. At one point, bottles of Duff are literally falling from the sky on tiny parachutes. But he somehow makes it to 30 days, and even though he immediately runs to Moe's, he changes his mind and goes for a bike ride into the sunset with Marge.
Meanwhile, back to the science fair. With Lisa's project ruined by Bart, she decides to answer the age-old question: Is Bart dumber than a hamster? She begins by placing a piece of food on top of a bookshelf to see how the subjects retrieve it. The hamster pushes the little doll house couch up to the shelf and easily grabs the pellet. Bart, after saying "stupid books" to the bookshelf, spots a cupcake up top and immediately climbs the shelf, knocking it over on top of himself. Hamster 1, Bart 0. By the way, the bookshelf is only in the Simpsons' living room sometimes, like as a gateway to the third dimension. Next, Lisa attaches food to an electric current. The hamster learns after one shock not to touch the pellet. Bart finds another enticing cupcake and grabs it over and over again, getting a good shock every time ("wise guy, eh?"). Hamster 2, Bart 0.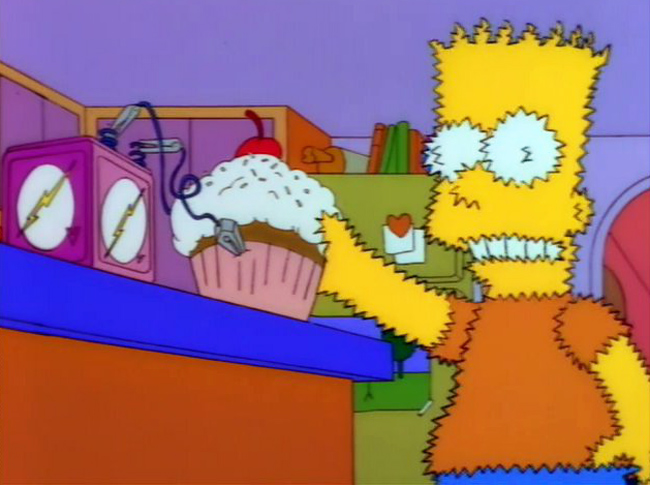 When Marge asks Bart to go get the cupcakes for dessert, he's too traumatized to touch them. This scene is also a nice reference to A Clockwork Orange, with the cherry-topped cupcakes looking very boob-like. Bart finally finds Lisa's experiment notebook, and while she still presents it at the science fair, Bart steals the show with a tiny airplane-riding hamster and a candy-striped suit. So what Bart lacks in self control and smarts, he makes up for in style.
This episode bounces back and forth between the two story lines quite a bit, and has tons of great lines and moments. It has one of my favorite Lisa quotes of all time: "That'll learn him to bust my tomater." It ends on a lovely note, too, although Homer is drinking to excess in the following episodes as if it never happened. And from the food perspective, it prominently features some pretty delicious looking cupcakes. After studying the episode, they appear to be chocolate cupcakes with a fluffy mound of white frosting and a pretty cherry on top—a dessert worthy of climbing a stupid bookcase or getting repeatedly shocked.
I decided that since the cupcakes have a cherry on top, maybe they were chocolate-cherry flavored. The chocolate cake is a version of Add a Pinch's super simple recipe, and since it's the tail-end of cherry season, I used fresh cherries. If you can't get your hands on fresh cherries and you like your desserts really sweet, use maraschino cherries instead. To achieve that mound of fluffy icing, I used a glossy, marshmallowy seven-minute frosting adapted from King Arthur Flour. These cupcakes are so good, they'll trick anyone into participating in your experiment. And they're a great way to celebrate two years of Cooking The Simpsons. Woohoo!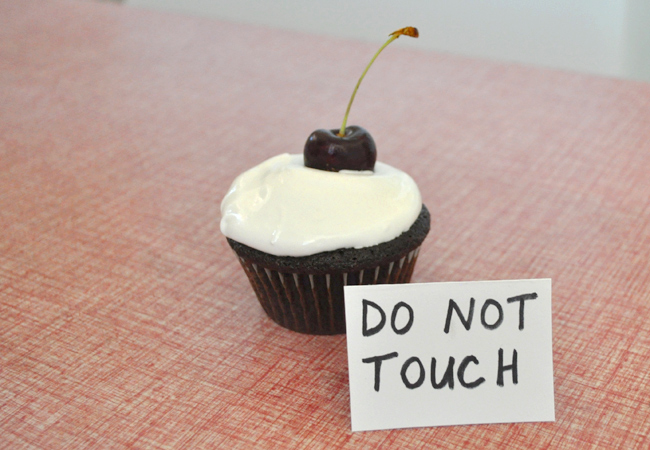 Chocolate-Cherry Experiment Cupcakes
Makes 12-13 cupcakes
For the cake:
1 cup flour
1 cup sugar
½ cup cocoa powder
1 teaspoon baking powder
½ teaspoon baking soda
½ teaspoon salt
½ cup milk
¼ cup canola oil
1 egg
½ teaspoon vanilla extract
¼ teaspoon almond extract
½ cup hot coffee
12 fresh dark sweet cherries, stemmed and pitted
Preheat your oven to 325 degrees. Line a 12-cup muffin pan with cupcake liners and lightly grease with cooking spray.
In a large mixing bowl, combine the flour, sugar, cocoa, baking powder, baking soda, and salt. Whisk together until well combined.
Add the milk, oil, egg, vanilla, and almond extract. Whisk or use a handheld mixer to mix until combined.
Slowly add the hot coffee while mixing. Beat for 1 minute, scraping the sides. The batter will be runny.
Fill the prepared liners halfway. Add one cherry to the middle of each cupcake.
Bake for 20-23 minutes, or until a toothpick comes out clean. Let cool completely.
For the frosting:
¾ cup sugar
2 ½ tablespoons water
1 egg white
1 teaspoon light corn syrup
1 pinch salt
¼ teaspoon vanilla extract
¼ teaspoon almond extract
12 fresh dark sweet cherries with stems (for decorating)
Add the sugar, water, egg white, corn syrup, and salt to a medium, heatproof mixing bowl. Beat for 30 seconds with a handheld mixer.
Find a pot that the bowl can sit in snugly with the bottom of the bowl reaching about halfway down into the pot. Remove the bowl and add about an inch of water to the pot (the bowl should not touch the water). Bring to a boil.
Add the bowl on top of the boiling water and beat on high for 7 minutes, or until shiny and stiff. Turn down the heat if the water starts to boil out of the top of the pot.
Remove the bowl from the boiling water and add the vanilla and almond extracts. Beat for 2 more minutes.
Decorate the cupcakes with a mound of frosting and top with a cherry. Serve or store tightly covered for up to 1 day.
Bonus GIF from this episode, because: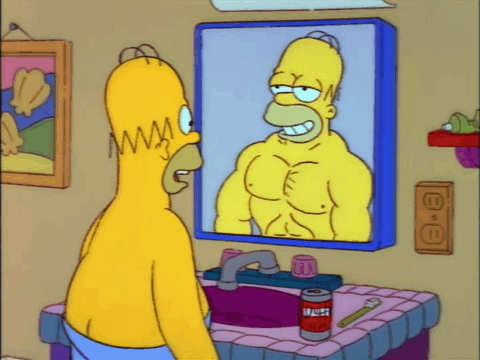 ---
Laurel Randolph is a food and lifestyle writer hailing from Tennessee and living in Los Angeles. She enjoys cooking, baking and candlestick making. Tweet at her face: @laurelrandy