Hank Azaria Announces He Will No Longer Voice Apu on The Simpsons
Photo via Getty Images
Comedy
News
The Simpsons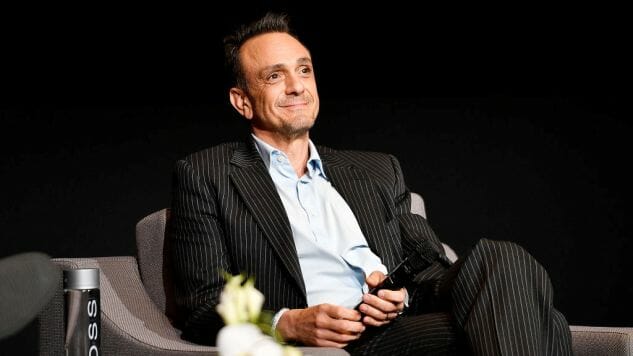 After previously hinting at the fact that he would be willing to step down as the voice of Apu on The Simpsons in the face of growing criticism over the animated series' depiction of those of South Asian descent, actor Hank Azaria finally dropped some news today that many were waiting for: He'll no longer be voicing Apu.
"I won't be doing the voice anymore, unless there's some way to transition it or something," Azaria said, speaking to Slashfilm. "What they're going to do with the character is their call. It's up to them and they haven't sorted it out yet. All we've agreed on is I won't do the voice anymore."
That's a pretty odd way to make an announcement, we believe you'll agree. The fact that Azaria—an important component to The Simpsons, given that he also voices several other long-running characters—has simply decided not to voice the character any more, rather than the showrunners making that decision, implies that the folks running The Simpsons still don't know exactly what they're going to do with Apu. The easiest thing would simply be to elect to no longer feature the character on the show—now 20 seasons or so into irrelevancy—but we can't help but assume that some Simpsons writer will choose to make a grand political statement about the supposed injustice of it all. We're cringing preemptively at the thought.
The controversy surrounding Apu was fanned into a legitimate fire following the release of comedian Hari Kondabolu's 2017 documentary The Problem With Apu, which examined the perspectives of how various people of South Asian descent felt about the fact that the character—voiced by Azaria, a white man—was one of the only visible characters of Indian descent on American TV. Kondablou certainly hasn't minced words in the time since, often revisiting the topic via Twitter, as below.
Apu doesn't "offend" me, he "insults" me…and my community. I'm an adult with bigger things to deal with. My film was meant to tell you to go fuck yourself & discuss why I want you to go fuck yourself & how we can prevent future incidents of people wishing others "self-fuckery."

— Hari Kondabolu (@harikondabolu) December 3, 2017
The show itself chose to lampshade the controversy in a 2018 episode, using Lisa Simpson as a mouthpiece to say the following: Something that started decades ago and was applauded and inoffensive is now politically incorrect. What can you do?" Naturally, the show made this statement as if the answer of "fix the problem" was not an option. Simpsons creator Matt Groening made his thoughts crystal clear when he said the following: "I'm proud of what we do on the show. And I think it's a time in our culture where people love to pretend they're offended."
Azaria, on the other hand, actually seemed to be listening to and learning from some of the criticism, acknowledging that he was unaware of the importance that the character of Apu had played to those of South Asian descent. As he said at the time: "I think the most important thing is to listen to Indian people and their experience with it. I really want to see Indian, South Asian writers in the writers room … including how [Apu] is voiced or not voiced. I'm perfectly willing to step aside. It just feels like the right thing to do to me. The idea that anyone young or old, past or present, being bullied based on Apu really makes me sad. It certainly was not my intention. I wanted to bring joy and laughter to people."
There's no suggestion that Azaria will no longer be a part of The Simpsons, or that he would be stopping his voiceovers of the many other characters he's contributed to the show, from Police Chief Wiggum to Comic Book Guy. But one does wonder how The Simpsons will respond to his decision to no longer voice Apu in particular. Let's hope they take the loss gracefully, rather than erupting in a display of self-righteous, white male anger.