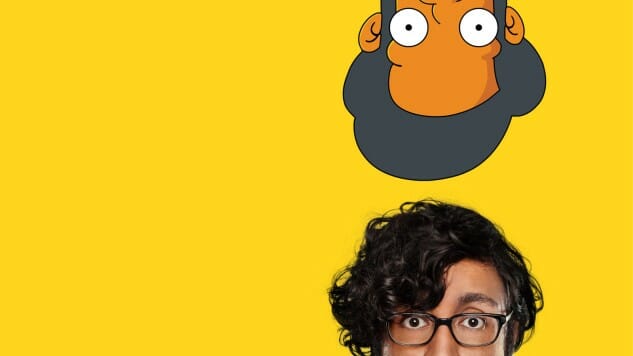 Hari Kondabolu is no stranger to grappling with the negative aspects of the art you love (see: his excellent stand-up routine about falling out of love with Weezer). But in The Problem with Apu, a new, unsettling documentary that is at the same time both playful and personal, Kondabolu has much bigger fish to fry. The Simpsons' Apu Nahasapeemapetilon has been more than a thorn in his side and the sides of his South Asian-American colleagues in the entertainment industry. He is a genuine specter of modern minstrelsy that has lodged in the American cultural psyche and plagued Kondabolu's interviewees—including Kal Penn, Sakina Jaffrey, Aasif Mandvi, Aziz Ansari, Hasan Minhaj, Aparna Nancherla and many more—for their entire lives.
This should be an open-and-shut argument: Apu is an embarrassing racial stereotype voiced by a white actor (Hank Azaria). But Kondabolu is coming at the problem from a different angle than, say, Kal Penn. Kondabolu, like almost everyone, loves The Simpsons and credits it with helping him recognize his own voice and identity as a comedian. As a result, he's unusually nimble when it comes to anticipating the bullshit excuses of a stonewalling Simpsons fan that are unfortunately bound to be many viewers' gut reactions to the premise of this movie and addressing them head-on. "I never," he says, "heard anyone say they like Apu because he exposed the idiocy and bigotry of Americans and the struggles of the average immigrant." It also gives the film a more intimate emotional arc for Kondabolu, who feels both betrayed by the show's treatment of people like his parents and is surprised to discover his parents don't find Apu nearly as upsetting as he does.
The bulk of The Problem with Apu follows Kondabolu attempting to secure an interview with Azaria ("a white guy doing an impression of a white guy making fun of my parents"), who would have the most power to rectify the situation. Without spoiling anything, no one speaking on behalf of The Simpsons looks very good when all is said and done. Kondabolu makes short work of Azaria's claim that Apu's characterization was an imperative from Fox, immediately digging up evidence to the contrary. He also secures a depressing interview with a shifty and uncomfortable-looking Dana Gould, who bends over backwards trying to defend the status quo. "There are accents that, by their nature, to white Americans, sound funny…period," Gould says. It gets worse from there. Even The Simpson's recent attempts to reflect on Apu's problematic nature have basically amounted to a tedious "we stereotype everyone, it's all a joke, don't be so uptight," etc.
But Kondabolu is a patient and deliberate interviewer, pushing and pulling back in equal measure, bringing out moments of real vulnerability in some subjects and allowing others to wrap themselves in the contradictions of their own arguments. There are drawbacks to the format of the documentary—it's necessarily built around commercial breaks, but the continual tease of the Azaria quest means the main thrust of the documentary begins to lose steam after a while. Moreover, at a slim fifty minutes, you're left wanting twenty minutes more than you get. But these are minor quibbles. Kondabolu manages to pack quite the argument into the time he gets, and if the show's fans (myself included) are as self-aware as they like to imagine they are, Apu's continuing presence on The Simpsons should be met with a resounding "no thank you. Don't come again."
---
The Problem With Apu premieres on TruTV at 10/9 PM ET/CT tonight.
Graham Techler is a New York-based writer and actor. Follow him at @grahamtechler.