That Time Kumail Nanjiani Beat Thomas Middleditch at Titanfall 2
Photos via Taylor W. Thompson / twtphoto
Comedy
Features
Titanfall 2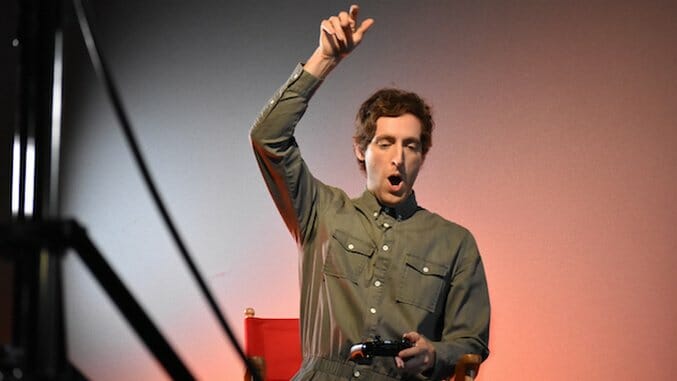 On Sunday, the Lord's day, in Los Angeles, setting of The Purge: Anarchy, a modern-day Hamilton dueled a modern-day Burr in the tense culmination of one of history's handsomest rivalries. That is, Silicon Valley costars Kumail Nanjiani and Thomas Middleditch played Titanfall 2 in a movie theatre. It was a tightly matched battle that ended in a surprise upset: Nanjiani, against all expectations, if not all odds, overtook Middleditch's lead in the final minutes to deliver the winning kill with barely ten seconds left on the clock. To the victor went the spoils: a shiny toy helmet with bright headlamps that meshed rather neatly with Nanjiani's military jacket, imbuing the mild-mannered comic with an arresting cyberpunk mien. When the robot war comes, may our generals be as fashionably menacing as he.
It's hardly news that videogames hold a special place in these men's hearts. Nanjiani, who hosts the gaming-themed podcast The Indoor Kids with his wife, the comedian Emily V. Gordon, has been hooked on the stuff since his childhood. Middleditch, a prolific Twitch streamer, is currently developing a gaming show for TBS with his friend Mike Still. Both used to host a games-themed live show at the Upright Citizens Brigade Theatre in New York. But as you might expect from their characters on Silicon Valley, expertise does not quite equate to confidence for these two. "I love trash-talking, but I think Thomas is gonna win," Nanjiani said in an interview before the competition. "When I've played Thomas one-on-one, and I come upon him one-on-one, he kills me ninety percent of the time." Middleditch, inexplicably clad in a grey jumpsuit, took the opposing view. "See, I'd disagree. Kumail's put more time into the game. He's better on a console controller than I am." When Nanjiani interjected—"But I'm not! You kill me!"—Middleditch cut back: "Sweetie, baby. You're gonna do great and I'm gonna eat it."
The so-called Titanfall 2 "Throwdown" was hosted by Dan Avidan and Arin Hansen of the Game Grumps, YouTube personalities who have earned nearly three billion views from nearly four million subscribers. Though I suspect most know them as gamers, I'd be remiss not to label them comedians too: They recently sold an eSports sitcom, created by Grumps Jesse Cox and Michelle Morrow, to YouTube Red, with Dan Harmon as executive producer. Avidan and Hansen have been guests on The Indoor Kids; Avidan, half of the musical comedy duo Ninja Sex Party, met Middleditch years ago at an open mic at the Creek and the Cave, a New York comedy club. "You were doing a character that had, like, crazy huge pit stains, and was super nervous," he reminded Middleditch. Nanjiani: "That's just Thomas doing standup."
Long the occupants of discrete subcultural spheres, gaming and comedy have lately overlapped with increasing visibility. Middleditch attributes this trend, one exemplified nicely by the Throwdown, to that most powerful of power couples: technology and capitalism. "I don't want to make some super cliché comment about how much more acceptable gaming is," he said. "I think it was always acceptable for me and my peers. But I think it's become more so in pop culture, media, stuff like that—people with money have discovered that they can make money by marketing to us. And the Venn diagram overlaps pretty holistically with, like, people who go to Marvel movies." Avidan is similarly gracious for the post-millennial ascendance of nerd culture. "It's just weird how everything has come full circle," he said. "The same stuff we got picked on, in school, for loving, is now the coolest. So the idea of what's mainstream has changed."
This seems evident enough in Silicon Valley, which venerates nerds and outcasts more than anything else on TV right now. Then there's the pilot Middleditch made for TBS, whose portfolio of oddball comedies expanded this year with Search Party and People of Earth. The network also has an eSports show, ELEAGUE, though that one is decidedly un-comedic. Middleditch discusses the project cautiously—"chances are it'll never get seen"—but it's still a neat microcosm for the gaming-comedy overlap. "Essentially we just play in a competitive, Medieval Times style for very low stakes," he said of the pilot, which is based on a UCB show he and Still perform in LA. "We just play retro videogames in a competition setting. It's like one of those old nineties videogame shows, but now everyone's jaded and making fun of it all the time." And isn't that the natural life cycle of a genre? First it's new and nobody quite knows what to do with it; then they figure it out and you have a million police procedurals to choose from; then you get sick of the genre and turn to genre parody instead—shows like Brooklyn Nine-Nine that lampoon a form while adhering to its basic structures. So too with videogames.
The other new normal is that, in 2016, a thing needn't be quote-unquote "mainstream" to be a viable cultural product. Back in the late oughts, Nanjiani and Middleditch hosted "Games Bros Live!", a monthly show Middleditch described as "the Daily Show for videogames," at the New York UCB. "I would say we had a five-man-strong audience," he recalled. Nanjiani, with a glint of nostalgia, continued, "It was technically a disaster but fundamentally fantastic. I would say it was sporadically attended. Every now and then we'd have people who were out for a night on the town, and they'd be, like, 'What's up at UCB?' And then, 'What the fuck? Why is this happening? Why are these guys playing Marble Magic?'"
Now, new and better platforms let creators—artists, if you will—reach hungry audiences with unprecedented precision. "With YouTube streaming and Twitch and all that, you can just hop on, on any given night, and play videogames and have people come watch you," Middleditch said. "And even if you've only got 400 people watching your stream, that's more people than would see my comedy if I went to UCB." Meanwhile the Game Grumps have 3.6 million YouTube subscribers; their least-viewed video of the last seven days has 43,121 views, while the most-viewed video stands at 723,706. Silicon Valley, by comparison, averaged 1.7 million viewers per episode in its third season.
Of course, none of this addresses that one, simple, crucial question: Why did Middleditch lose the Titanfall 2 throwdown despite projections of a sweeping victory? The answer may be that he just didn't campaign where it counted: on a console. "It's not that I dislike console," Middleditch said before the duel. Nanjiani: "Really? You say 'PC master race' to me all the time.'" Middleditch: "That's because it's my outlet for racism." If there's any silver lining to these final months of this horrid year, it's that at least there was one contest racism lost.
---
Seth Simons is a Brooklyn-based writer, performer, and birdwatcher, and Paste's assistant comedy editor. Follow him @sasimons.