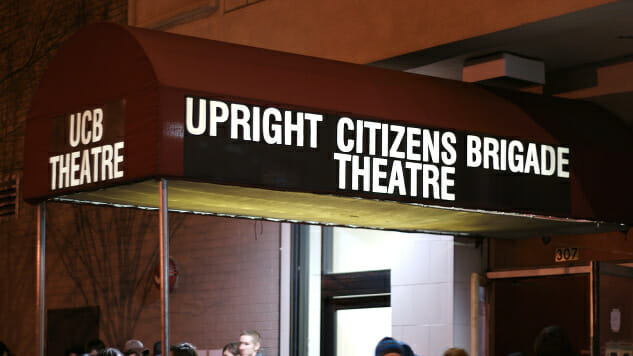 The Upright Citizens Brigade Theatre will soon begin paying the select group of improvisors and sketch comedians who coach its house teams, it announced on Sunday. The theatre's leadership, including Matt Besser and Amy Poehler, revealed the news at a semi-annual town hall meeting in Los Angeles, according to multiple sources present. Their decision follows a long, sometimes heated public debate over labor concerns at UCB and in the comedy industry, as well as a series of significant internal changes. In just the last year, UCB has left its longtime home in Chelsea, New York for a new venue in Hell's Kitchen; around the same time, it raised ticket prices for the second time in a year; attendance and other issues at the Hell's Kitchen space reportedly led to the departure of one of UCB's flagship stand-up shows, Whiplash; artistic director Shannon O'Neill announced her impending resignation last month; and last week the theatre announced its annual improv festival, the Del Close Marathon, will relocate from New York to Los Angeles next year.
At present, members of UCB's house improv and sketch teams are required to hire and pay their own coaches, who serve in a director-like role conducting rehearsals and offering feedback. Coaches are approved by UCB but not directly employed by the theatre, though many also teach classes. As such, they are free to set their own rates, with coaches on UCB's message board generally offering their services at around $30/hour. House teams set their own rehearsal schedules, so total expenses vary: Paste has spoken to performers whose teams rehearsed twice weekly for three hours, once weekly for three hours, and once weekly for two hours. Assuming an hourly rate of $30, then, a month's worth of coaching fees might range from $240 to $720, typically split among eight to 12 people (sketch teams include writers as well as actors). As performers cannot audition for a house team without completing UCB's expensive training program, the additional cost to perform on its stages has been viewed by some as a questionable expense.
It is not clear when the announced changes will go into effect. Sources tell Paste UCB's leadership indicated the current Harold (improv) and Maude (sketch) teams will not be affected, though they hope to make budgetary and staffing adjustments in time for the new round next year. UCB did not respond to a request for comment.
---
Seth Simons is Paste's assistant comedy editor. Follow him on Twitter.