Wanda Sykes Brings Her Signature Energy to Not Normal
Photo by Atsushi Nishijima, courtesy of Netflix
Comedy
Reviews
Wanda Sykes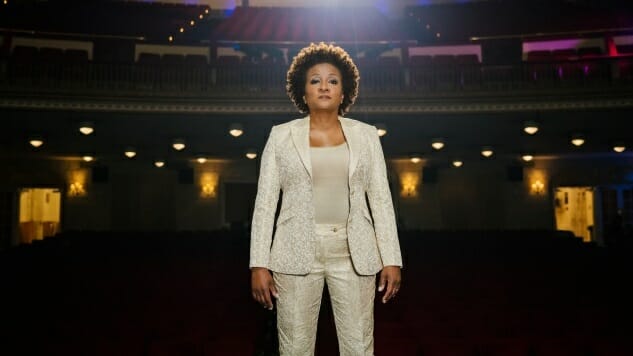 Wanda Sykes has never been one to dance around a point, and lands many direct hits throughout Not Normal, her new special for Netflix. The title refers to the state of the nation under Trump's presidency—"It's not normal that I know that I'm smarter than the president," she says—and material about Trump dominates the first section of the hour. Trump's presidency hasn't aged him, she argues, but it's aged us.
The tough thing about comedians addressing Trump in these Netflix specials (and this has come up a lot in our coverage of them) is that it still feels that this must be addressed at some point in order for the special to be valid. Now, Trump is one of the worst human beings on the planet, and obviously, any shit you can sling his way, by all means, go ahead. But the perfunctory-ness of this trend and the common approach it generates does often affect the performances.
One of the successes of this special is that it largely avoids this, and though some jokes at Trump's expense can still feel like the kind of surface-level late night barbs that feel ineffective after a few years of being inundated with them, she generates her criticisms from an extremely sharp place, and it shows.
Once past this material—as well as some glib content about the opioid crisis that starts off with some good points but slides off-course—the special veers into more personal and generally more specific territory with jokes and stories about Sykes' family. Sykes avoids the abrupt shifts some comedians suffer from when trying to move from Trump material back into their set, and makes the entire special pretty seamless.
In the clashes between her and her wife, including the uncharted territory of kids with lice and her use of Vick's VapoRub, Sykes brings the same energy that made her a breakout member of the supporting cast of Curb Your Enthusiasm. On the topic of hot flashes, Sykes notes that "when you get older—no more eggs—you can't bring any more life into the world, so they just set you on fire."
This is where Sykes really thrives, when tearing down people's assumptions about her, entirely unflappably. She mentions that she cannot take estrogen due to the mastectomy she had several years ago. So when people ask, "'Wanda, would it kill you to be a little more ladylike?'" she's can simply respond, "yes, it would."
---
Not Normal is now streaming on Netflix.
Graham Techler's writing has been featured by McSweeney's and The New Yorker, and he performs at the Upright Citizens Brigade Theatre in New York. You'd be doing him a real solid by following him on Twitter @gr8h8m_t3chl3r.