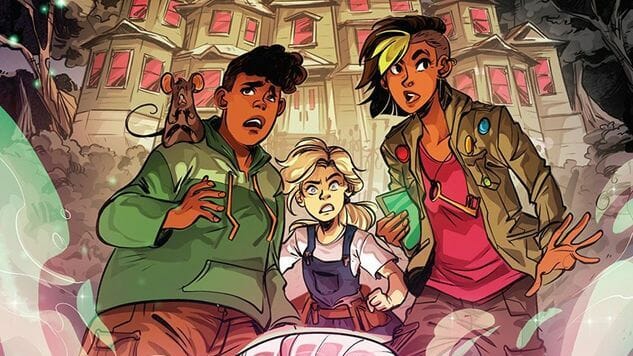 When Olive, Darwin and Charlotte Dare arrive at their family hotel to help Grandma Lupé fix it up over the summer, the three teens stumble into something much more exciting—and infinitely more dangerous—than cleaning a few dusty old rooms. As the Dare kids investigate an old family secret, they learn that the Hotel Dare has a few secrets of its own, and wind up stumbling across multiple fantasy worlds in a genre-hopping adventure from Dead Weight writer Terry Blas and Morning in America artist Claudia Aguirre.
An action-packed and emotional exploration of what it means to be family in a world inspired by Aztec and Mexican lore, Hotel Dare is the perfect adventure tale to kick off the summer. We spoke with writer Terry Blas about what inspired Hotel Dare, what makes an "LGBTQ" book and where he'd like to go if he ever checked into Hotel Dare himself.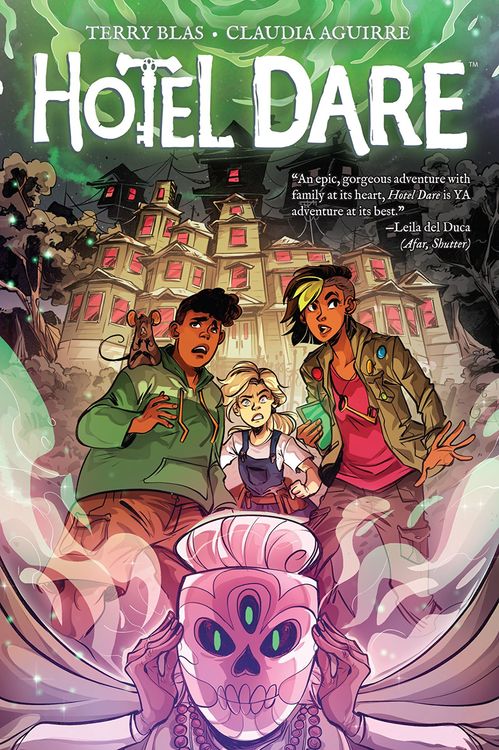 Hotel Dare Cover Art by Claudia Aguirre
Paste Magazine: There's so much going on in the world of Hotel Dare, but in the best way. What inspired such a genre-bending project?
Terry Blas: A few things inspired the book really, As a kid, when I played with toys, I didn't exclusively play with Ninja Turtles and then put them away and then play with My Little Pony. I played with all my toys at the same time. It's the mixture of genres and elements that appeals to me and had me thinking about combining sci-fi and fantasy into a Mexican-inspired adventure. Also, I usually watch Star Trek at night. On a trip to England, my husband and I went to the Harry Potter Leavesden Studio tour and I had this thought come to me that whenever there is a problem on Star Trek, they have a long technobabble explanation of what the problem is and a science-ish explanation of how to fix it. I thought, "If a wizard were on a spaceship, he would just wave his wand and…problem fixed." Then I thought, "Well how would a wizard get on a spaceship?" And that was sort of the beginning of the idea that turned into Hotel Dare. That being said, I feel like most of my writing is very character driven.
Paste: What was it like working together with Claudia Aguirre to create this world, and was it tricky to find ways to make so many different setting still feel so cohesive within the book?
Blas: Claudia is a dream. It was so wonderful to work with her. I knew that any sketch or any idea I threw at her, she would elevate to a level I could barely imagine. One thing I think we did well together was create color palettes for the different worlds, including the hotel and the kids, so that the reader could flip to any page of the book and instantly know what world they are in. Also, as you read the book, you might notice other things that tie the worlds together.
Paste: One visual element I really love in Hotel Dare is the character designs—everyone comes in so many shapes and sizes, which is sometimes unusual to find in comics! Was that kind of body diversity something you kept in mind while developing the book?
Blas: Absolutely. I wanted small characters, large ones, chubby characters and varieties of ages. It's just more interesting, isn't it? Also, it's more representative of the people in our world. There isn't just one body type, so why only include one? Also, I'd just come off of co-writing my first graphic novel, Dead Weight: Murder at Camp Bloom which is a body-positive murder mystery, set at a weight loss camp. That might've affected me a bit.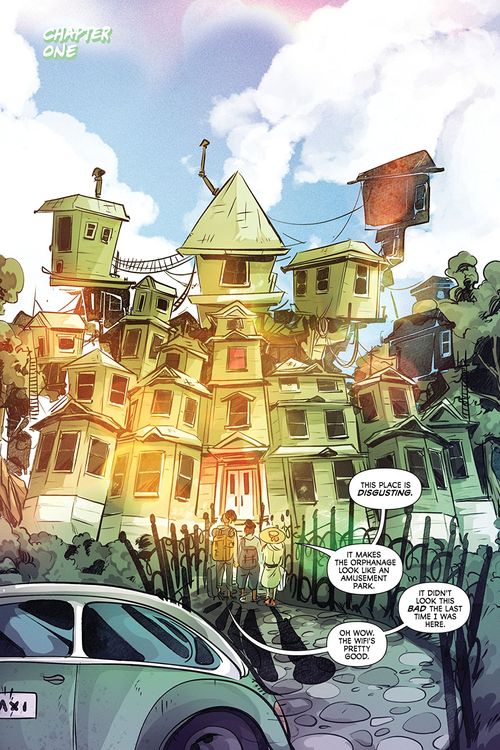 Hotel Dare Interior Art by Claudia Aguirre
Paste: This isn't necessarily a "queer comic" in the sense that it's not specifically about LGBTQ+ themes, which I think is what a lot of folks expect from queer comics, but you do make it a point to have Olive identify as queer straight away. As a queer person yourself, why was it important to you to include that conversation right at the start of the book?
Blas: You know, I would hope that the next evolution in books with queer characters is that they get to go on adventures. That they have storylines that aren't always centered around the fact that they are queer. I wanted Olive to be secure in the fact that she is queer and for us to know that and to move on. In my mind, it tells us that she hopefully has supportive parents, that she understands who she is at a young age, and that is important for me to show people. I also think that if queer kids don't see themselves reflected back at them in stories, the underlying message is that they don't exist. And that's not okay with me.
Paste: Can you talk a little about the different familial relationships in Hotel Dare and what inspired them? I love that you explore so many different kinds of relationships, like the falling out between Mama Lupe and her son, and Charlotte trying to find her place in a family that's invited her to become a part of it (in a sense).
Blas: At one point in the book, someone tells Charlotte, "Family are people who treat you like family." And that's what it's about. There are characters who are blood-related who don't get along and don't consider each other family. I feel like while blood relatives are important, other kinds of families are just as important and in some cases more so if you are someone who doesn't know any blood relatives. There are all kinds of families. As long as there's love and trust, those are the ties that bind.
Paste: Mexican and Aztec mythology and folklore play a big part in the world of Hotel Dare, both in the narrative and in Claudia's visuals. How important was it to you to get a chance to bring that to life for young readers? What do you hope readers are able to take from reading Hotel Dare?
Blas: Showing Mexican and Aztec culture is important to me in my work and in Hotel Dare because the Latinx community is the largest minority group in the country with the least amount of representation. We are about 50 million strong, and in about 10 or 15 years, an entire quarter of the country will be Latino(x). The fastest growing demographic in the country is the Latina, and quite often, Latin women are still portrayed as the maid or a kind of a sexpot. Latinas should be able to see that they can be brave and strong and flawed and complicated. I think the culture I grew up around and am a part of is so beautiful and vibrant and full of life and I think the more stories about Mexicans, the better. I hope readers take away that fantasy stories don't have to be European in their visual aesthetic.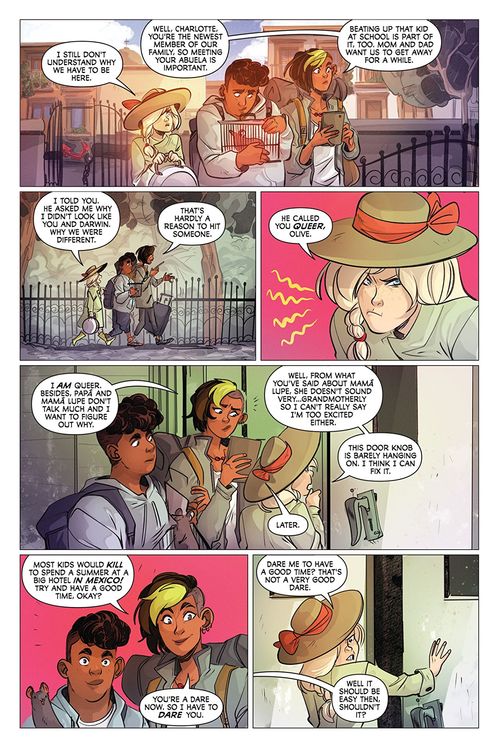 Hotel Dare Interior Art by Claudia Aguirre
Paste: And speaking of visuals— the actual Hotel Dare has a very Winchester House vibe. Are there even more worlds that the Dare family might get to explore sometime in the future?
Blas: I was able to visit the Winchester House this year and take a tour. It was definitely an inspiration when I was writing, and if you look really close at some doorframes, and during the flashback scenes, you might see some indications of other worlds. In regards to other stories, I'd love to do more! I have many adventures in mind for the Dare family.
Paste: And if you could visit any world through a portal in Hotel Dare, where would you want to go?
Blas: I'd love to visit a world with lots of great food and a wonderful, comfortable bed. Also, lots of dogs and maybe dinosaurs too.