There's nothing fun about the food in Brian Wood, Danijel Zezelj and Dave Stewart's Starve, debuting this week from Image Comics. The book follows Chef Gavin Cruikshank, once the host of a popular Top Chef-like television show, as he vows to tear down the dystopian future of foodie culture, where cooking has become a spectator sport for the uber-rich who can afford extravagant ingredients in a resource-depleted world. Originally planned as a DMZ follow-up at Vertigo, Starve touches on familiar Wood themes of environmental protection and distribution of wealth, with appropriately grim, rust-colored pages from Zezelj and Stewart.
To toast Starve's first issue, Paste has scrambled up a list of eight scrumptious culinary comics ready to sate your appetite for four-color foodie fun. (Don't worry, we used all of our food puns in the previous sentence.)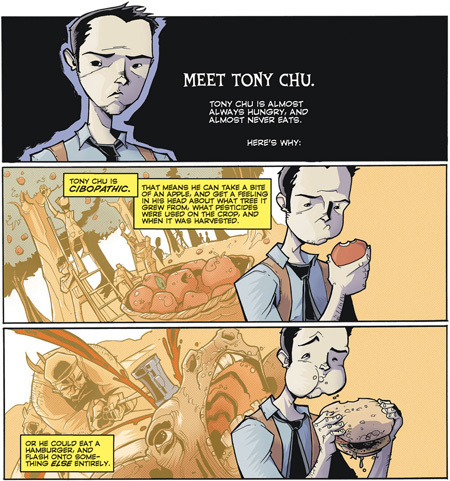 Chew
Writer: John Layman
Artist: Rob Guillory
Publisher: Image Comics
Chew follows U.S. FDA agent Tony Chu in a world where the Avian flu killed 23 million Americans and led to a nationwide ban on all poultry products. Writer John Layman and artist Rob Guillory wring constant humor out of this grim-sounding premise, with a seemingly endless array of food-related abilities doled out among the bizarre and hilarious cast. Chu, for example, is a Cibopath, able to take psychic readings off anything he eats (except beets), an ability that comes to frequently disgusting use when possessed by a detective surrounded by dead bodies and crime scene remains. Guillory's angular artwork and Layman's outsized imagination are a perfect fit, producing such memorable characters as the cybernetically enhanced killer chicken Poyo. The only downside to Chew is that the series is serving up its final dish in just ten more issues.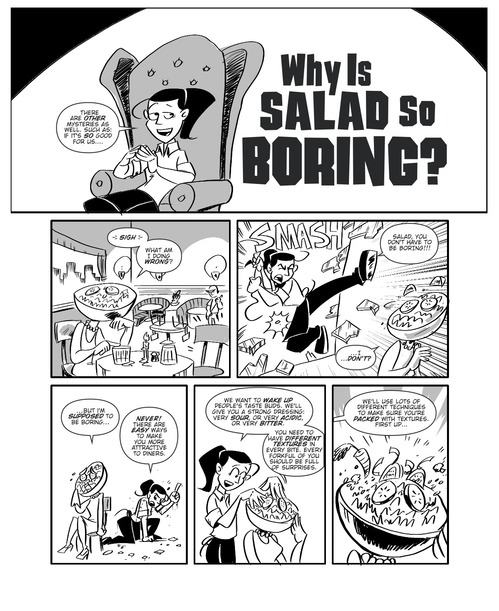 Dirt Candy: A Cookbook
Writers: Amanda Cohen & Grady Hendrix
Artist: Ryan Dunlavey
Publisher: Clarkson Potter
Amanda Cohen's New York eatery Dirt Candy is infamous among vegans, vegetarians and omnivores alike for having the longest reservation list of any herbivorous place in the city, with wait times frequently measured in months. If you manage to snag a table, the reason is clear: Cohen's skill with vegetables—or "candy from the dirt"—outshines what most other restaurants are able to accomplish with a full ingredient list. It's no surprise, then, that a unique restaurateur would produce (with cowriter and husband Grady Hendrix) a unique cookbook. Action Philosophers! artist Ryan Dunlavey's energetic cartooning takes the place of typical glossy full-color food porn, and recipes are intermingled with comic book tales of Cohen's path to running the successful restaurant. The result is a comic book memoir designed to make your mouth water and a cookbook unlike any other on the shelves.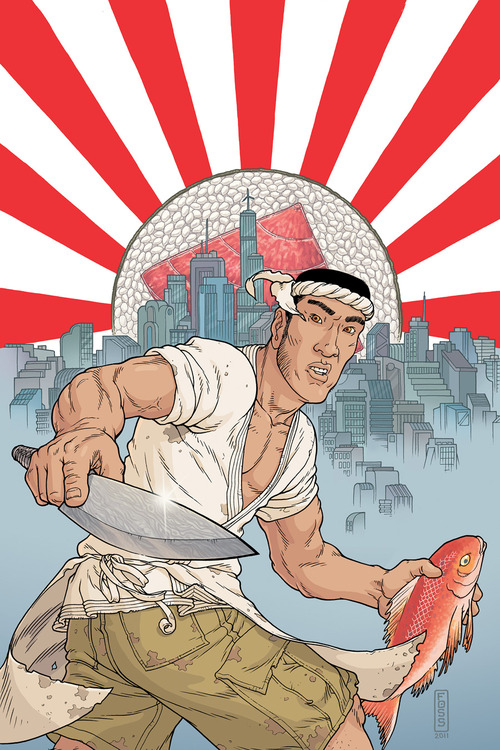 Get Jiro!
Writers: Anthony Bourdain, Joel Rose
Artist: Langdon Foss
Publisher: DC Comics/ Vertigo
Celebrity comics are, as a rule, supposed to suck. Master chef and No Reservations star Anthony Bourdain never got that memo, producing (alongside co-writer Joel Rose and artist Langdon Foss) one of the best comic book surprises of 2013. Get Jiro! is the hyper-violent tale of Jiro, a rogue, murder-prone sushi chef in the middle of a future L.A. rife with foodie gang wars. European pro Foss, currently working on The Surface with Ales Kot, brings the insane premise to life with detail-packed pages reminiscent of Seth Fisher by way of Chris Burnham. The heavily anticipated sequels hits shelves this fall.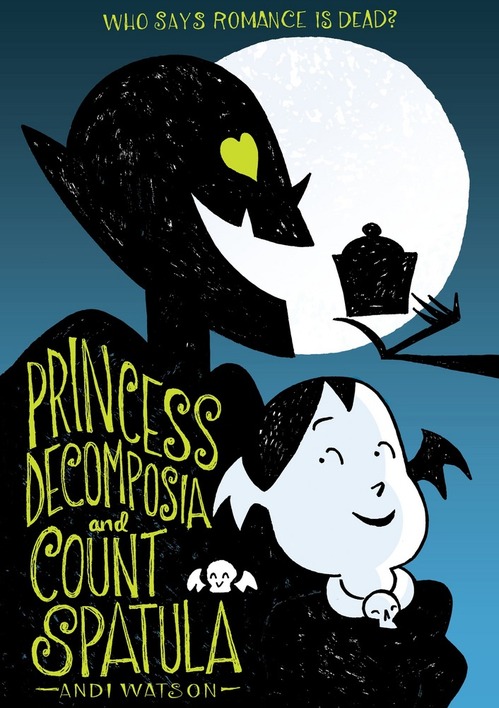 Princess Decomposia and Count Spatula
Writer/Artist: Andi Watson
Publisher: First Second
Just because the undead may crave blood doesn't mean their palate is restricted to intravenous fluid. Just ask Count Spatula, who lost his fangs not to vampire hunters, but from consuming far too many sweets. The new head chef at a castle run by a cantankerous patron, Spatula raises the menu from the dead much to the chagrin of his boss, but to the delight of his daughter, the delightful and selfless Princess Decomposia. Cartoonist Andi Watson lets his characters discover flavor and adoration in equal turn, creating a graphic novel that revels in good taste and is sweet in every way possible. Sean Edgar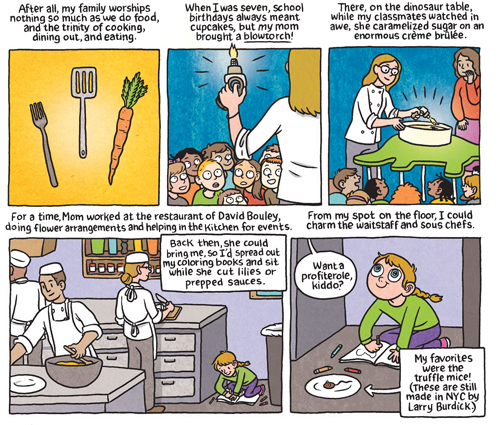 Relish: My Life in the Kitchen
Writer/Artist: Lucy Knisley
Publisher: First Second Books
Cartoonist Lucy Knisley doesn't include any post-apocalyptic violence in Relish, her lavishly praised food memoir, but her mouthwatering recipes more than make up for the lack of viscera. Raised by a chef and a gourmand, Knisley grew up with food as a constant companion, a sensation she lovingly communicates with her bright, welcoming artwork. Her joyfulness for the art of eating radiates through every page, especially the meal blowouts that take readers step-by-step through family recipes and meaningful dishes.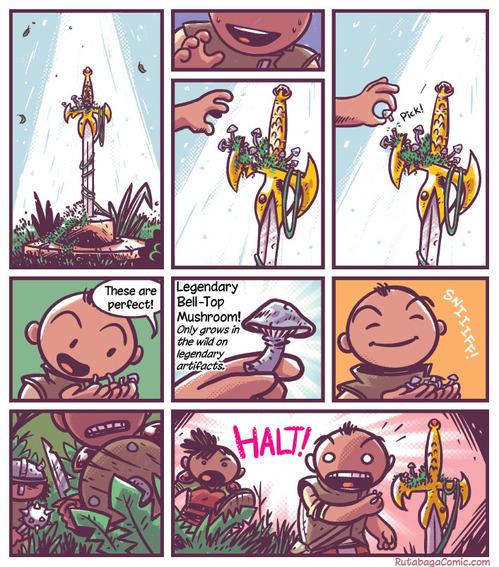 Rutabaga the Adventure Chef
Writer/Artist: Eric Colossal
Publisher: Amulet Books
Rutabaga the Adventure Chef is the MasterChef Junior of the food comics world, with adorable all-ages cartooning from Eric Colossal and meals both real (peanut butter and crackers) and utterly unreal (spider soup). The titular Rutabaga travels his fantasy world with a litany of pals and a magic cooking pot (named Pot, of course) in search of adventurous new tastes, making this a great choice for picky young eaters. While the book is intended for younger audiences, Colossal's clean storytelling should appeal to any fans of BOOM! Studios' and IDW's all-ages offerings. Just don't try to cook some of the grosser recipes included within.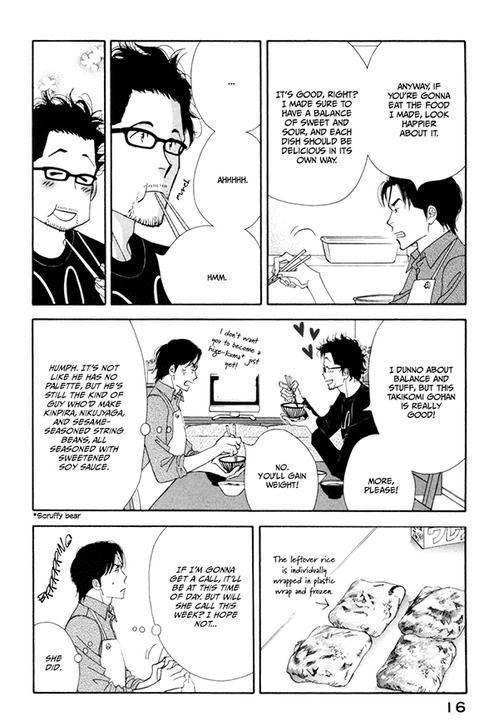 What Did You Eat Yesterday?
Writer/Artist: Fumi Yoshinaga
Publisher: Vertical
The Japanese manga market enjoys a diversity of genre unheard of in the American market, with manga for toddlers, preteen girls, businessmen, housewives and sports nuts all finding room to flourish. One particularly popular niche, ryôri manga, or "cuisine manga," is as much about the simple joy of eating as it is about the complexities of cooking. Fumi Yoshinaga has released several ryôri manga series, often with chaste yaoi elements as seen in What Did You Eat Yesterday?, her most popular work in the States. What Did You Eat Yesterday? follows a middle-aged gay couple as they reunite after disparate day jobs to enjoy dinner. Readers expecting lustful interludes will be disappointed, as the only thing bordering on pornographic in Yoshinaga's calming tale is her detailed description of food preparation. What Did You Eat Yesterday? is on the gentler end of the "cuisine manga" spectrum, making this a relaxing read and an appetizing peak at a massive genre unlikely to ever gain significant traction on our shores.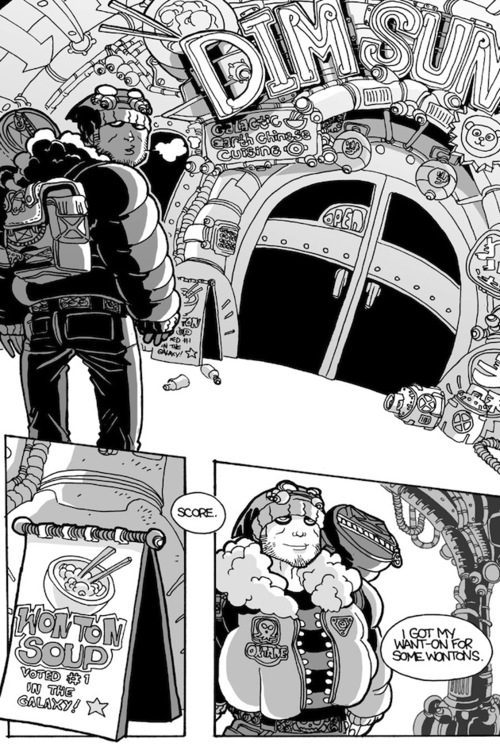 Wonton Soup
Writer/Artist: James Stokoe
Publisher: Oni Press
Before creating the gronch-laden cult favorite Orc Stain, prodigiously talented Canadian cartoonist James Stokoe put out two volumes of Wonton Soup, the story of space-faring chef Johnny Boyo hopping planets in search of exotic new ingredients and rival chefs to out-cook. Stokoe's signature coloring has since become a staple of his work, but these black and white pages give the book a Scott Pilgrim meets 2000 AD vibe, with bizarre, often living "food" items that foretell the creator's penchant for details that walk the line between disgust and entrancing weirdness.