Exclusive AfterShock Preview: Waid, Peyer & Torres Transform a Fan into a Superhero in Captain Kid
Main Image Art by Juan Doe
Comics
News
The new comic book reader is largely comprised of late teen/early 20s millennial females attracted to genres far removed from grown men punching one another in the face, but what about the classic fans ? What about the overwhelmingly male, aging nostalgists who've been devouring sequential art for decades? Writers Mark Waid and Tom Peyer, artist Wilfredo Torres and colorist Kelly Fitzpatrick are far more interested in exploring the latter in their new AfterShock comic, Captain Kid.
Waid and Peyer—who have both served on DC editorial and written a huge swath of classic superheroes—present the tale of a middle-aged dude, Chris Vargas, who transforms into a virile do-gooder plucked straight from '50s Silver Age science-hero mania. Think of it as a reverse Captain Marvel. The solicitation copy addresses the blurred line between fiction and reality where the most impassioned fans reside, asking, "If it happened to you, would you change back?"
The yesteryear look perfectly fits artist Wilfredo Torres, who's spent a chunk of his career rendering clean-line, classic heroes in Matt Wagner's The Shadow run, as well as Mark Millar's Jupiter's Circle Vol. 2.
While we can probably expect a huge dose of meta-commentary and impassioned-fan rhetoric, AfterShock has offered a sneak peak at Juan Doe's variant cover as well as some early pages illustrated by Torres and Fitzpatrick. Captain Kid #1 arrives on July 6.
Publisher Solicitation:
Chris Vargas is a middle-aged man with a hacking cough, an obsolete job, and a bombastic secret: whenever he likes, he can transform into the teenage superhero Captain Kid! In this, his first recorded adventure, he encounters Helea, a mystery woman who knows more about him than he does, and Halliday, a mad businessman with a catastrophic weapon!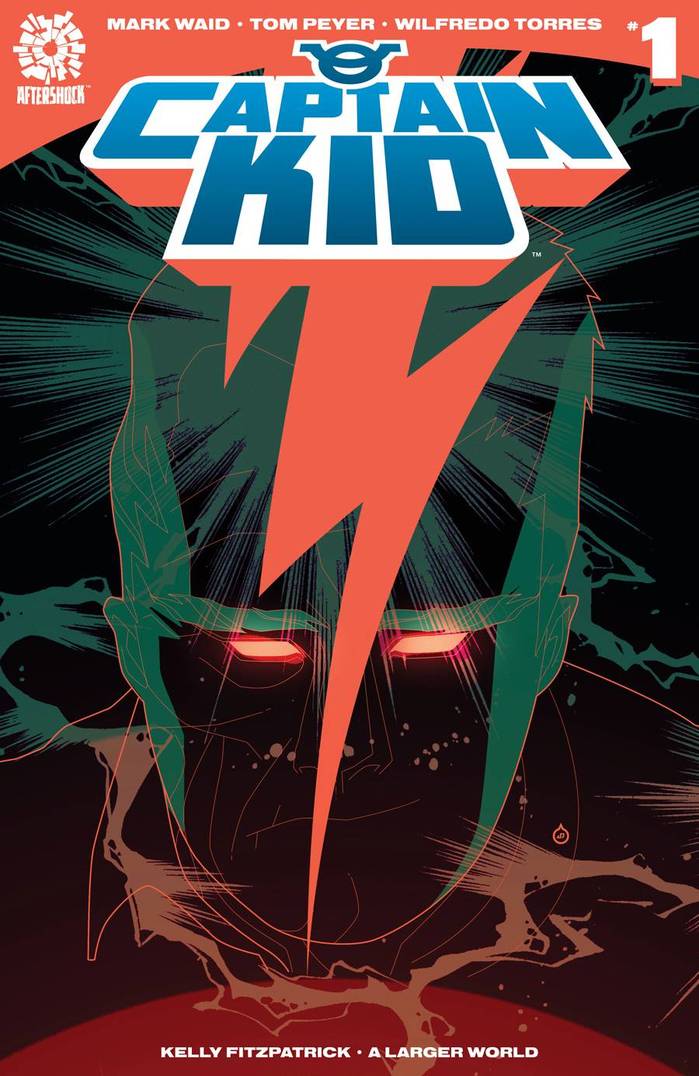 Captain Kid #1 Variant Cover Art by Juan Doe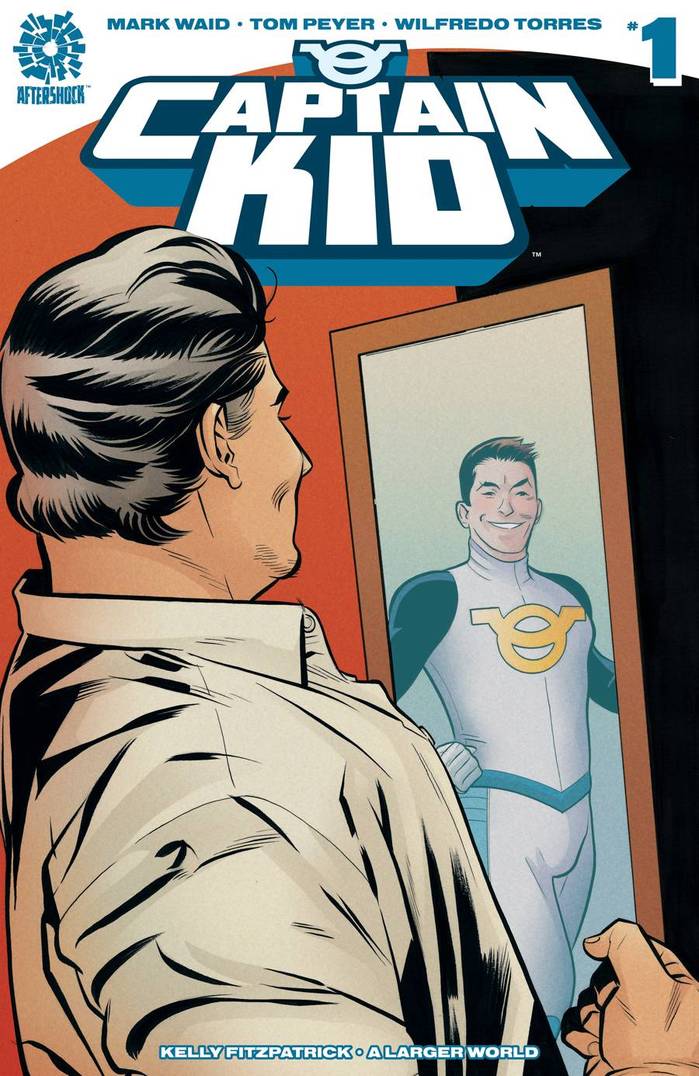 Captain Kid #1 Cover Art by Wilfredo Torres and Kelly Fitzpatrick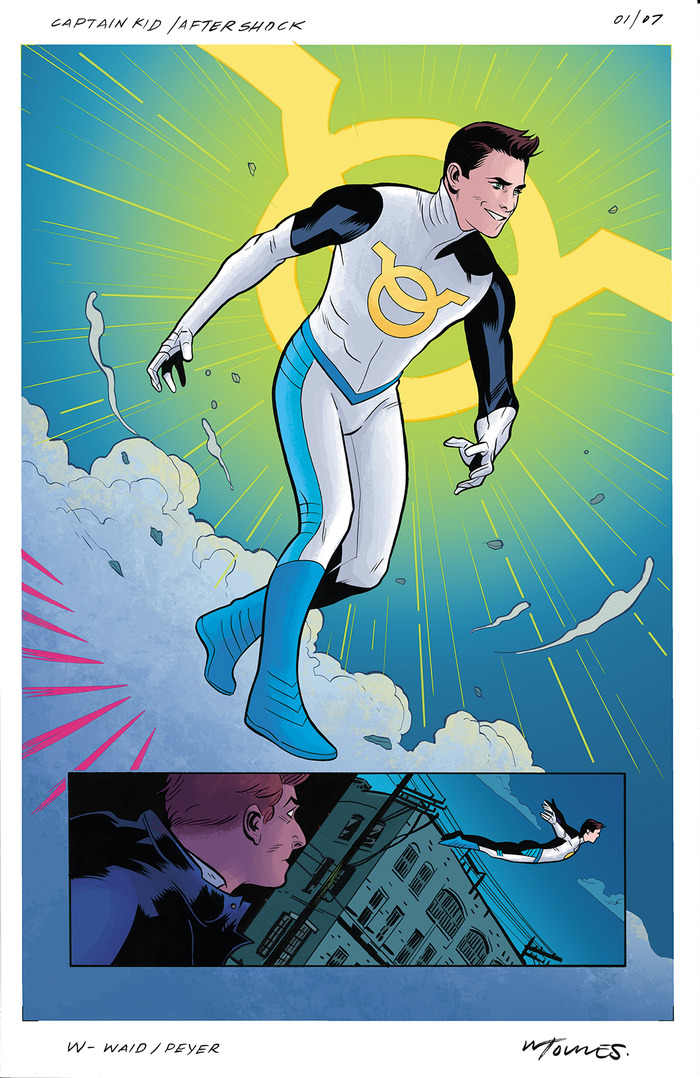 Captain Kid #1 Interior Art by Wilfredo Torres and Kelly Fitzpatrick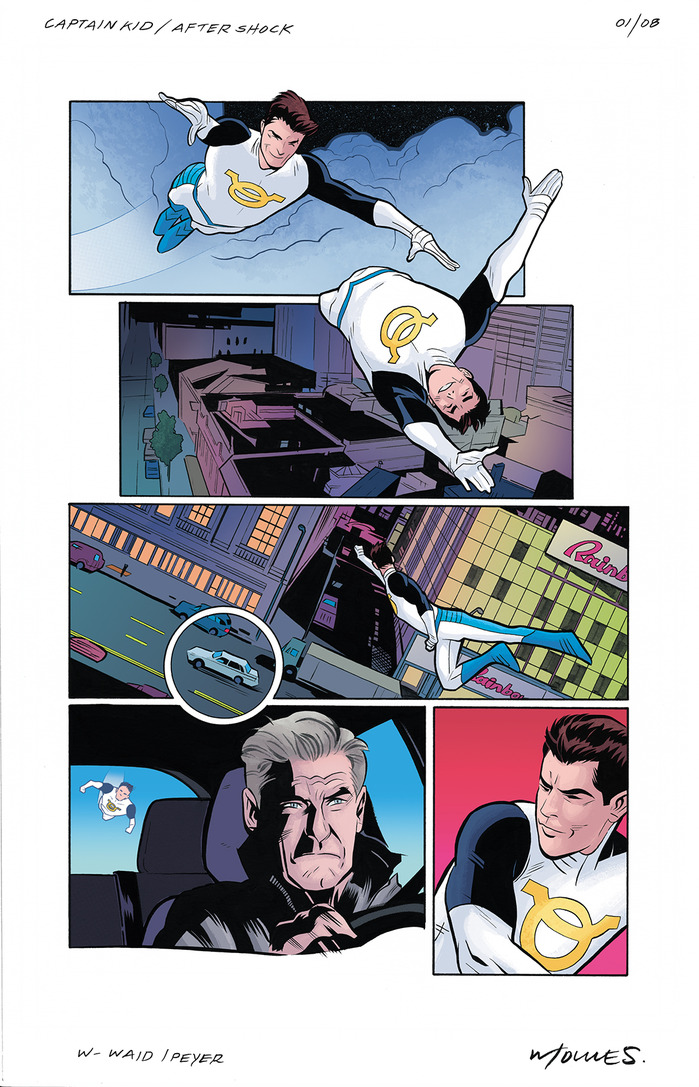 Captain Kid #1 Interior Art by Wilfredo Torres and Kelly Fitzpatrick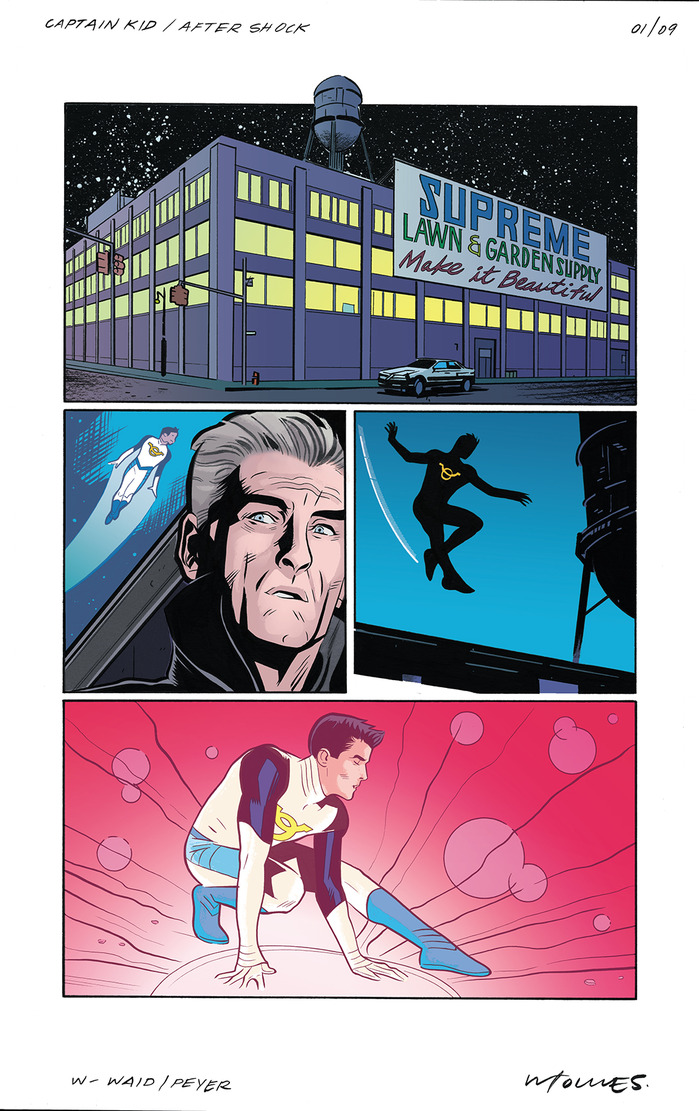 Captain Kid #1 Interior Art by Wilfredo Torres and Kelly Fitzpatrick