The 2018 Holiday Gift Guide for Comic Book Lovers
Main Art by Katie Skelly/ Ming Doyle/ Naoki Urasawa
Comics
Lists
Gift Guide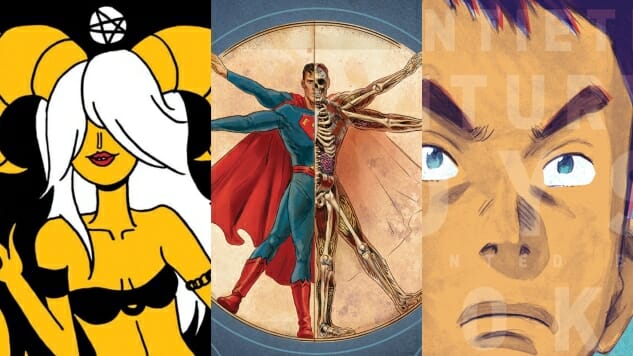 Listen: nerds are notoriously difficult to pin down when it comes to holiday shopping. Our tastes can be fickle and complicated—who can blame grandma for confusing Doctor Who with Doctor Strange, even though the two franchises are a trillion cosmic miles apart for most fans? Beyond that, we probably already bought the stuff we most want, especially monthly comics. The Batgirl or Thor fan on your shopping list is likely up to date on their favorite heroes' sequential adventures, which leaves you with novelty t-shirts and shelf-crowding Funko Pops as go-to stocking stuffers. You can always splurge for something like the Batman: The Animated Series Blu-Ray set or Spider-Man for the PS4, but that requires knowing what kind of hardware your recipient is rocking, and trusting they didn't already drop the dough themselves.
To all of that we say: Bah, humbug! Our 2018 holiday gift guide is designed to offer a little something special to any comic fan in your Santa sights. We've mostly eschewed the obvious suggestions to curate a widely applicable grab-bag of 2018 goodies, most of which can (and should) be nabbed at your local comic shop. Heck, we might even have a giveaway in the works for one of these items, so keep an eye on Paste in the coming days for a chance to lighten your sleigh load. Now gather your elves and scroll on down for some of the finest comic-related gift options of 2018. If you don't find anything here…maybe just stick to socks. Everyone likes socks.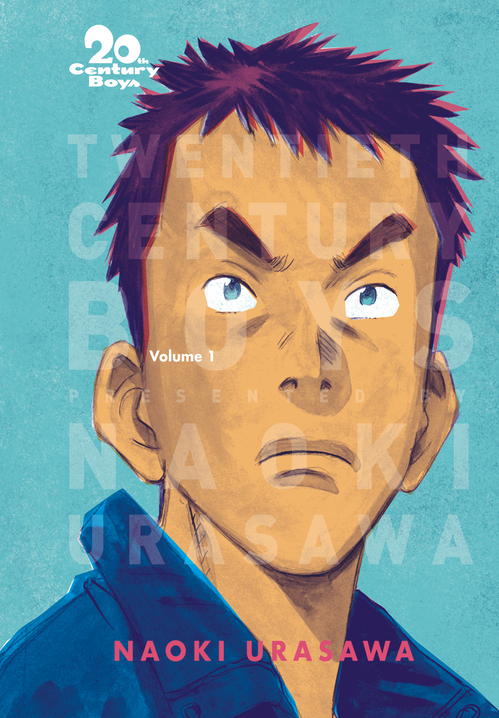 20th Century Boys: Perfect Edition Vol. 1 Cover Art by Naoki Urasawa
20th Century Boys: Perfect Edition Vol. 1
Writer/Artist: Naoki Urasawa
Publisher: VIZ Media
If you think fans of American comics make for difficult holiday shopping, wait until you run across a manga fan. The breadth of manga is staggering, from long-running action serials to cooking comedies to combinations you'd never imagine (I just got my Marie Antoinette-loving boyfriend the first volume of Versailles of the Dead, a manga series about Marie Antoinette's fictional cross-dressing brother secretly running the French court during a zombie invasion). Naoki Urasawa is one of the undisputed masters of the medium, though, and perhaps his greatest series is back in print this year in handsome new Perfect Edition volumes. Urasawa's 20th Century Boys is about a group of boys who, in 1969, create a symbol that reappears nearly 30 years later as humanity faces pending extinction. There are echoes of Stephen King's It here as childhood memories resurface in the wake of an old friend's suicide, and childhood nostalgia plays a heavy role throughout, but that's pretty much where the comparisons end as Urasawa takes off in his own splendid direction. This sprawling saga should knock the socks off of manga fans and Western comic readers alike, and hopefully inspire gift recipients to move on to Urasawa's Pluto and Monster, too.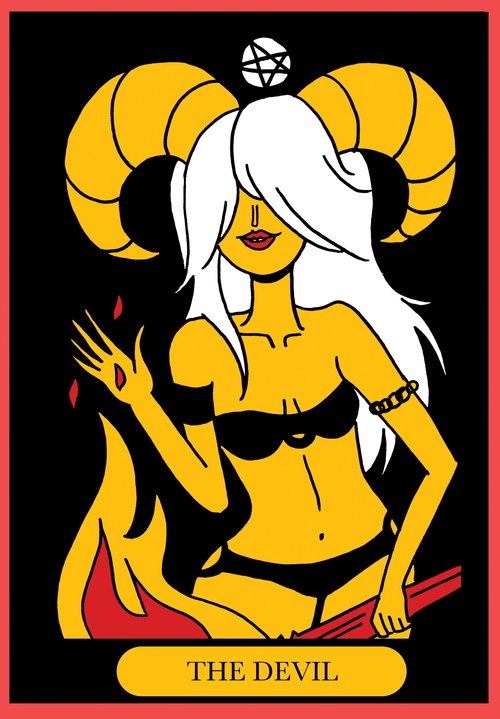 Bad Girl Tarot Art by Katie Skelly
Bad Girl Tarot
Artist: Katie Skelly
A few of our favorite artists are working on or have recently published tarot decks, including Trungles and Yoshi Yoshitani, but My Pretty Vampire and The Agency cartoonist Katie Skelly's deck is the one that claims a spot on our 2018 gift guide. Skelly's deceptively simple and effortlessly suave artwork has earned her a loyal following, and her retro-cool style is a perfect fit for a bad girl theme. Card designs range from witchy women to sensual lovers, Vegas bunnies to the devil herself, and you can find the full array on Skelly's Tumblr. You don't have to be into reading tarot cards to appreciate a lovingly crafted deck, which makes this an unexpected and welcome gift for the art-loving bad girl (or guy or nonbinary person!) in your life.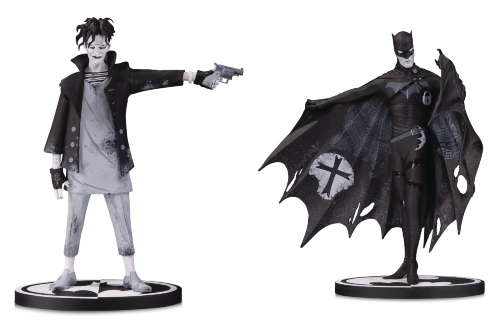 Batman Black & White Statues Designed by Gerard Way & Sculpted by Jonathan Mathews
Batman Black & White Statues by Gerard Way
Designer: Gerard Way
Sculptor: Jonathan Mathews
Publisher: DC Comics
Gerard Way may not be the most timely and prolific creator in comics today, but he sure makes every issue count, from his curated Young Animal imprint at DC Comics to original projects like Umbrella Academy, soon bound for Netfix as a live-action adaptation. Given Way's busy rock-star schedule, we may not see his take on the DC Comics universe proper any time soon, but his Batman Black & White statues of the Caped Crusader and arch-fiend The Joker offer a tantalizing look at what a Way Batman comic might look like. Sculpted by Jonathan Mathews, Way's Batman is an almost puritanical figure of the night, while his Joker looks fresh out of a mental institution (and bears more than a passing resemblance to Way from his My Chemical Romance heyday, to be honest). Fans of Way's crossover presence will get a ghoulish kick out of finding one of these beauties underneath their goth-mas tree.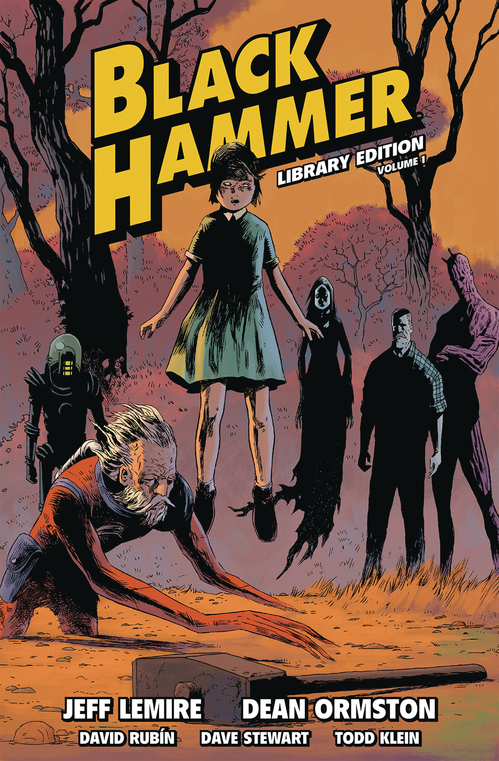 Black Hammer Library Edition Vol. 1 Cover Art by Dean Ormston
Black Hammer Library Edition Vol. 1
Writer: Jeff Lemire
Artist: Dean Ormston & David Rubin
Publisher: Dark Horse Comics
If you're shopping for a lapsed or relatively casual superhero reader who has no interest in the constantly shifting dramas of the Marvel and DC Comics universes, Dark Horse Comics' handsome new Library Edition of Black Hammer is a spandex-clad godsend. Proxy superhero stories—original tales that play off of established archetypes—rarely deliver the degree of originality and emotional depth seen in Jeff Lemire and Dean Ormston's ongoing mystery, and while 2018 has seen Black Hammer sprawl across various mini-series and one-shots, the original two arcs and annual issue collected here comprise a tightly told, deliciously disorienting story of heroes from another age trapped outside of time and space without explanation. Even if your recipient already owns Black Hammer in another format, Dark Horse's Library Editions are so nice, they make it worth reading a series twice. Also worth considering from Dark Horse: the Harrow County Library Edition Vol. 1, collecting the first chunk of Cullen Bunn and Tyler Crook's backwoods horror tale.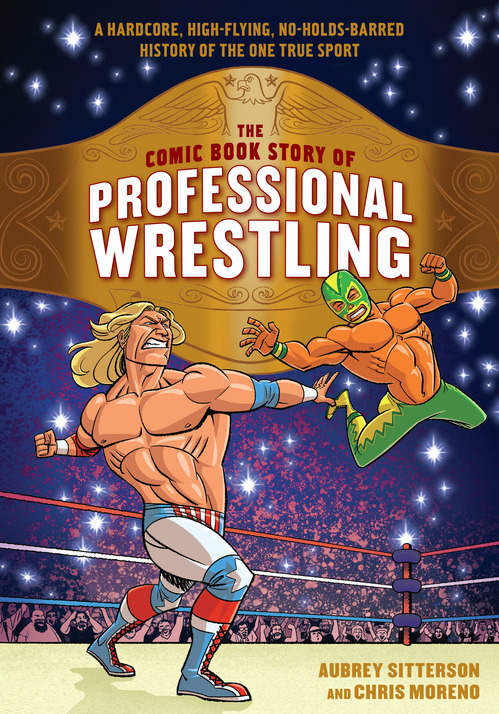 The Comic Book Story of Professional Wrestling Cover Art by Chris Moreno
The Comic Book Story of Professional Wrestling
Writer: Aubrey Sitterson
Artist: Chris Moreno
Publisher: Ten Speed Press
The crossover between comic fans and wrestling aficionados should come as no surprise: spandex-clad fights, soap-opera drama and over-the-top characters abound in both realms. Writer Aubrey Sitterson has long sat at that nexus, with stints behind the scenes at Marvel, working for WWE, scripting G.I. Joe comics and hosting a popular wrestling podcast. This fall, Sitterson's passions collided in The Comic Book Story of Professional Wrestling with artist Chris Moreno. As the cover proudly proclaims, The Comic Book Story of Professional Wrestling is a "hardcore, high-flying, no-holds-barred history of the one true sport," as rendered in Moreno's chiseled cartooning. Sitterson and the powerhouse artistic team dove deep into ringside research to accurately inform readers about this oft-misunderstood pastime's storied legacy, resulting in an evergreen volume that's compelling and accessible whether you follow wrestling or not—but makes for a particularly thoughtful gift for any wrestling fan on your list. Steve Foxe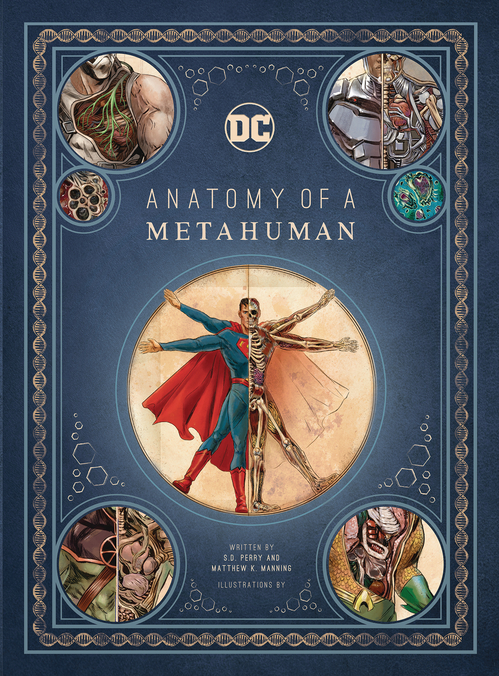 DC Comics: Anatomy of a Metahuman Cover Art by Ming Doyle
DC Comics: Anatomy of a Metahuman
Writers: S. D. Perry & Matthew K. Manning
Artist: Ming Doyle
Publisher: Insight Editions
You may have noticed that there's nothing specifically related to Marvel Comics on this list, but you can't go wrong with trade collections of the series that will show up on our Best Comics of 2018 list next week, which goes for DC Comics, Image Comics and all the rest, too. But if you want something that's superhero-related and a bit more unique, the Ming Doyle-illustrated DC Comics: Anatomy of a Metahuman is a gorgeous compendium of cross-section diagrams breaking down what makes 12 DC Comics heroes and villains biologically unique. Told from Batman's perspective, Anatomy of a Metahuman is a fun, fascinating "in-character" example of superhero science ("science" should also probably have air quotes here) that should speak to the deepest nerdy tendencies in your loved ones. It's expensive at a suggested retail price of $50.00, and there are "only" 12 characters featured, but each spread is lovingly packed full of detail from Doyle, whose artwork is always a treat. Who knew an anatomy textbook could make such a great holiday gift?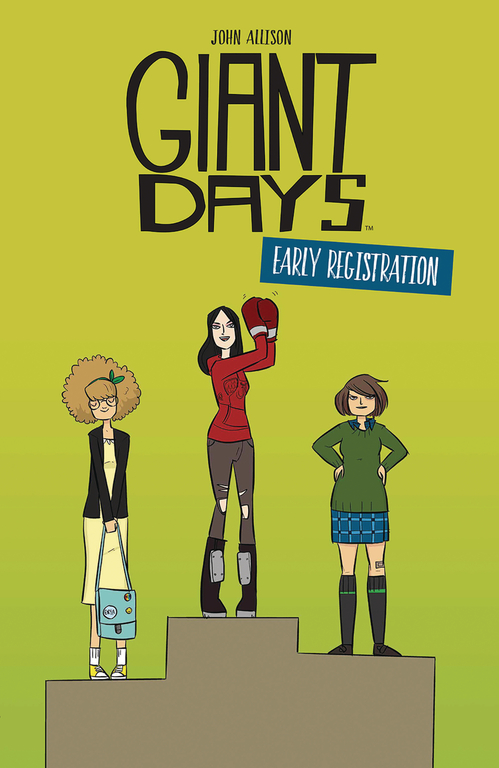 Giant Days: Early Registration Cover Art by John Allison
Giant Days: Early Registration
Writer/Artist: John Allison
Publisher: BOOM! Box/ BOOM! Studios
Giant Days is a phenomenon that, frankly, doesn't get the love it should around Paste's hallowed halls. Daisy, Esther, Susan and the others have comprised one of the brightest and most engaging casts of characters in recent memory—in any medium—and now BOOM! Studios is making it easier than ever for fans to discover their earliest university adventures. Before Bad Machinery cartoonist John Allison teamed up with artists like Lissa Treiman and Max Sarin to launch the proper Giant Days series in print, he wrote and drew Giant Days stories solo, and Early Registration, out in comic shops December 12th, collects those first-quarter university misadventures for the first time. Whether your recipient is a Giant Days diehard or a newcomer to the story, Early Registration is just about the only school-related gift that won't elicit a groan this holiday season.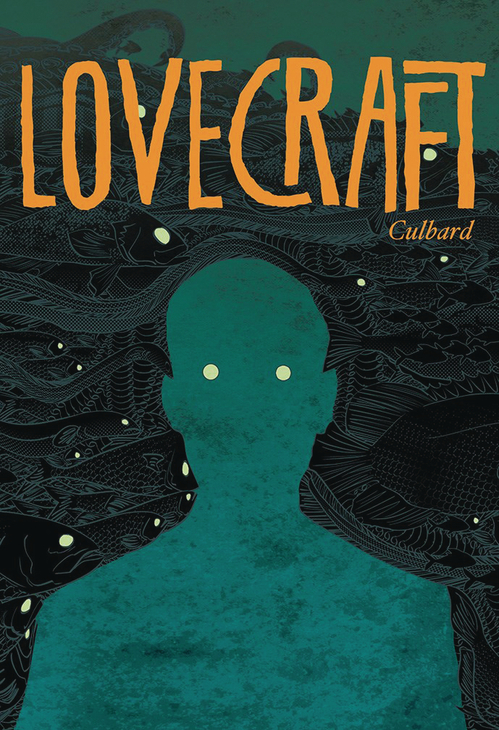 Lovecraft: Four Classic Horror Stories Cover Art by I.N.J. Culbard
Lovecraft: Four Classic Horror Stories
Writers: H. P. Lovecraft & I.N.J. Culbard
Artist: I.N.J. Culbard
Publisher: SelfMadeHero
Let's drop the façade: H. P. Lovecraft is not an easy read, even if you can see past his overwhelming bigotry. His prose was flowery even for his era, and the thrust of his cosmic horror is much more subtle and implied than an outsider might think from the plethora of Cthulhu merchandise. This makes adapting Lovecraft to visual mediums an unusual challenge—one that, for our money, no one accomplishes better than cartoonist I.N.J. Culbard. Around Halloween, publisher SelfMadeHero collected four of Culbard's Lovecraft adaptations—The Dream-Quest of Unknown Kadath, The Case of Charles Dexter Ward, At The Mountains of Madness and The Shadow Out of Time—into one handsome oversized volume, which makes an equally splendid gift to the Lovecraft devotee in your life or for the horror aficionado who always found Lovecraft theoretically enticing but practically impenetrable. An equally solid pick for the literary horror fans on your list is Junji Ito's Frankenstein, a faithful rendition of the foundational text enhanced by Ito's trademark grotesquery.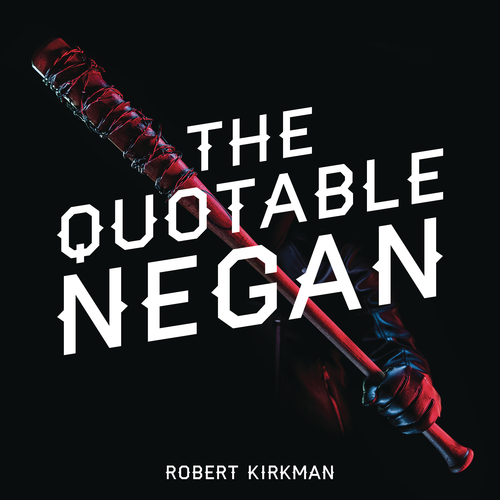 The Quotable Negan Cover Art via Skybound/ Atria
The Quotable Negan
Writer: Robert Kirkman
Publisher: Skybound/ Atria
The Walking Dead remains a powerhouse multimedia force above and beyond almost anything else in independent comics, and series antagonist Negan struck a particularly wicked chord with comic readers and TV viewers alike. The Quotable Negan, written (by default) by series creator Robert Kirkman, compiles a book's worth of "warped witticisms and obscene observations" from the bat-wielding psychopath—many of them focused around Negan's favorite four-letter word (hint: it ain't "love"). Both fans of the long-running Charlie Adlard-illustrated comic and loyal viewers of the up-and-down television saga should appreciate this off-color coffee table compendium, which also includes morbid facts about Negan and his best gal Lucille.


PanelxPanel #17 Cover Art by Geoff Shaw & Hass Otsmane-Elhaou/ The MNT logo designed by Nick Hanover
Subscriptions to PanelxPanel and/or The MNT
It might seem odd for one comics news and criticism outlet to recommend two other comics news and criticism outlets, but we here at Paste believe in paying it forward and supporting our peers. PanelxPanel, edited by Hass Otsmane-Elhaou, and The MNT, edited by a whole host of talented folks, are subscriber-supported publications that take a much deeper look at the art and industry of comics than most sites that operate on ad revenue. PanelxPanel, or PxP, earned an Eisner nod last year for its monthly magazine format, which focuses on a different series or theme each issue, and features critical essays, creator interviews, process chats and more. (Full disclosure: I wrote a feature for November's Marvel Knights issue, which you'll also be able to read on Paste in early 2019). There are currently 17 issues available via Gumroad for as little as $2.00, and any of them make an excellent digital gift for comic fans seeking meatier thoughts on the medium. The MNT, meanwhile, operates on Patreon funding, and is perhaps more critical of the industry and its various practices. If someone on your list is searching out unfiltered, intersectional comics coverage, you can sign them up for The MNT for just $1.00 a month. Tell 'em Paste sent you.